The sat-nav directed us a bit further away than the actual hotel was but we found some on street parking and decided to leave it there rather than find something closer as it was only a five minute walk away. The hotel is in a complex of various shops with a black and red theme and is clearly trying to establish itself as a new, upmarket business/city break hotel chain. The mini-bar is free, though only has a somewhat limited selection and due to the heatwave, they've put in a portable AC unit to keep the rooms cool. Which was a nice touch. The rooms are a good size and well laid out with great TVs. We stayed around long enough to have a free drink from the mini-bar and then walked into town to see the Worlds Longest Castle.
It was about a ten minute walk to the start of Burg zu Burghausen, which is a kilometre long, on the hill above old town. at the start it barely seems like castle and is quite modern and residential, the further you get along, especially once you reach Hedwig's Chapel, it becomes more medieval and fortified There are regular spots you can stop and view, and there are a few business running there as well as the obligatory cafe and souvenir shop. We bought two waters for €7.50, so it is managing its exclusion from competition well!
We stopped into the Stadtmuseum, which you get tickets for in a souvenir shop in the basement of a castle wall that is largely empty, and then go round the corner to the museum. There are three floors, and it is primarily medieval artworks. But the whole museum is still part of the castle and is (as far as possible) decorated and remains exactly as it was originally. the floors, stairs and furniture all dates from when the castle was in use, not when it was a museum. I'm not a personal fan of medieval religious art, as it all looks much the same due to the stricture of the church. One item did catch my eye, which had no explanation text. The Virgin Mary was protecting small people with her cloak (she was about 11 feet tall) as well as one infant from the arrows fired at her by God on his cloud. (he was able to shoot 4 arrows at the same time. These arrows were breaking against Mary's cloak.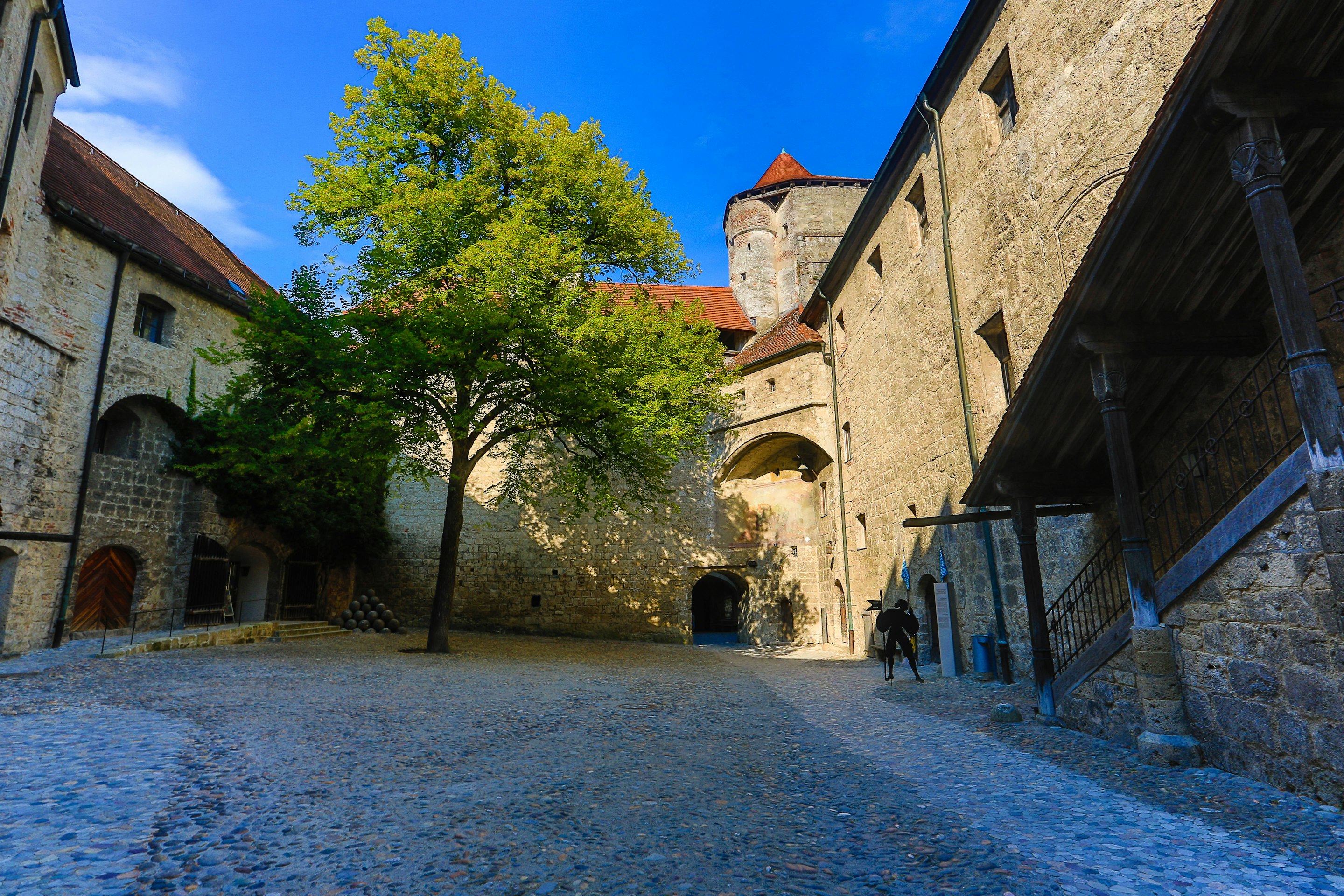 We were also able to get up to the roof top and had lovely views of the surrounding countryside, but as it was a museum, i'd moved to my 50mm lens and left the wide angle in the locker, so they were not as I would hope.
After the museum, (we skipped the second museum as it was closing in 30 minutes) we stopped for a dark lager at the castle brewery to decide on our next steps. As we'd driving to the hotel, we'd been on the Austrian side of the river coming around the side of the castle and it had looked fantastic, but i'd not been able to see anywhere to pull the car to the side safely. (I later realised there was not even a pavement for pedestrians for most of it) and so we moved on. I was thinking we'd either drive to the hotel on that side of the river the next day and walk the short distance to where I could get a photo or I could walk down there that evening. My mate wasn't interested in following me round for a photo opportunity so he was happy to find a bar to hang out in whilst i went back over the bridge to Austria for my photo opportunity.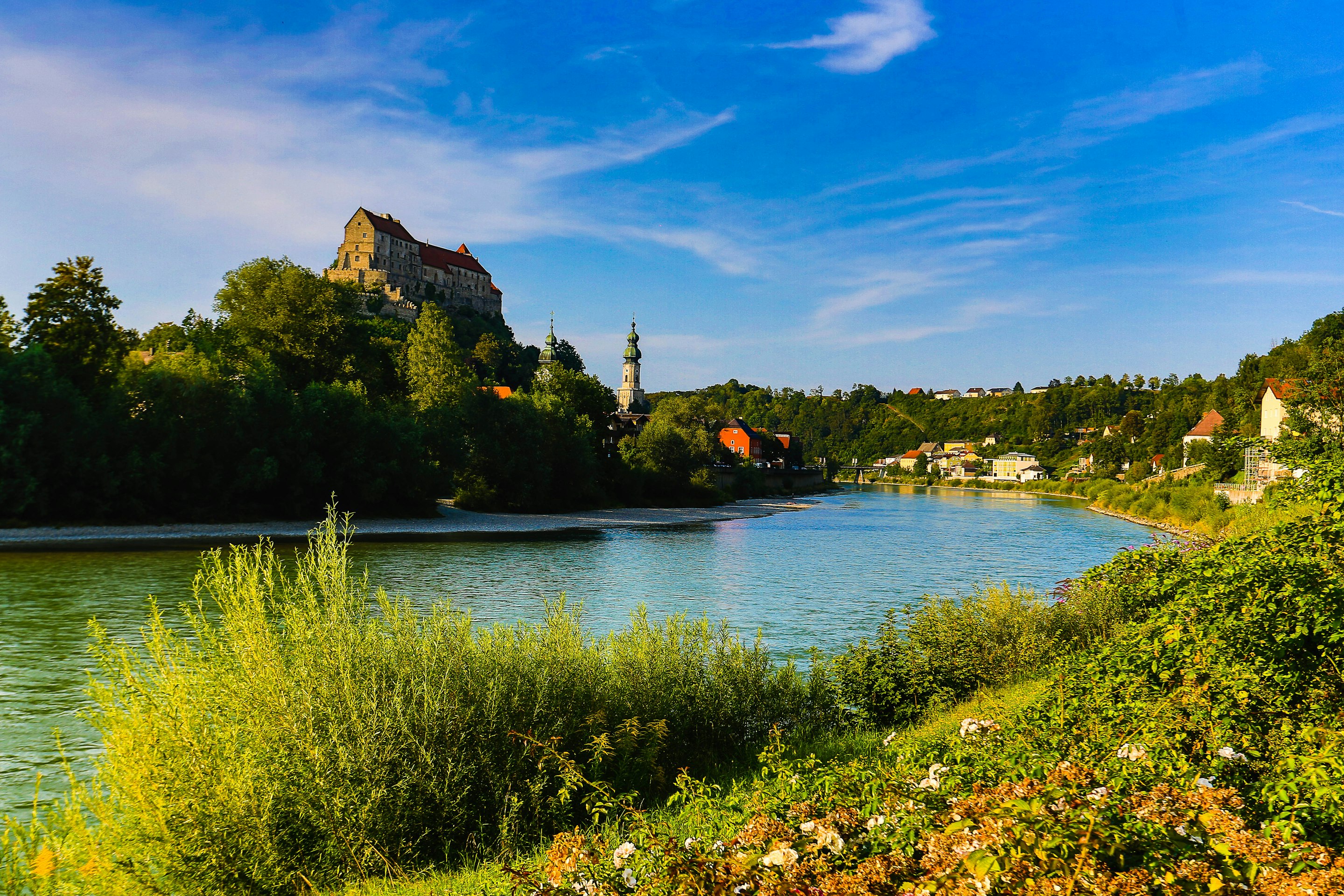 Turned out that there were issues with this approach. It was about 18:15, and I was on the east bank of the river looking due west. The castle was obliterated by the bright summer sun shining down into my lens. I walked further and further south, moving onto the lower footpath when I could and slowly coaxed more and more detail out of my camera. Eventually, I'd gone so far south, I decided it would be easier to keep going and take the South bridge into Berghausen, rather than go back to the east bridge.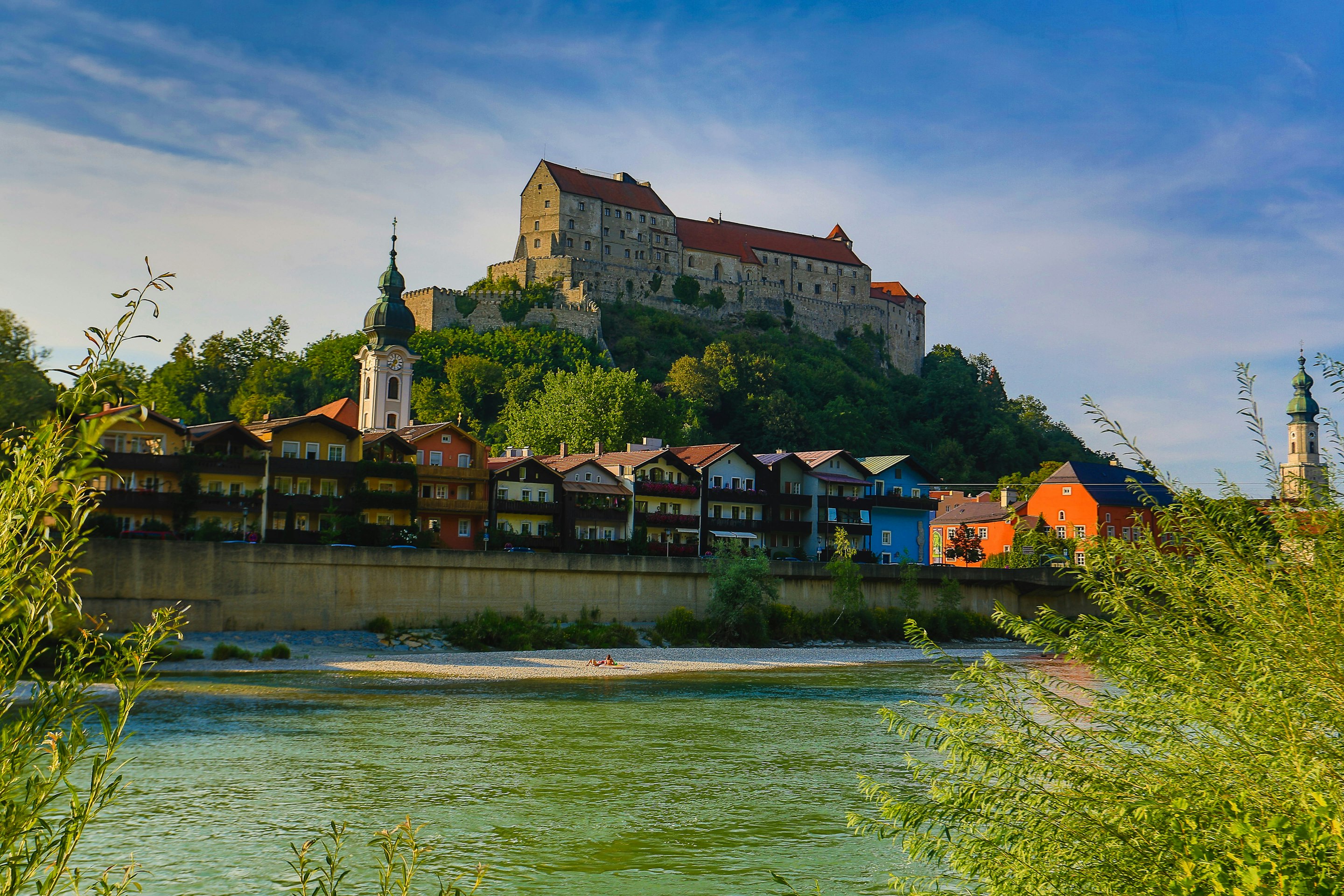 In order to get there, I had to go through the grounds of Wallfahrtskirche Maria Ach, which were lovely and well maintained, and even featured a cute little hedge 'maze' in the shape of a crucifix. I crossed the bridge and wandered through the south end of town to get to Augustiner am Stadtplatz where my friend was waiting. I sat down and was half way through my first beer before, I insisted we moved to a new table as there were ants crawling all over our table, which my mate had not noticed as they seemed focused on my corner. We then had another beer or two and some dinner. I tried the local specialty Berghausen Devil Toast, which was three types of meat on bread with a mild curry sauce and chips. It was fairly mediocre.
As Uber and other convenient taxi options are banned in Germany, we walked home, which took about twenty minutes, though mostly uphill before stopping in the hotel bar to have a glass or two of red wine.
Having done the photo I wanted to take of the outside of the castle the evening before we were able to head straight off once we'd had the best breakfast we'd encounter on this trip. A lot of choice and they'd do eggs or omelettes on request. Fresh coffee on the table or something fancier if you asked. And I did.
The hotel, whilst still finding it feet, is a good option for visitors. It's trying to place itself in the higher end business traveller or couples trip bracket and doing a fairly good job. The bed was the best I'd had on this trip.