I was picked up early in a 4x4 by my tour, along with a domineering mother from Hong Kong and her two daughters. We were taken to the tour location; it was basically a single large 'theme park' which offered pretty much everything on the tour in one place. It's a great idea, but needs some work, everything felt a little rushed.
We got a short ox cart ride around the outside of the complex and then had a wander through the Orchid Gardens.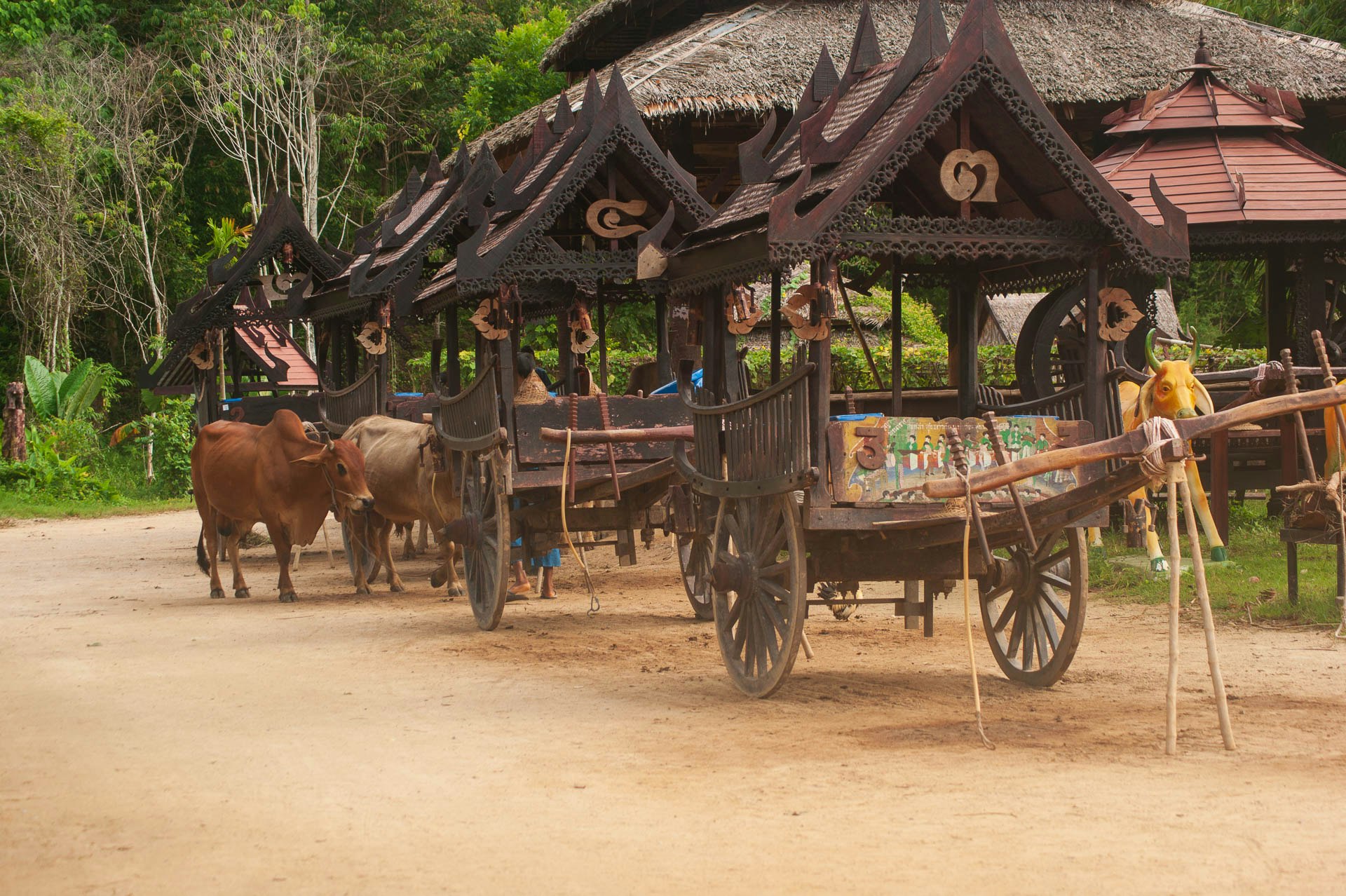 We were then taken to a river by 4x4 and had a short longboat ride. We were then told we had to canoe back. This was a surprise to most. I was, as I'd come alone, offered a member of staff to help, this seemed a little pathetic to me, like I was so friendless they'd pay someone to spend time with me, so I waved it off. I was last into a canoe, and did it alone. I raced past everyone except the first people released, and was only a tiny distance behind them. It surprised al of them, me included to be honest as I was using a paddle intended for a twin canoe rather than a decent single person paddle. Still, it was funny! Good exercise too!
After that we were given a short Thai cooking demonstration, but that was a bit poor really, it was a simple salad and the ingredients had been pre-prepared. We then saw how rice was traditionally prepared, which was interesting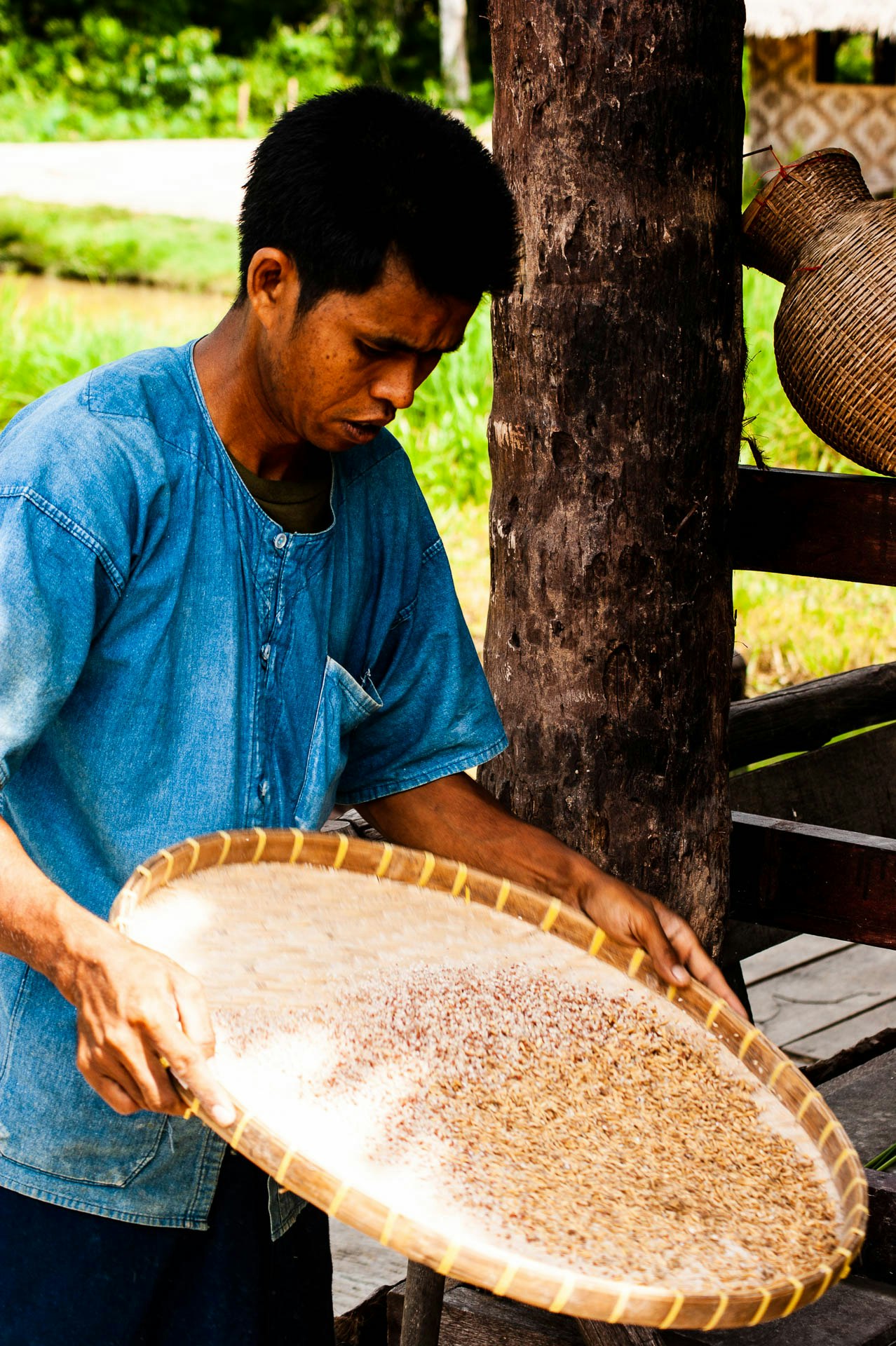 As well as watching some rubber being harvested.
After this, things improved. First there was an elephant trek for half an hour which was ok, all I was looking for really.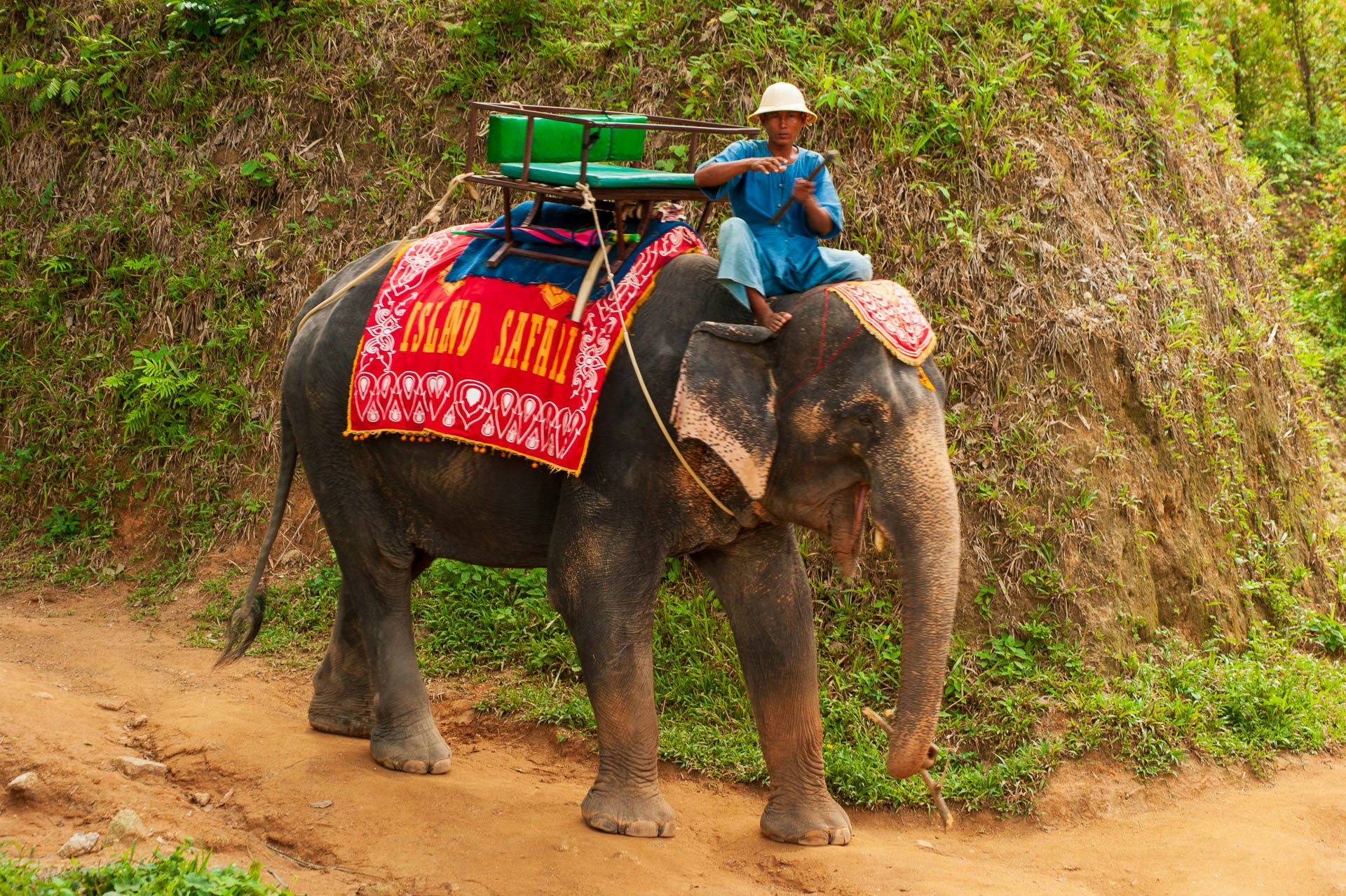 Then, a Thai Boxing demonstration. The demonstration was a staged fight, which made it good for pictures, as they telegraphed their moves somewhat so I could anticipate and catch action shots. They asked for a volunteer. I looked around, fully expecting one of the big tough Aussie guys to try their hand at it. Nope. No-one made a sound. So, I said, ''Hey, I'll give it a go'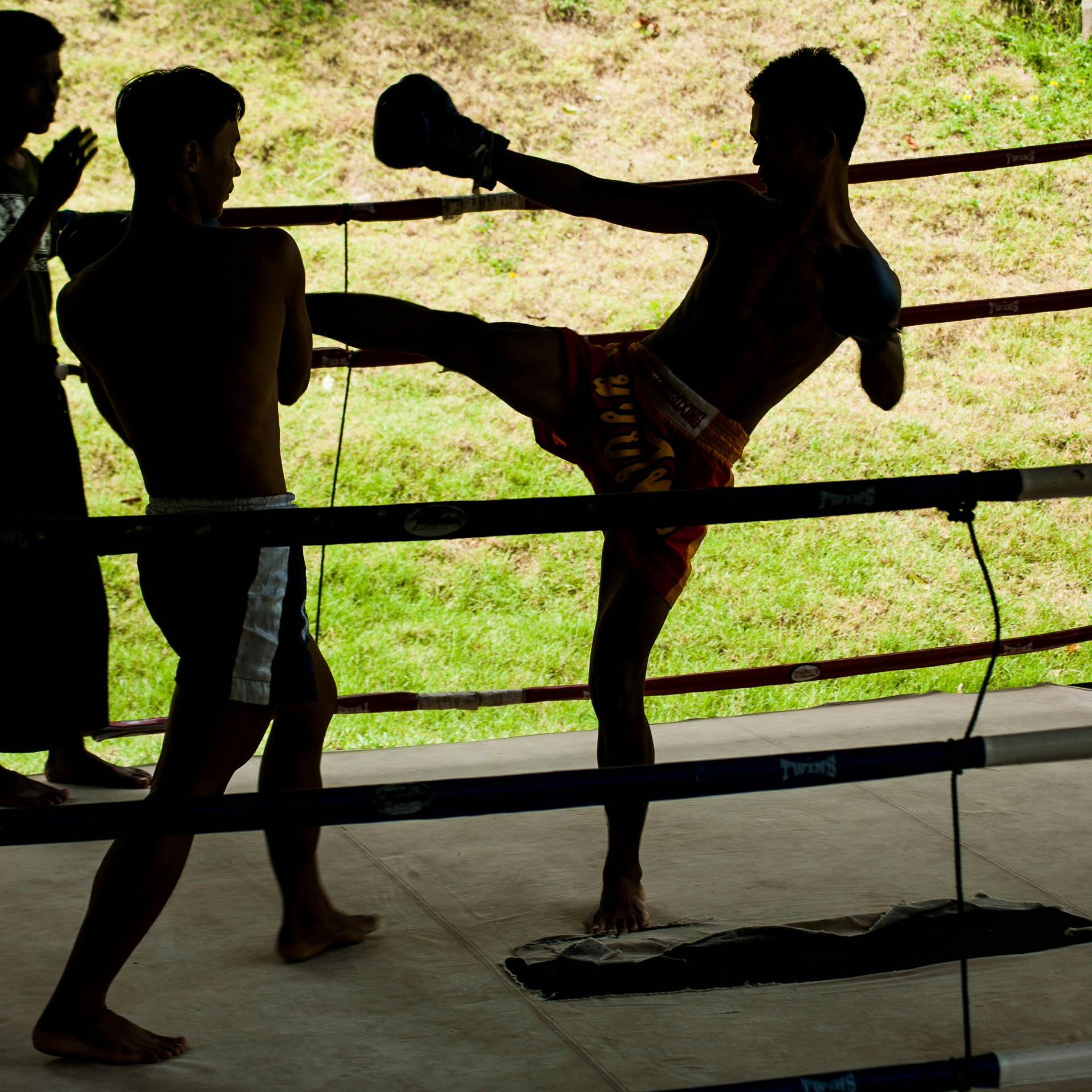 You could see the crowd thinking, ok, the fat sweaty guy is trying, this will be funny. You could also see the boxers were a little disappointed. I climbed into the ring, and had the gloves tied on. They demonstrated a simple kick and asked me to duplicate. My first was misaimed and a bit rubbish. I'll pause here to mention a few things a lot of you probably don't know. I've done a variety of martial arts over the years, Taijitsu, Karate, Judo and Tai Kwon Do, I have excellent balance and I'm stronger than I look. Ok, back to it. My second kick connected properly to the pads and knocked the trainer back about a step. So did the third one. I duplicated a set of punches, right, left, elbow, and then messed up a move that was showy and useless. Punch right. Punch left, spin round and connect with the right elbow to the right pad. This move presents the back of your head to you opponent without any protection. It is idiotic. They then asked me to do ten kicks in a row, counting them off. '1,2,3,4,5,6,7,8,9...9....9.....9....9.....9.....9.....9.....9....8....9.....10' There was surprise that I didn't seem to have a problem maintain the kicks. So, I finished there, bowed and left the ring. A profound silence answered when the guide asked if anyone else wanted to try.
After Martial Arts, came the monkey show, four monkeys doing various tricks, basketball, coconut picking (Did you know a trained person can pick about 80 coconuts in a day, whereas a trained monkey can do about 600!) weight lifting, rope climbing, it was pretty cool, but shadowed by the gibbon rehabilitation project. These are Macaws and the guide mentioned that Gibbons weren't used because they couldn't be trained for life.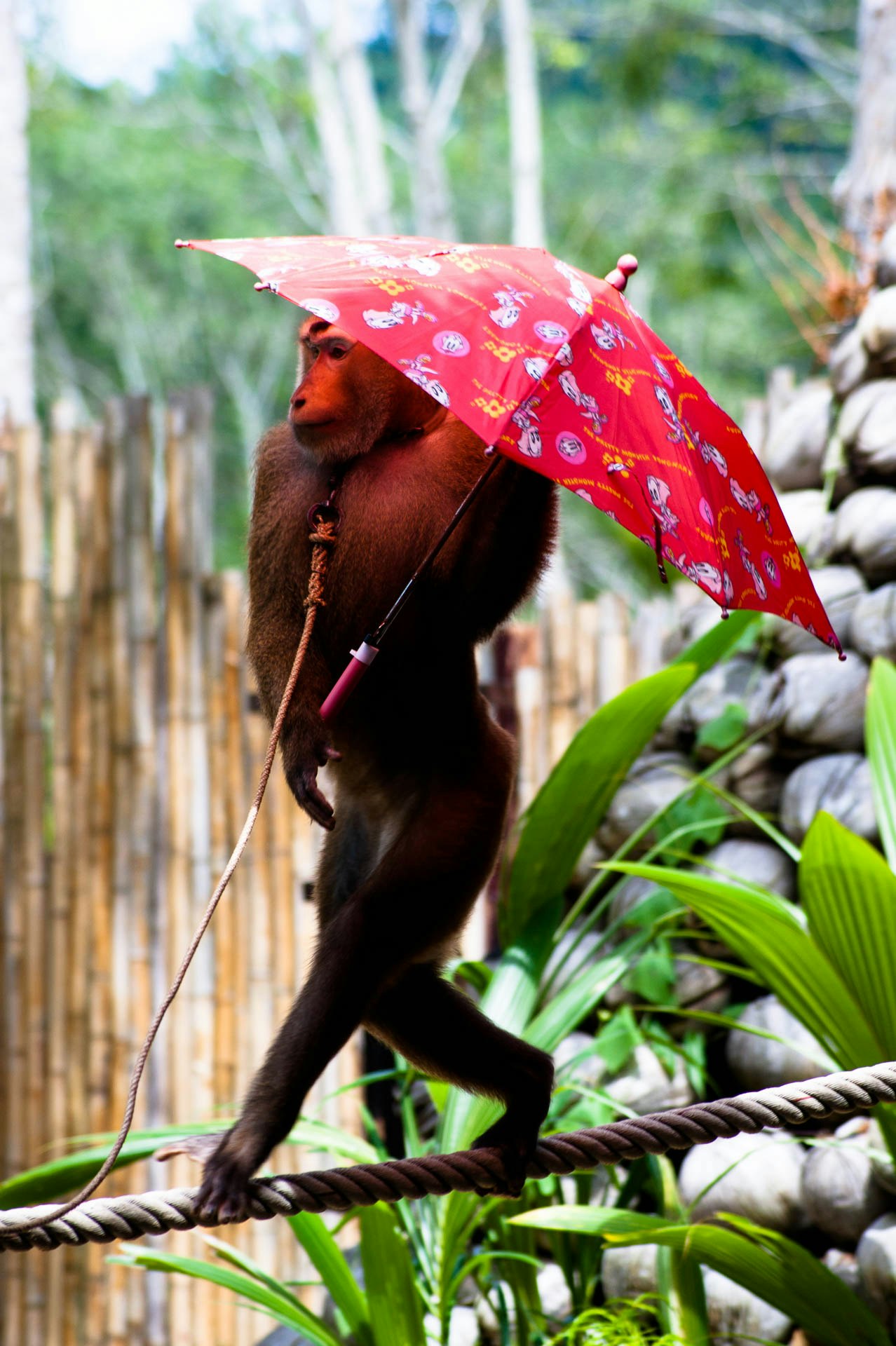 They then put on an elephant show, with football, dancing and elephant massage. They were only babies, 5-8 years old, it was pretty cool and they were clearly well cared for.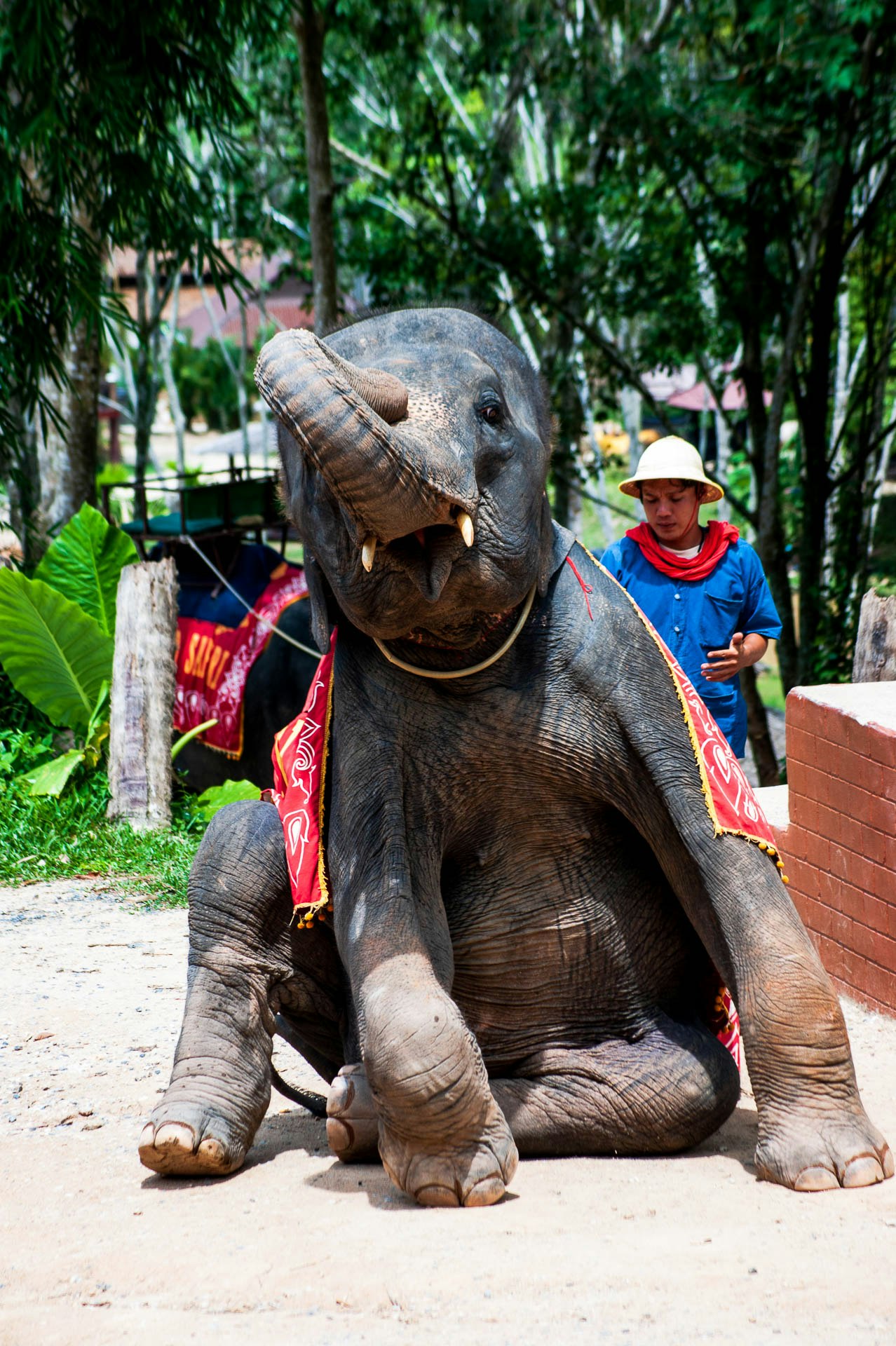 We were then fed, nice enough food, but I was put at the table with the miserable Hong Kong lady, so there was no conversation, instead of being with the two people I'd been chatting to throughout the day,
We then were dropped back at our hotels and I caught up with the guys and we planned our night in Patong.