12th July
The weather has been amazing, about 30 degrees, mostly cloudless blue sky, little bit of wind to keep you cool. All in all a very good temp. a little warmer would be nice but still a fair chance I will be decently tanned by the end of the week.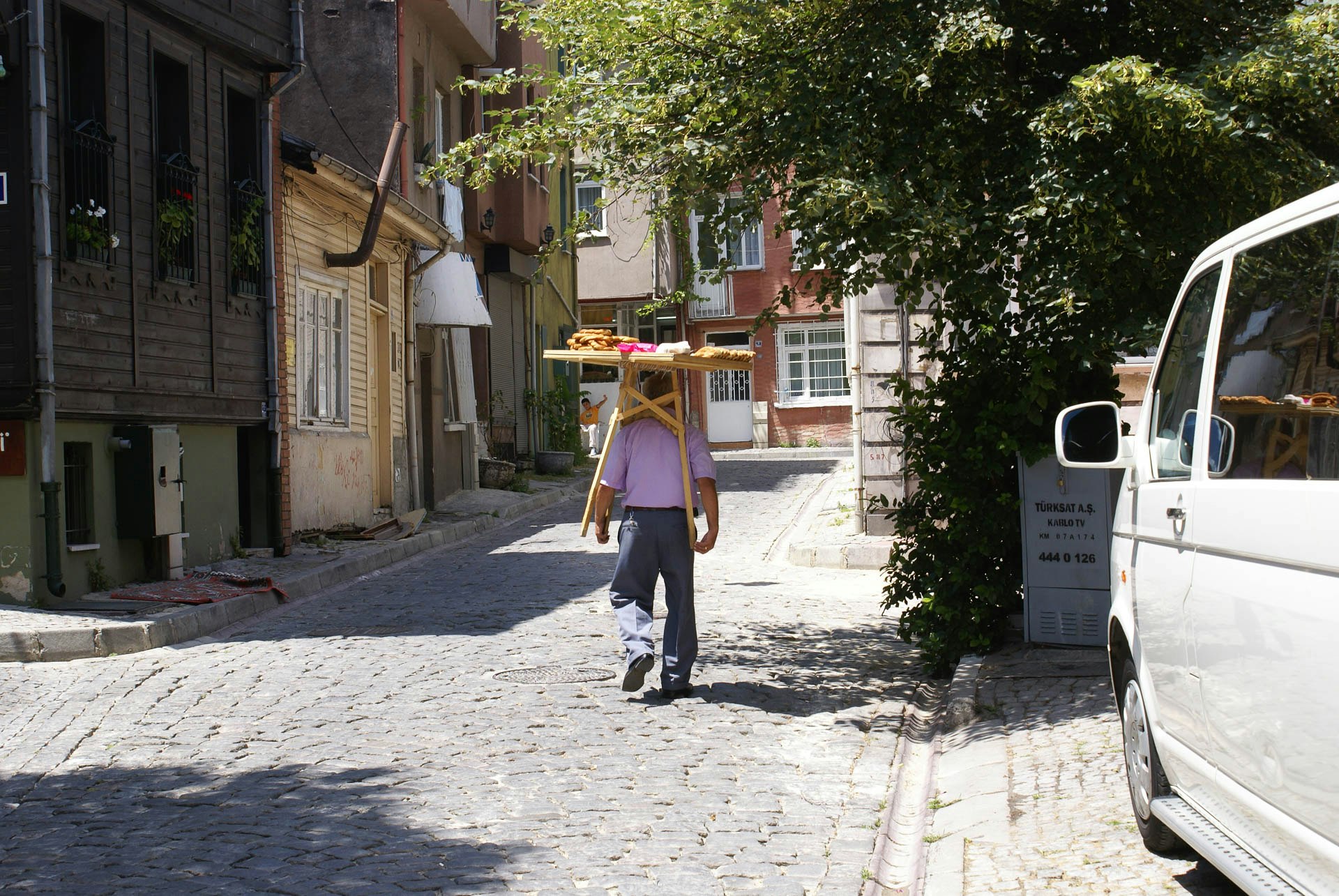 I wandered out of the hotel and ambled around Sultanamkek. it's very picturesque, and has some amazing scenery. The place looks like a medieval fairy tale city told with an Arabic accent. Imagine if 1001 Nights had been set in an old German town. Walked down to the coast and had a bit of a walk along the ocean until I decided I was hungry.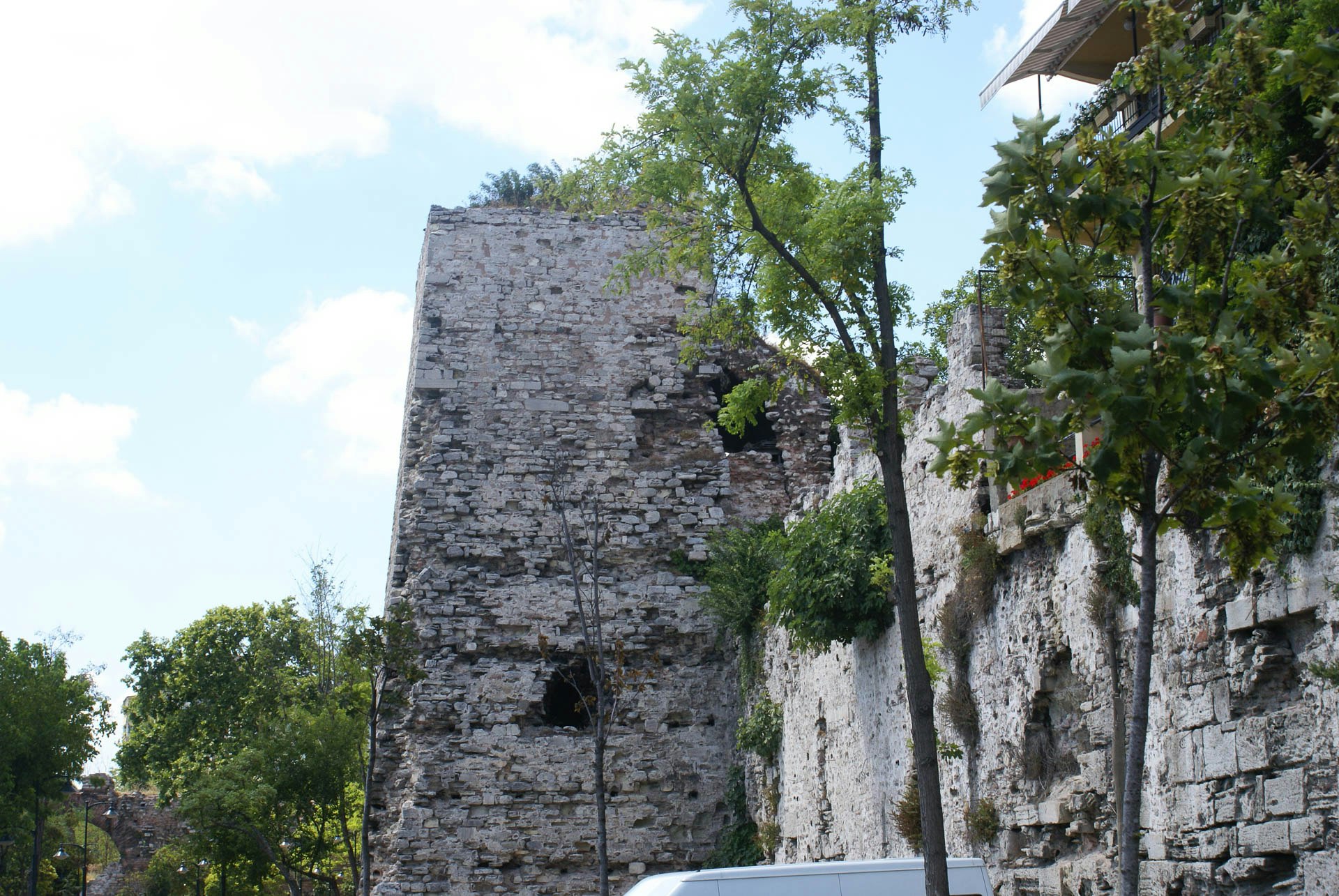 I stopped in to a fish restaurant, that turned out to be pretty expensive! But I had a sea-bream with a green salad both incredibly fresh and a pint of local beer followed by thick sweet Turkish coffee. It was a really good meal and I think I'll have something small for dinner. Took my time over it, I was there for an hour or more, listening to my iPod and reading about the sights of the area in Istanbul that I'm exploring.
There are basically three segments to Istanbul. Sultanahmet, where I am, with most of the historic stuff, The Hagia Sophia, the Blue Mosque etc, that includes the Bazaar district as well. Then, over the bridge there is the more modern area. Apparently that's were all the decent night-life is. The final segment is over the other side of the Bosporus and can only be reached by ferry. Or a really long walk, ducking through Russia for a while. I may well go to that side, but it will be part of an excursion I am thinking of.
Having had lunch, I decided rather than going to a particular site, I would continue my wander and get a feel for the place. It's something I like to do in a strange city. It's probably a really bad idea to wander aimlessly with expensive camera equipment and an iPod through a city you don't know, but I have faith.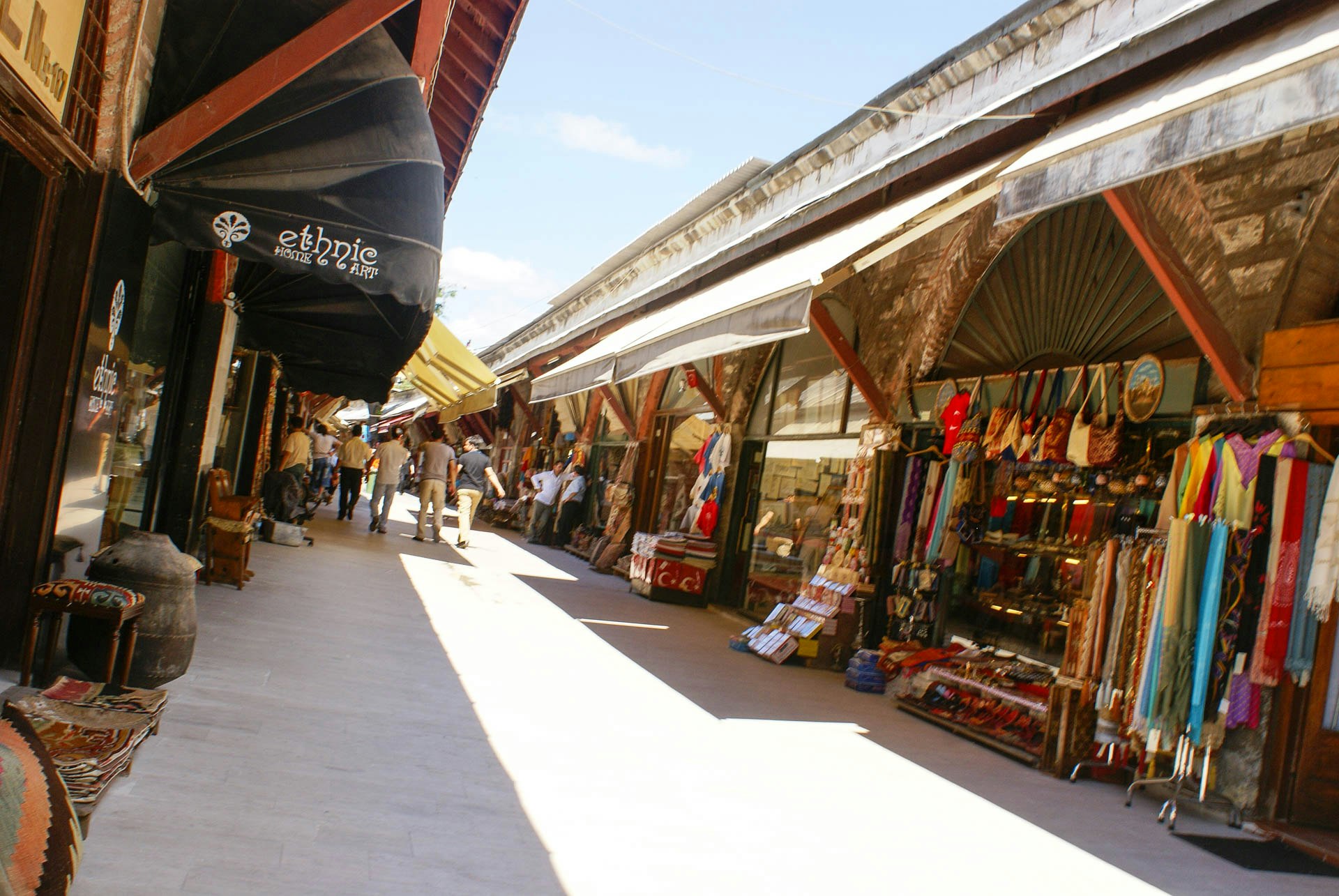 I found the Hagia Sophia, the Blue Mosque, a long Bazaar, which isn't the Grand Bazaar and some other interesting things.
---
13th July
I walked for a couple of hours round Istanbul, getting my bearings, getting lost, doubling back, all that sort of thing. it was really cool. I found the Basilica Cavern and the Grand Bazaar, and I think I know where the Spice Bazaar is. I also found a Turkish equivalent to Starbucks called Coffee Me, which had free Internet access.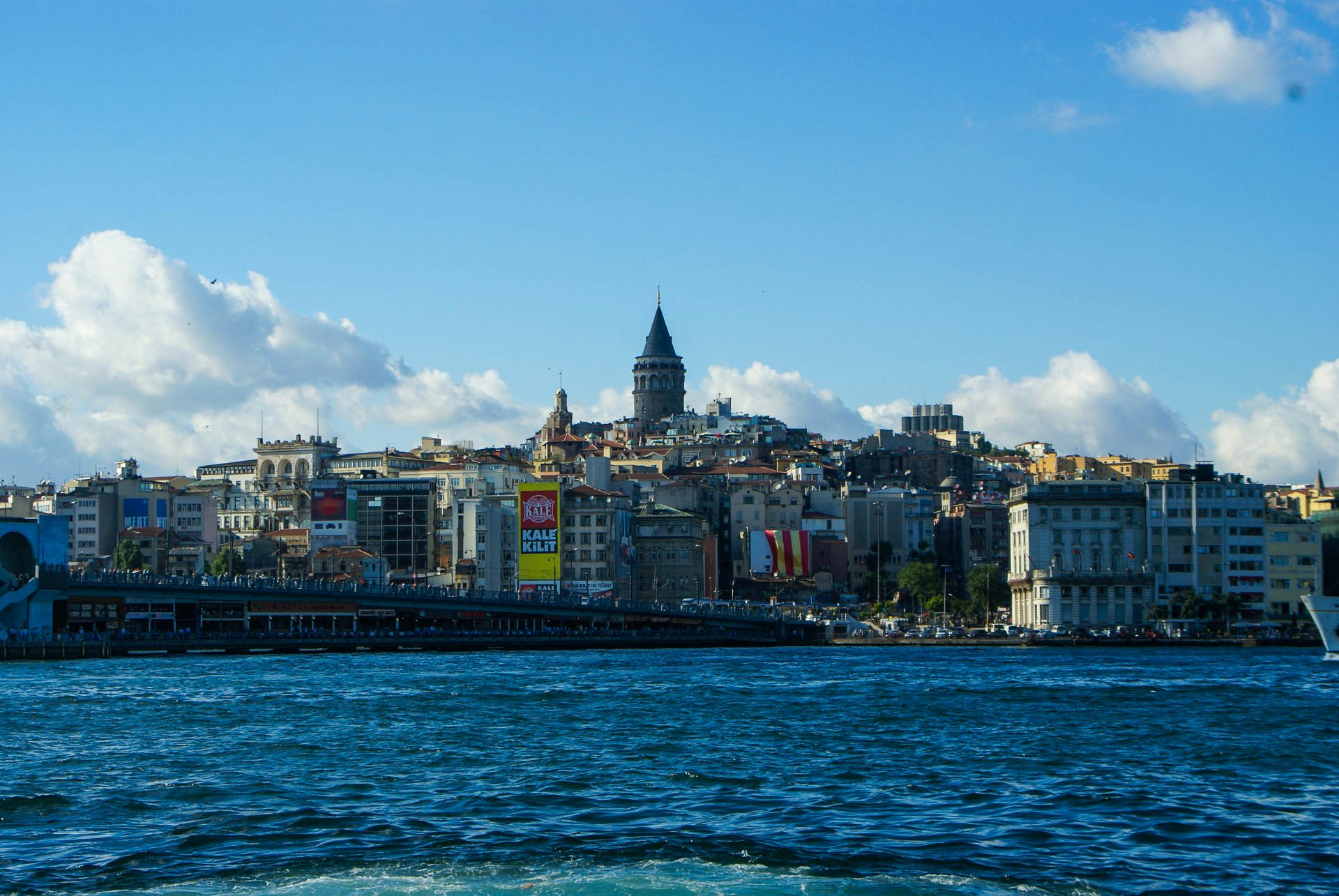 Well, dinner was excellent and expensive. Had a half carafe of wine with a stuffed aubergine started and a cheese and chicken main. Desert was a Turkish crepe and I went a little crazy and ordered a Remy Martin XO brandy at 22lira! They came back to ask if I wanted ice, which I obviously said no to!! It turned up in a brandy glass but when I accepted it they came back to ask if that was the proper way to serve it! They obviously don't sell a lot of brandy..... I got a free glass of Amaretto from them, but it was an 83 lira dinner, which is pretty damn expensive at 2.4lira to the pound!!
headed back to the hotel and decided to have a look at the view from the rooftop bar. There was loud music from somewhere and in the distance, towards the bridge there was two high intensity lights sweeping the sky.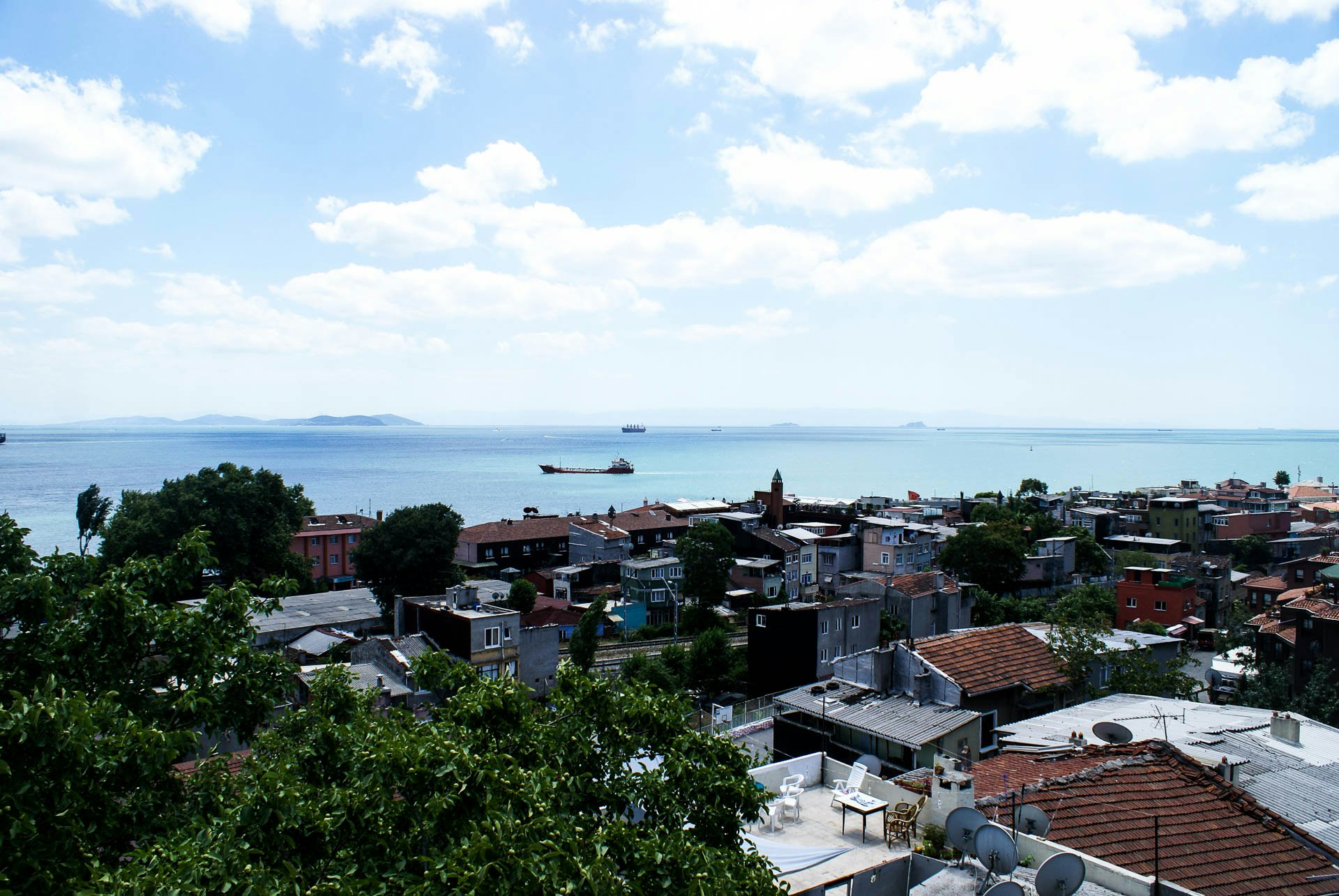 So, I dropped the book off and changed shoes and headed out. I followed the road and hit the Topkapi Palace so turned around and got to the coast road. I followed it around Sultankemet and finally saw the lights clearly. they were across the bay, near the start of the second bridge. the second bridge is light by LEDs with various patterns that chase themselves. it looks amazing at night. At this point I realised I was not going to get to the lights, it was a couple of hours walk away and I was far enough along that it seemed quicker to continue to the general bridge rather than double back. I got to the bridge intersection and wondered if I should stop for a drink. The crossing turned green, which I took as a sign. I crossed over and had a pint looking out into the Bosporus. The water was black as oil and reflected the lights from the city in a mesmeric way. The moon was 3/4 full and bright. It was lovely.
I thought about continuing, going on until I found the lights, but decided as it was about half midnight it was time to head back otherwise I would be out until dawn.
Headed back to the hotel, using the main streets and paused half way to watch the construction crews redoing the road but ultimately got back home at about quarter past one... It was an interesting evening and good story, but wish I'd found the source of the lights....
I did find a gallery with some really interesting artwork. The paintings were strange and angry, but they were powerful. There was a definite cat theme as well as a mechanical one. I don't think I would want to see them on my wall every day, but they did make an impression.
There is always something somewhat magical about a city late at night; there is an energy and atmosphere to it that can be intoxicating...
---
14th July
Well, I went out to firstly find a cash point, which took ages and then find a nice rooftop bar for Meze and a drink. I found one I recognised from Lonely Planet, the Hotel Nomand. I went up to the roof and found they don't do food, only drink, so I started with a white wine and finished with a Mojito. The view was amazing.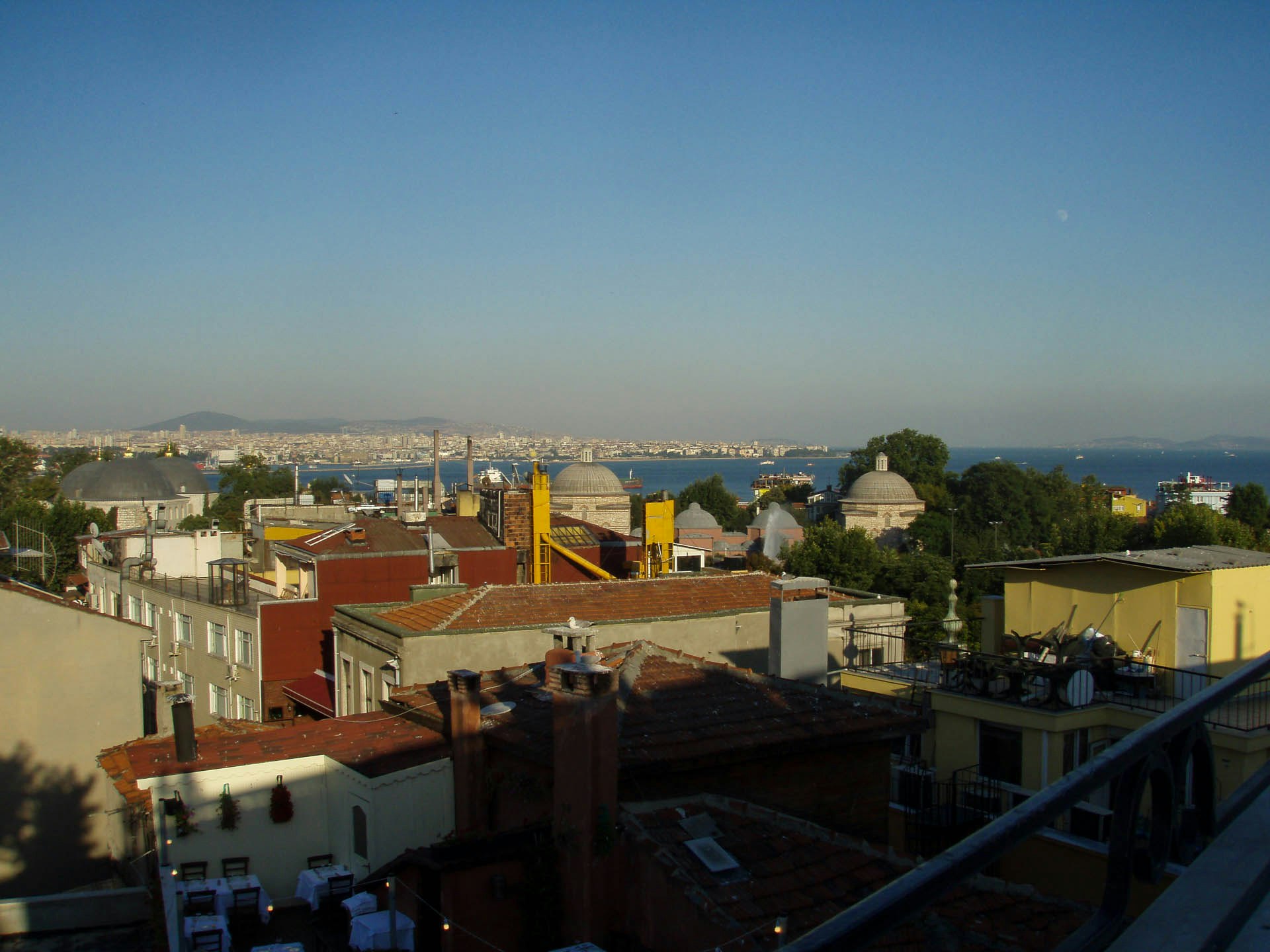 After that I wandered around town until I found a restaurant that I liked the look of... really comfy chairs, so I sat by the street and ordered. The two guys, the waiter and the owner I guess were really nice, they both spoke Turkish, English Spanish French and Italian! They were joking around and the owner tried to get various people to eat there, mostly with success. He failed with two attractive girls who were walking by.... Once they were out of earshot he said, "Ah, my friend, I was going to sit those ladies next to you for the evening..." I laughed and said "Would have been nice" and he continued with "They don't know what they are missing my friend" needless to say, well tipped at the end of the meal. The waiter then decided to ask me about the kind of girls I like and said he'd recommend me to his ex who was a fiery, good-kind-of-crazy Latina....
There were also lots of cute cats and kittens!
After dinner I sauntered back in the general direction of home and stopped at an outdoor café where they had a whirling dervish and live music, had Baklava and Turkish coffee and watched/listened. It was really cool.
---
16th July
The last night in Istanbul was awesome.
I started with a meal at the Regent, very nice, excellent food and service. I had a bottle of wine, and read some of my book on the history of Istanbul. I had a Fig Dessert and coffee, which was superb caramel flavour, slightly chewy with fresh vanilla ice cream!
After that, I wandered around to the Four Seasons and had a dry martini (Seriously Dry!) a Strawberry Mojito and a Blackberry Margarita. I was sat in an antique armchair and reading. it was lovely, relaxing, civilised and fun. I found that a Frenchman once snuck into the Hagia Sophia whilst it was still a mosque to make measurements and he took in wine and sausage because he figured if he was caught they would kill him anyway, so whats two more infractions!
After that, I stopped in a backpackers bar, called the Just Bar for a beer. got chatting to two other guys who were traveling alone and to a table full of Dutch blokes. Practiced by Dutch a bit on them, realised I'm pretty bad at it after all this time.
The evening cost a fortune but was brilliant fun.