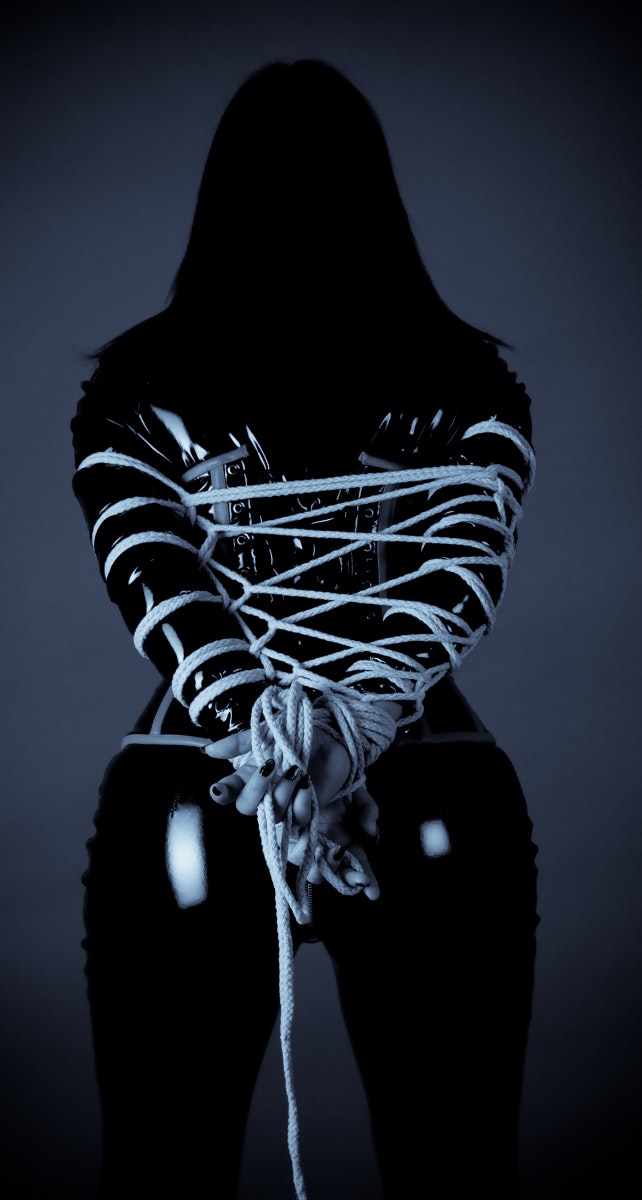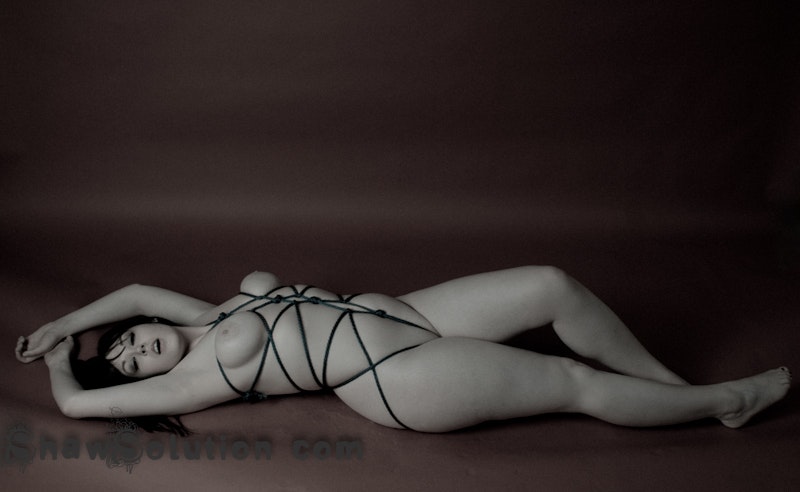 The image of the girl sat, head bowed was part of the Rope Bondage studio shoot. It was the first studio shoot I had ever done, and it was throwing myself into the deep end somewhat as it was also a partially nude shoot. The model in this shot, Clover was charming to work with and very professional but its an odd feeling to be directing someone who's only covering is a few ropes.
The most valuable thing I got from this shoot was a sense of professionalism. Working with a naked girl, particularly a very attractive one and taking her photograph requires a certain detachment and professional attitude, there is an image of this sort of work being the province of "Guy With Camera" a creepy man in a trench-coat using his camera as an excuse for voyeuristic thrills. Ensuring the model does not feel this even slightly is extremely important.
Artistically, I like how this image is very stark in its contrasts, it gives a sense of loneliness and hopelessness, which the ropes amplify. It is a dark, somewhat creepy image, particularly emphasized by the pale skin of Clover,
shining in the studio lights.
The shoot itself was about five photographers, one setup with two models working through several outfits with a professional rigger binding them. It was professionally done and the models were extremely cooperative and efficient.
The other image is of a latex clad woman called Dynamo and was in latex and rope for this shoot.
This was iconic and obvious as a choice for a shot, I think all the photographers took something similar to this, but this came out well. One of the things I have tried to take away from this was to be more creative, even if a shot is going to work, like this one, it is worth trying something different to separate the work I am doing from the work done by others. After all, who would employ a photography without a "Unique Selling Point". I also have a tendency to bring things back to a business view of art.
Dynamo was an interesting and experienced fetish model, indeed her assignment following this shoot was a mud wrestling video for an adult channel. It highlights the need for a photographer to be open minded and flexible, you never know what you will be told.
See Kinky Clover for more