Reykjavik is a surprisingly busy city on the west coast of Iceland. Surrounded by black volcanic stone and yellow grass the city is striking. Arctic winds blow in from the coast, and Iceland is the third windiest place in the world. Houses are generally low with sloped roofs to avoid the ever present wind.
The city is full of tourists, Iceland's niche as a stopover between Europe and the US is working well for it in terms of bringing people in.
The marina is full of fish restaurants, tours and fishing boats, and the centre of town is primarily a single road full of shops (many selling cold weather gear).
The outsides are bleak, but inside the restaurants and shops, low lighting and warm woods make you feel welcomed.
There is something still quite fishery about Iceland. The weather, the rain, the coast. It's not a nation of sailors like the UK or Scandinavia but of people who spend their lives closer to home. There is still a wildness to it.
---
Day 1:
The day before my flight, I had to contact SAS by phone because they'd changed my flights and I'd gone from a 1 hour layover in Copenhagen to twenty five hours there… They were very helpful, and moved me to a flight via Stockholm, but it did mean rather than arriving at 11am I was getting to Reykjavik at 15:30. Still much better than the next day, and a later start, so I headed out via Stockholm. For some reason the GPS on my phone was refusing to connect the whole time I was in Stockholm airport, which made me very aware of how much I had come to depend on my phone for navigation. Being told exactly where I am makes it very simple to know where to go. Arlanda airport is quite large, especially compared to Landvetter, but there was a nice Gastropub near the gate where I had a good burger and a beer before the flight to Iceland.
Icelandic Air is nice, good seats and they provide various facts on the entertainment screens about Iceland, such as it being the third most windy place in the world. We landed smoothly, though at one point on the flight the turbulence was so bad there was screaming from children. I took the bus into town, something you can arrange on the plane with the flight attendants, which is a nice time saver.
The terrain is harsh, but beautiful, coming into the city, there is yellow grass everywhere, with volcanic black stone breaking through the ground in various places. It is wildly different from the wildness of Sweden with its granite and evergreens.
As I was quite late getting to the city, I knew I wouldn't be able to do any museums, as they closed between five and six, so I walked up from the bus terminal to find the famous Hallgrimskirkja. On my way, I ended up in the grounds of the Einar Jónsson Museum, with a series of statues.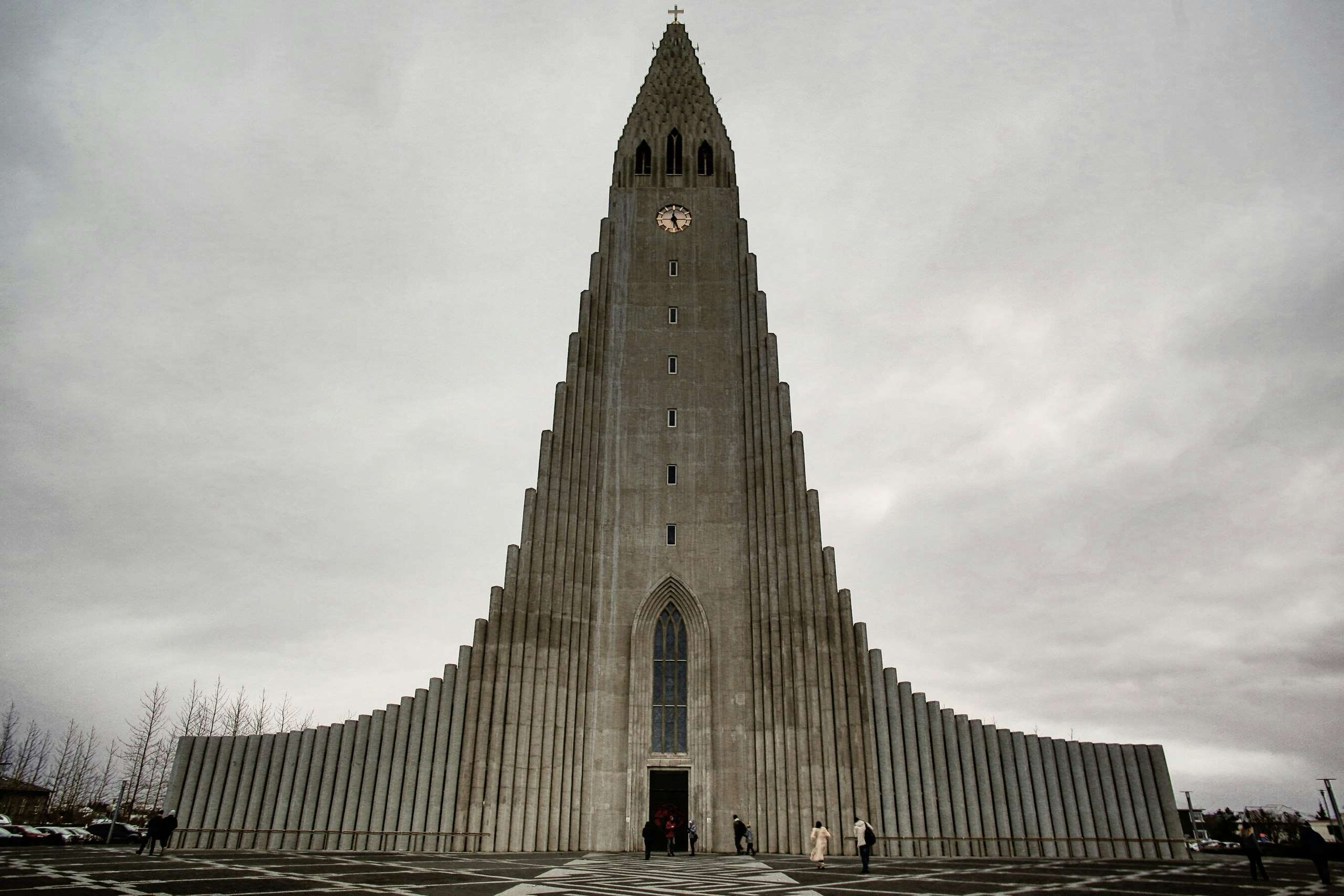 Hallgrimskirkja is iconic, looming up over the landscape, with a statue of famed explorer Leif Eiríksson at the front. The area is full of tourists, all of us taking the same shots. Its an unusual looking church, almost mathematical in its lines.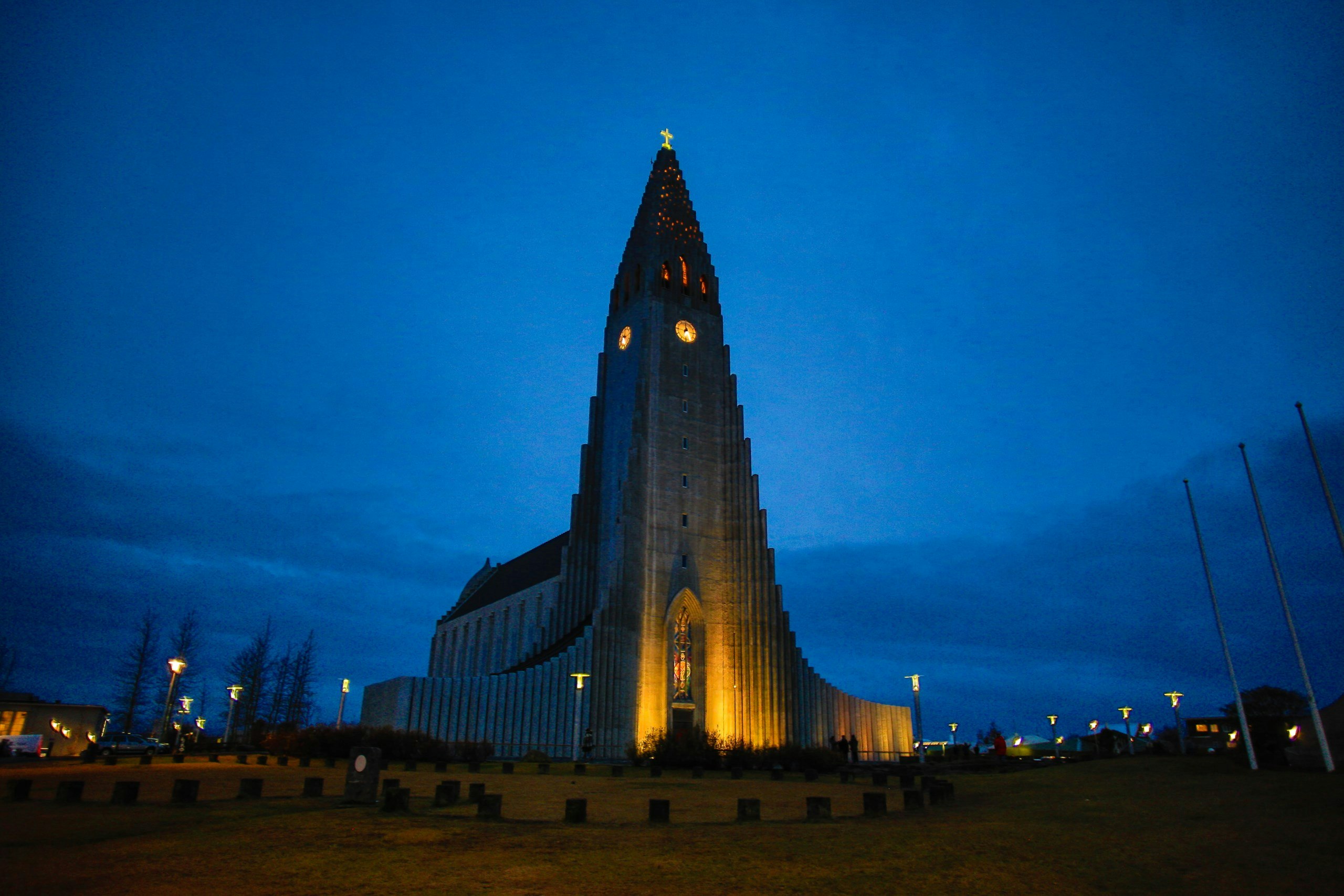 From there, I walked a short way to ROK bar for a local beer and to warm up a bit. Even with my layers it was cold outside. After warming up, I headed down towards the coast past the main shopping streets and passed a late night tattoo parlour, where I realised why most places have opaque windows when I passed. Woman laying on the tattoo chair in hot pink panties getting a thigh tattoo done. Privacy seems less important in Iceland.
My destination was the Sunseeker statue on the waterfront, and it was a chance to get my tripod setup in a good location to get an evening HDR photo of the skyline and the Sunseeker. I was continually frustrated by other people wandering into my photo to have their picture taken, using a flash or otherwise preventing the shots I needed. With perseverance, I finally got the photo I had been trying for.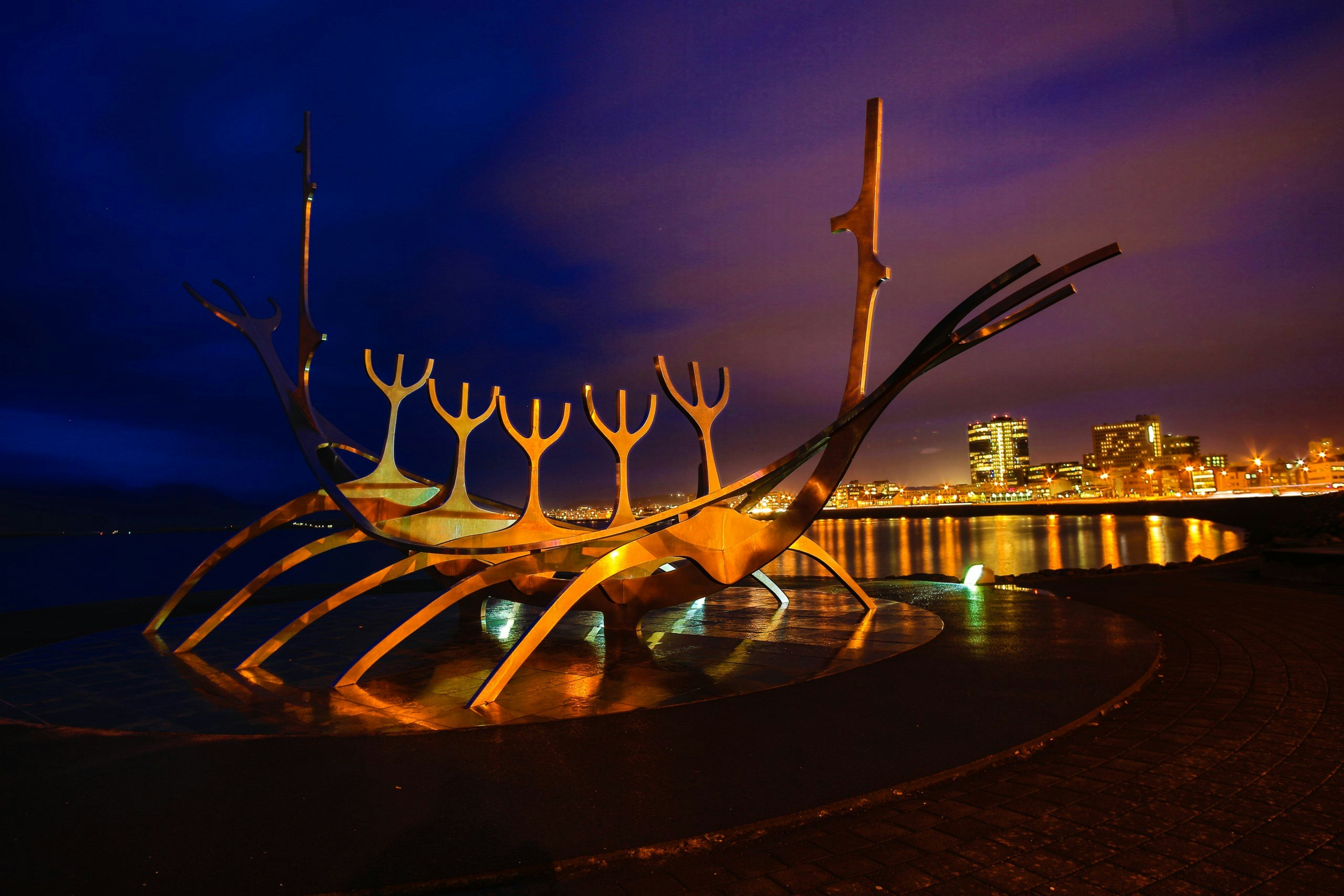 Dinner was at the Old Iceland restaurant, I arrived just in time to get a small table at the back before it filled up, and had a fish soup to start and an excellent lamb main. It was a suburb meal with some very good wine.
There are a great deal of Americans and Canadian tourists in Iceland due to the various deals they are offering on flights and on being a free connection point. Its having a significant impact on their economy but they are making every effort to minimise the impact on the ecology.
I found the bus stop I needed to get to my hotel, directly outside the market-hall, so I could have a swift beer whilst waiting for the bus to arrive as they are regular but infrequent. There is an easy to use app to buy tickets, even in Icelandic its functions are fairly obvious.

---
Day 2:
The hotel was fairly basic but nicely furnished. Breakfast was in the basement and was a traditional continental breakfast, but it was a good start to the day. I ended up in reception for about an hour waiting for the bus to come and collect me for my tour, which is always the risk.
The tour was taking me around the famous Golden Circle of Iceland, and our first point was stopping for coffee at Hveragerði and getting snacks for the road. On route we passed through an area of geothermal energy collection, and the whole area smelled of sulphur. Apparently, its common for the shower water to smell as well on occasion as so much of Iceland is geothermic.
I picked up some sandwiches for lunch if needed and a coffee and we waited on the bus for the stragglers. There were about 14 of us in the bus, with every seat filled. We then drove about forty minutes to Kerid Crater. No one is sure what has cause it, a meteor impact or the collapse of a pocket of rock, but in any case, the colours of the lake, grass and rocks are remarkable. The weather was poor and the light flat, so capturing it as it best was impossible, but I walked around the full width of the crater, the wind fiercely snapping at my coat. By the time I got back on the bus, I was cold and soaking wet from the rain.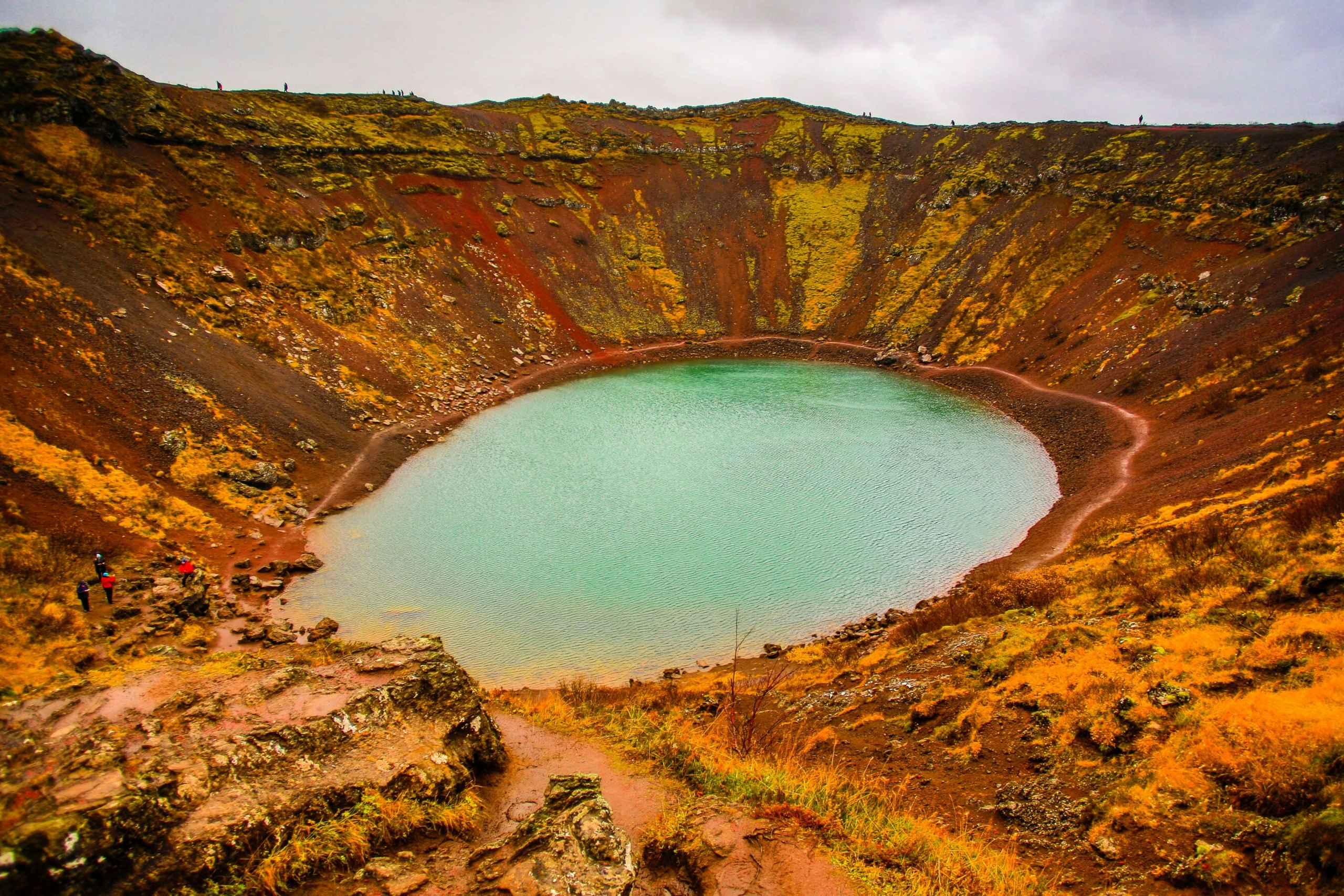 Our next stop was Faxi waterfall, a wide, but not too tall drop at the bend in a river. Viewing can be done from the slope overlooking it, but I walked down to the river edge to get a closer view, though it was a slippery time in the mud getting there and back.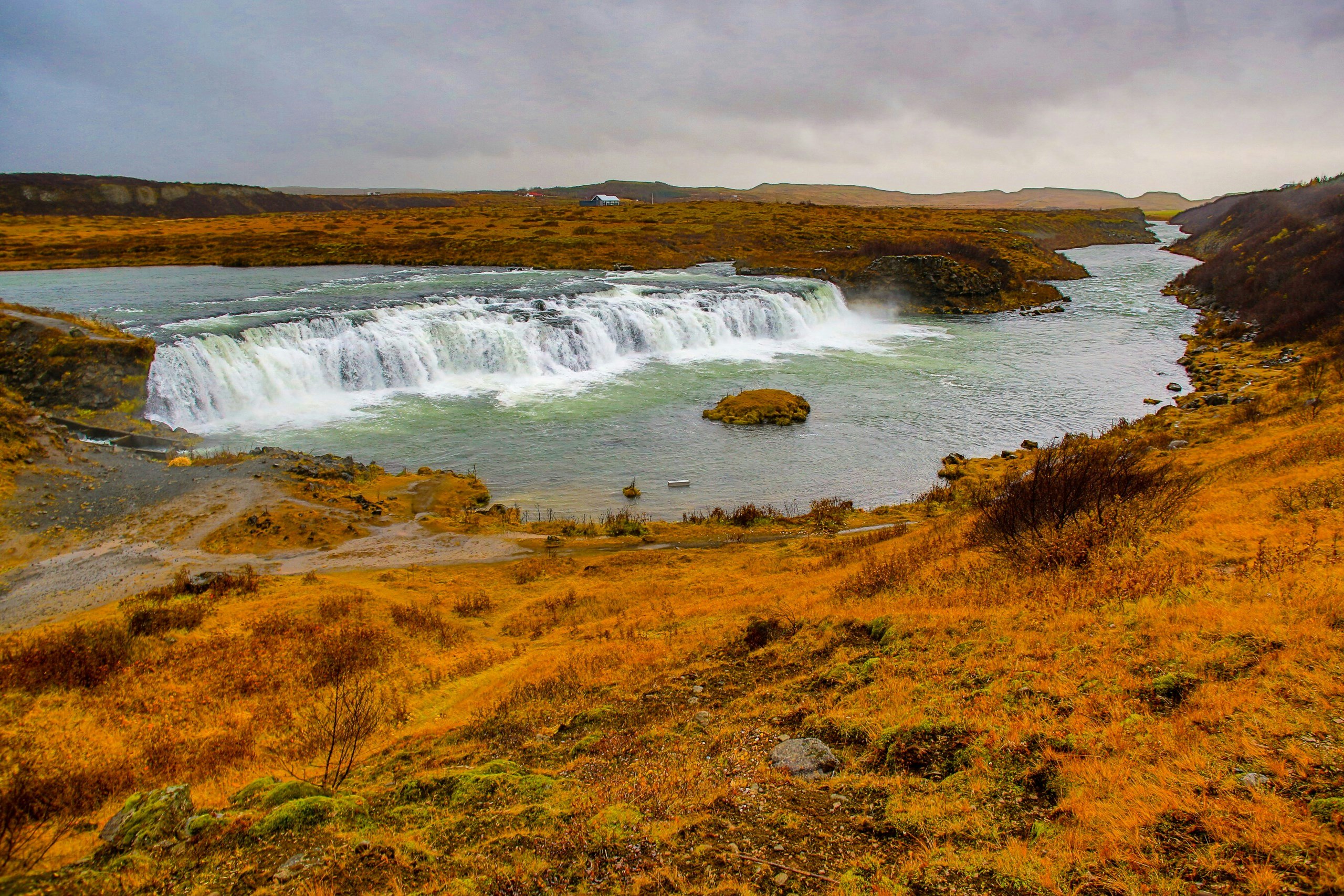 We then went on to the second waterfall of the trip, the impressive and famous Gullfoss Falls. There was a time that the British tried to turn this waterfall into a hydroelectric damn, but the owner and later his daughter refused to sell their 'friend' the daughter going so far as to threaten suicide if they attempted to build. The falls are impressive and they way they have cut into the rock to form canyons is amazing. As a popular destination, there are a lot of tourists there, even in the relative 'off' season of October. You can then climb some stairs and get a view from above the falls from a small cliff face.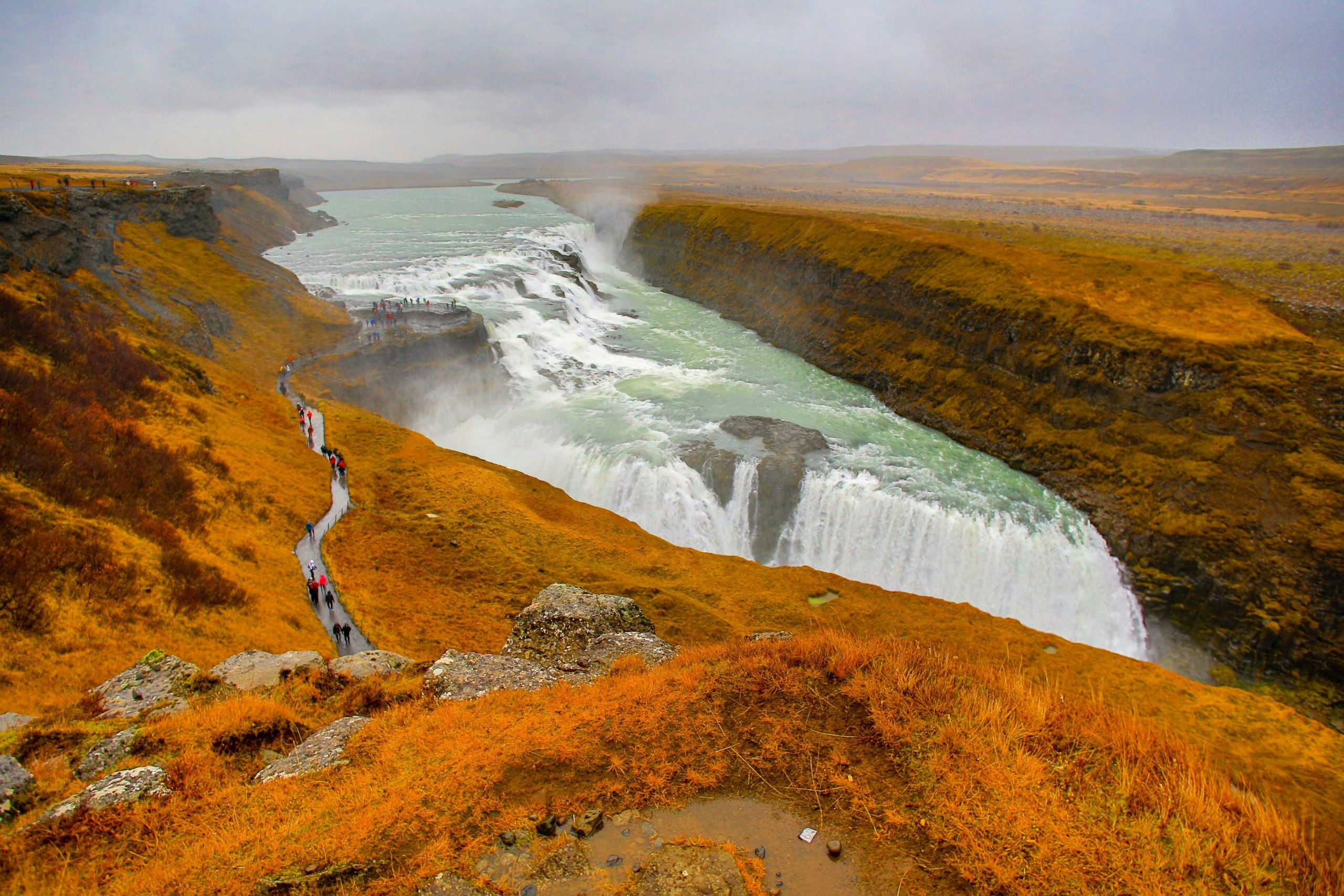 On route to the Gyser, we stopped briefly to see some Icelandic horses. They are a special breed, and if they leave Iceland they can never return as there is little to protect the local horses immune systems from common diseases. They also have to more 'walks' than other horses, a faster trot than trotting, that is smoother over the broken ground of Iceland and a faster gallop,
We then stopped for lunch and a chance to see the Geysir, one of the most famous things to do in Iceland. We had an hour, which we were told was plenty to have lunch and see the Geysir. I was more doubtful than the others on the tour and so started with the Geysir, knowing I had a sandwich in my bag for emergencies.
The Geysir erupts approximately every five minutes, and I've never before been so conscious of how heavy my camera is when it is up, finger on the trigger waiting for the eruption. I missed the first one as I'd taken the weight off, and it is a fast eruption. I caught the second and third. They're not as tall as you expect from seeing these things on television, but its still an impressive sight. Around the area are a number of hot pools of geothermically heated water and some beautiful landscapes.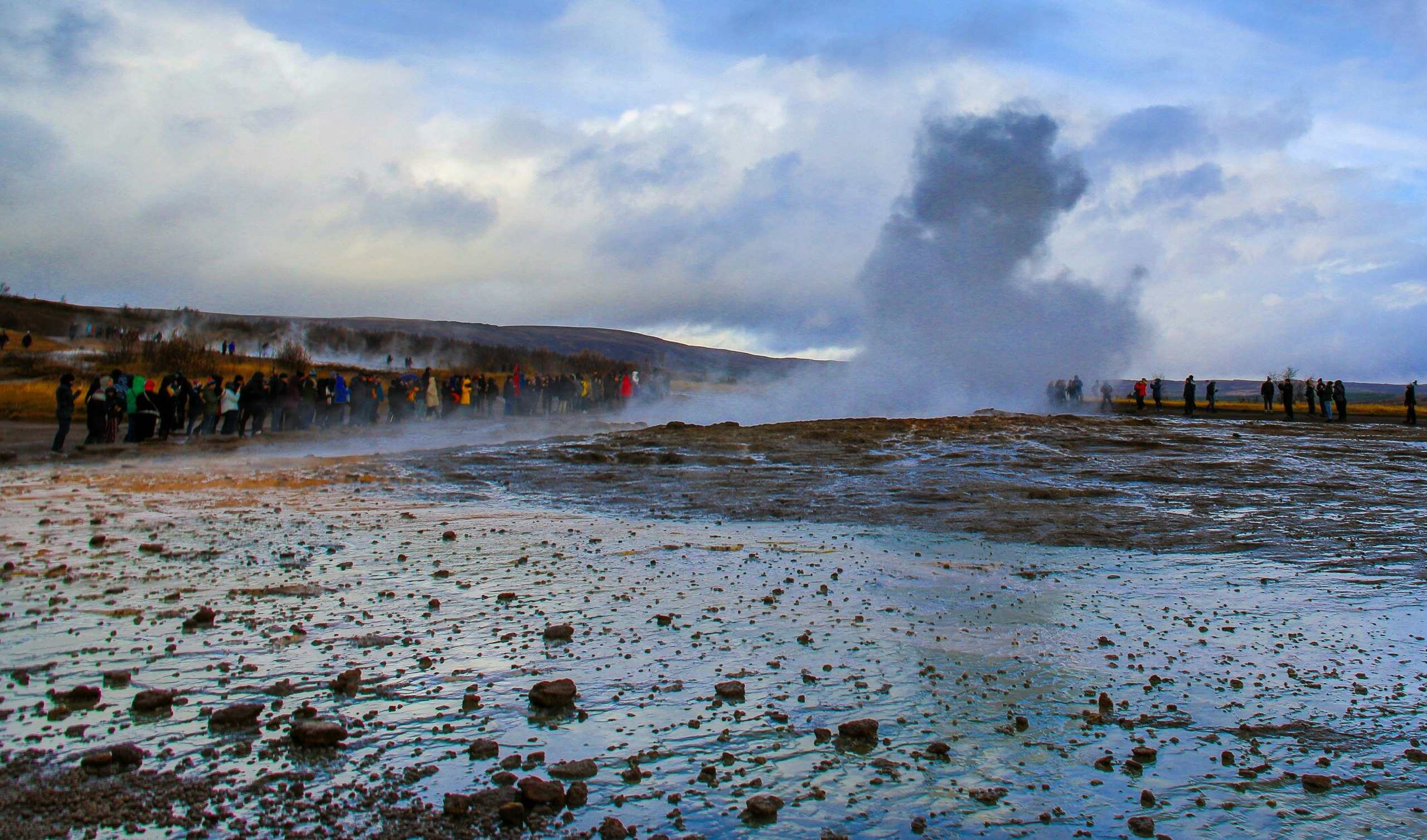 The queue at the canteen was huge, and I'd not manage to get anything and eat it in the time I had left, so I found a small cafe and got a drink and a donut and ate my sandwich. Not the most healthy or filling choice, but better than missing the Geysir & Hot Springs.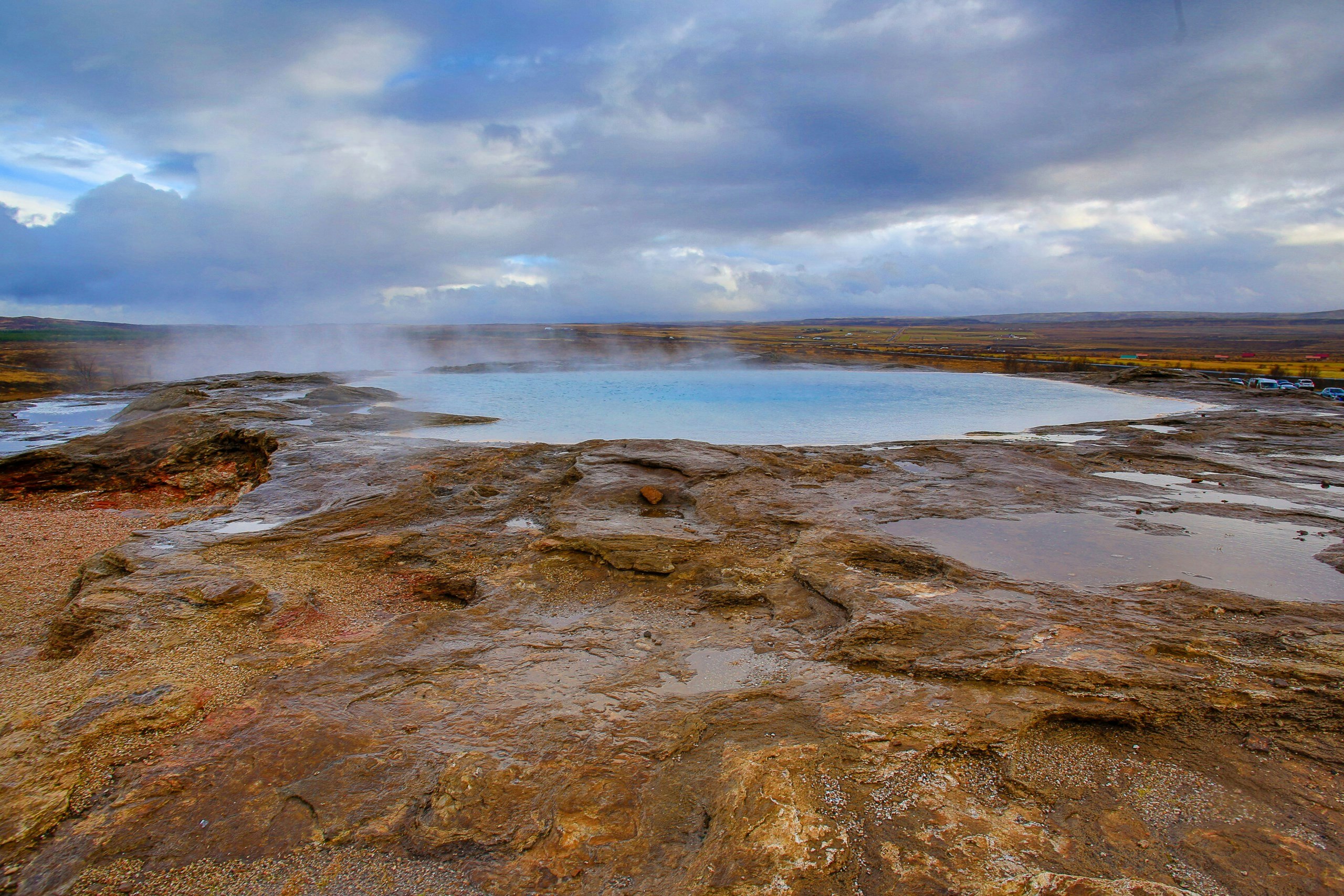 At this point, I got the notification that my northern lights tour that evening had been cancelled due to the cloud cover and rain. It didn't come as a surprise, but it was still disappointing. It was rescheduled for the following day, and I was able to change the collection to the centre of town so I didn't have to get back to my hotel for pickup.
We stopped for Ice Cream at this point at a local cooperative called Efstidalur, where you could see the cows who provided the ice cream through the window of the parlour into the cow shed. Its a little strange and shortly after we arrived the place was inundated with a bus full of school children.
Our final stop on the tour was Thingvellir National Park, where we walked up the escarpment through the connection point of the North American and Eurasian tectonic plates.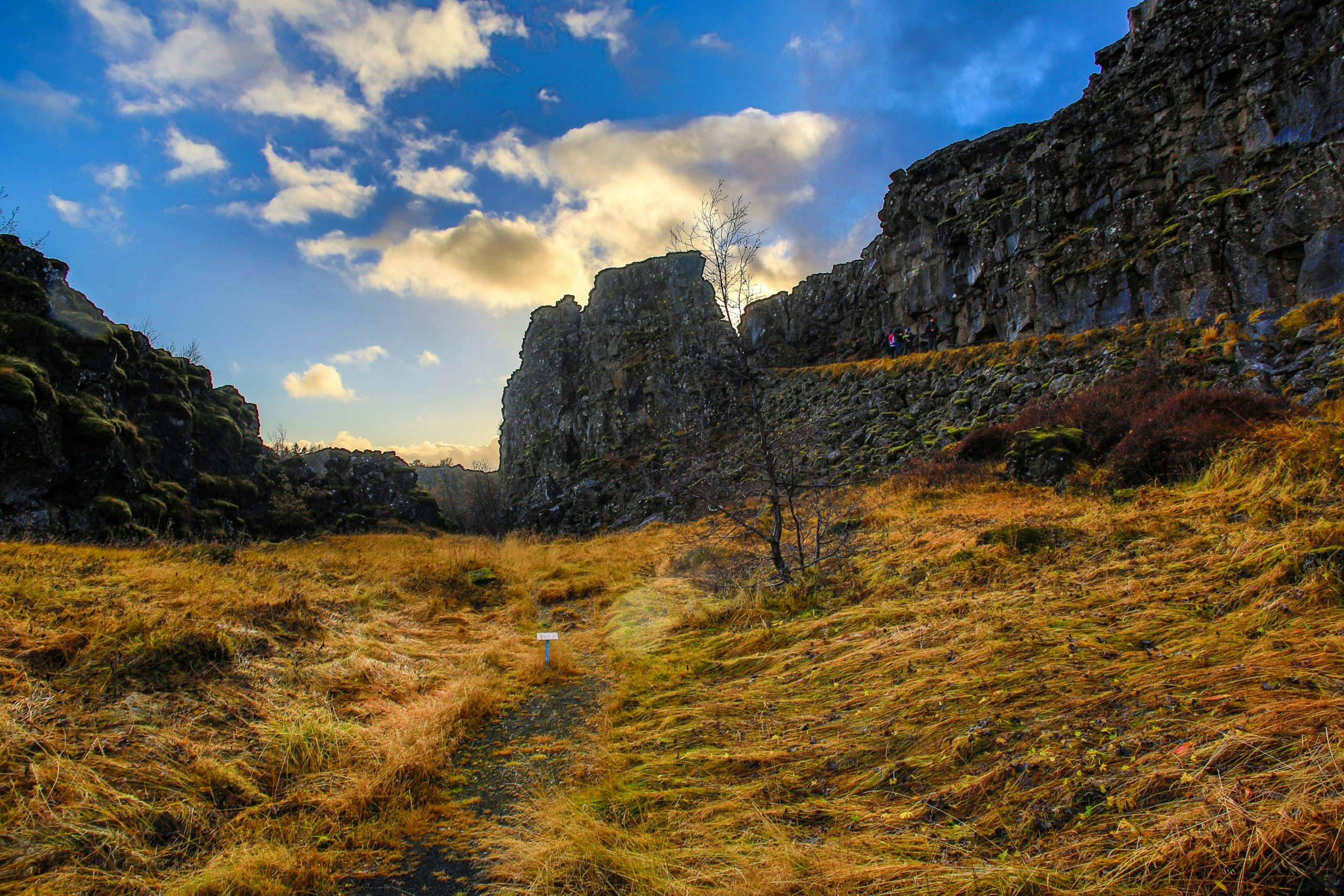 In the dim past, the Thing was held here, the gathering of locals for the making of laws and judgement. It overlooks a series of rivers and the stone jutting up from the ground has an almost bluish cast to it in the right light.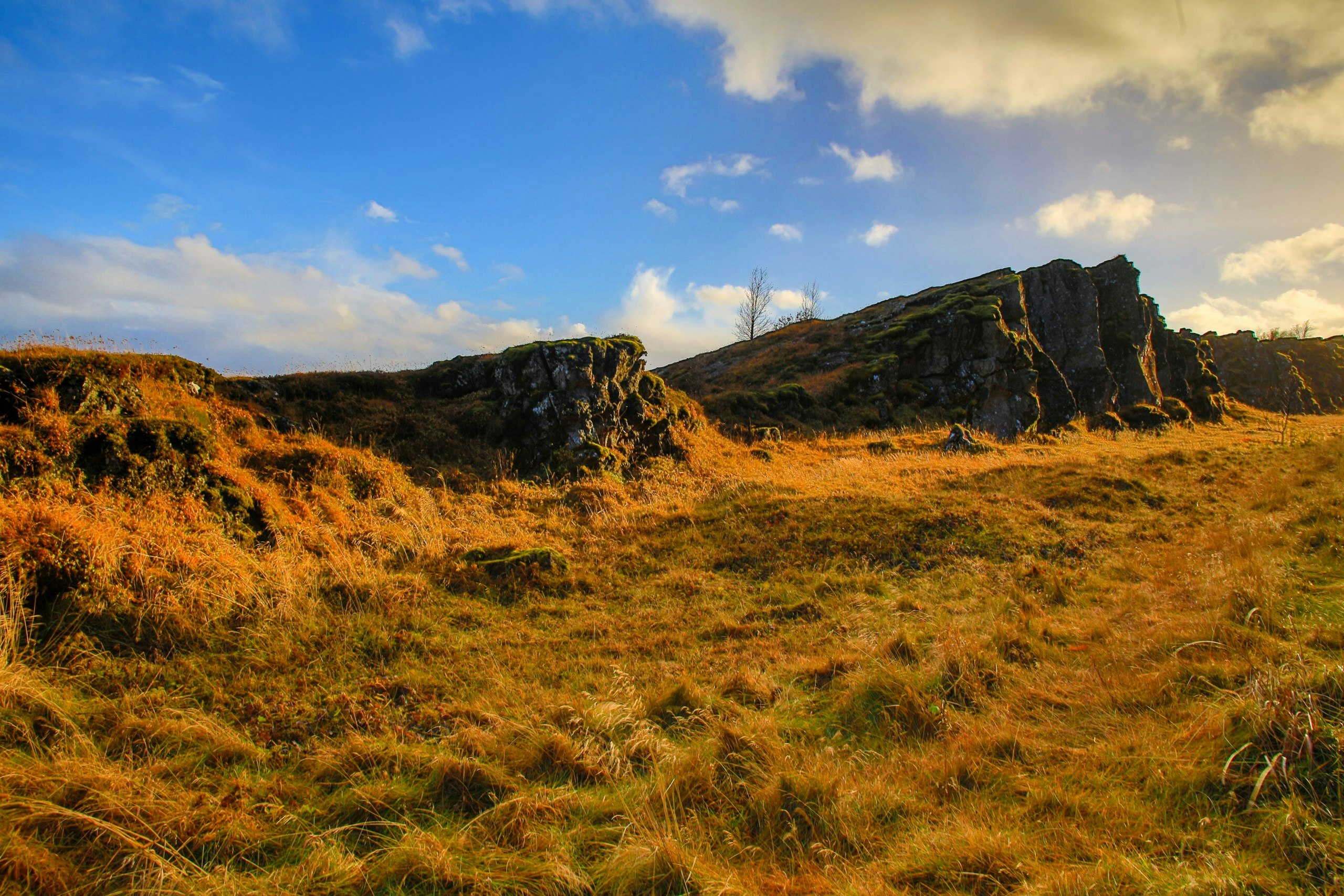 We then returned to Reykjavik and I was dropped in the centre of town to explore. I ended up in a cold weather store shop and picked up a set of Icelandic wool socks which were super cosy to wear and a pair of cold weather trousers a little like snowboarding trousers but more suited for walking. I then found out I could claim the tax back on them at the airport just by filling in a short part of the receipt, getting approximately 400 SEK back on my purchase. Iceland are doing all they can to make it easy and cost-effective to be a tourist.
I stopped into Brewdog for a beer or two after my day out in the wilds of Iceland, and ended up chatting to a pair of American guys who assumed initially I was local, and when I said I lived in Sweden were impressed with how good my English was. I decided not to explain any further. I was helped by a local however in choosing my final beer, who pointed out a local brewery option that was in partnership and it was a good call.
I'd identified at place that apparently did an incredible fish soup. Not normally a fan of either of those things, I walked over to it due to the rave reviews. It was more of a cafe however, and I wasn't in the mood for bar service, after my mediocre lunch. I wandered around a while before finding Reykjavik Fish, a restaurant offering a great Plokkir, a kind of fish and potato gratin served in a hot cast iron pan straight from the flames.
At this point I headed back on the bus to my hotel, but decided once I arrived that I fancied a drink or two before bed as it was still early and my hotel didn't have a bar, or a mini bar. I walked over the road to the pool hall, but it looked shut so instead went to the Hilton's bar for a few glasses of red wine and to have the regrettable experience of listening to a terrible terrible man, that resulted in a somewhat over the top post to facebook about him.
"A Texan I was on a tour with today was frustrated by the stereotype of American tourists. I said, it's hard, only the outliers ever get noticed, people like her are just tourists, no one knows where they are from.. I am sat at a table next to the outliers. Pro trump. Anti- millennial. Total Boomer. Holds his wine like a wanker. Double chin. Wife is definitely. Definitely sleeping with the young lad at the table. Dumb as a bag of hammers but thinks he is smart. God I hate him. Even his laugh angers me. I guarantee in London he would try and board the tube before people got off and would stand on the wrong side of the escalator."
---
Day 3:
I had an early start to the day and skipped the provided breakfast to have a coffee and croissant in town. This was something of a mistake as the cafe had a very long wait due to an English school trip meeting there for the morning.
Once I'd drunk my coffee, I headed up to the Settlement Museum, built over the ruins of an ancient longhouse. Originally by the ocean, the changing coastline has meant its now much more central. Whilst there is not a lot there, it has artefacts from the period and a lot of information on the history.
I then explored a bit and went to the Listasafn Reykjavíkur, the Reykjavik art museum. It had some good displays, and is primarily modern art, but it is comparatively small, because it is three venues, the other two were a bit far out for my to go to. The building itself is great, high ceilings, whitewashed walls and dark floors.
Sæta Svínið Gastropub was my next stop, recommended online for its platter of unusual Icelandic meats, consisting of whale, puffin, horse and char. They were all great, as was the dark lager to accompany it. Whale could almost be beef steak, though with a slight fish overtone. Puffin has a strong smokey flavour and was rather chewy, horse and char I had eaten before but both were well done. I felt somewhat guilty eating whale, though it is difficult to articulate coherently why that caused guilt when cow, horse, or chicken cause no such compunction.
After lunch, I walked down to the coast and wandered along the sea front and piers. I was tempted by taking one of the tours and going whale watching, but the final beer I had had at the pub put me too late for any of the session, which was disappointing.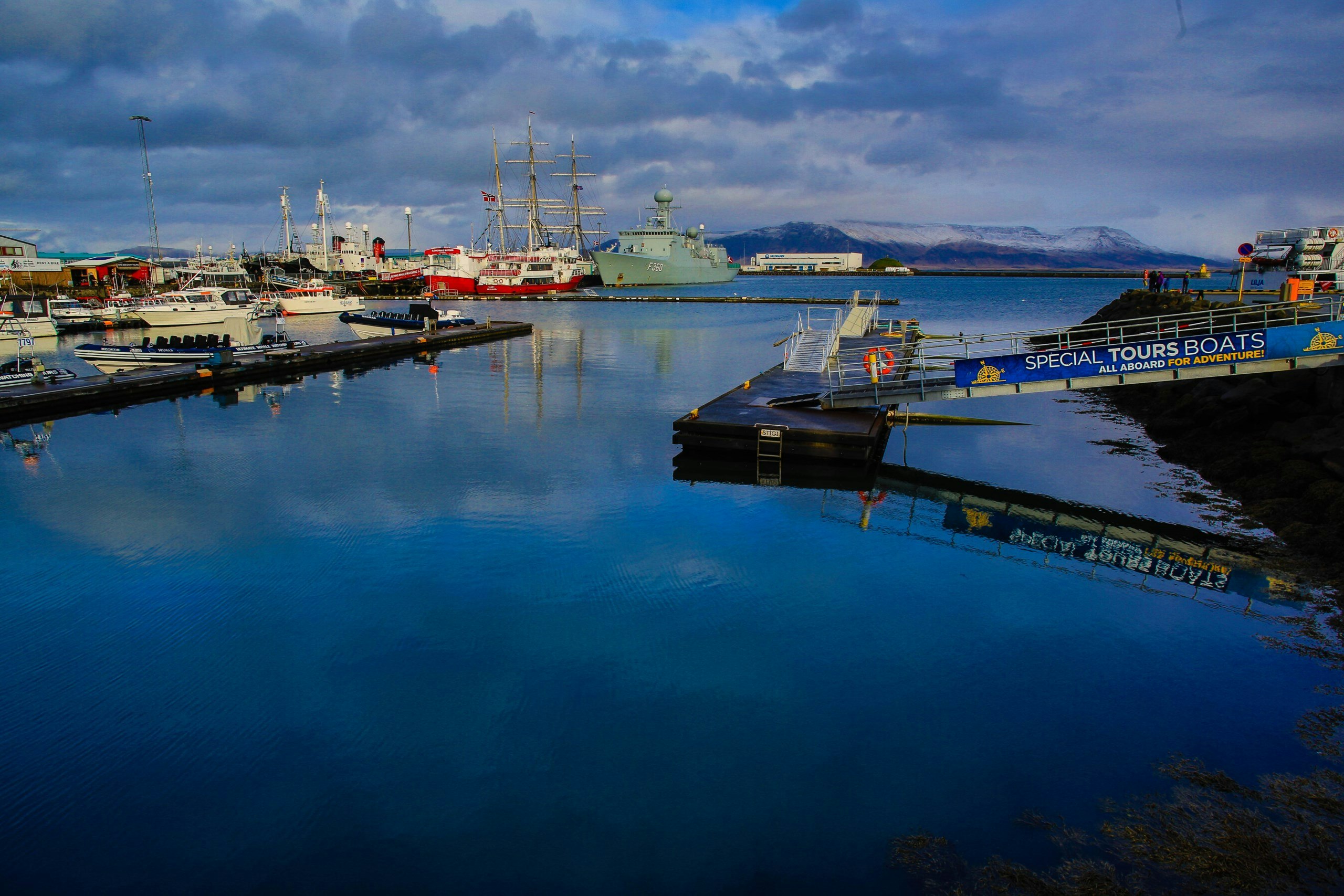 I instead walked down past the Eve Online monument, with the names of thousands of players engraved on the metal of the plinth it stands on as the offices are in the next door building. An American mother and son had a conversation with me about the monument, as he'd wanted to see it and she had no idea what it was all about.
I then went to the whale museum, where models of all the different types of whales hung from the ceiling to give visitors the understanding of the various sizes and differences of the whales. Along with that, bones are in cases around the museum showing off things like a Narwhals horn. There is an excellent audio guide, without which it would be a little pointless as there is little else other than the bones and models.
Following the whale museum, I went to the Maritime Museum. Iceland is very much a fishing nation, rather than an exploring one and the museum reflects that. There is a great deal of information on the fishery industry, and there are rooms setup to reflect it. The rise of safety at sea is a key exhibit. Its interesting and a very different perspective from the typical Maritime museum you encounter.
Next door to the maritime museum is a local brewery and bar. I stopped in to try their beer and to decide where to head next. I decided against the nearby Saga museum about the Icelandic sagas as it did not have the best reviews and instead took the bus to the famous Icelandic Phallological museum.
My expectation was that a museum dedicated to penises would be lighthearted and somewhat silly. Listening to the narration as I went around the small museum, it was strangely serious. The founder had been given a preserved penis as a joke by a colleague, which then became a running joke from all his friends until his wife had finally had enough and he was told to 'get rid of all the penes." Rather than throw them out, the founder instead created a museum for them, of which he was the curator. I learned that the only carnivores with no penis bone are humans and hyenas and that a number of people have offered their human penis (as there is none in the museum) on their deaths but so far they all remain healthy, but their letters of intent are on the walls.
I went to the nearby Restó for an early dinner, quiet, low lighting and an intimate setting made for a wonderful five course meal of spiced fish soup, wild goose (with a warning to check for buckshot), garlic sautéed scallops, a lamb dish and panna cotta.
I then met an old friend I had hiked through Nepal with and his wife, who he'd been engaged to when we'd been in Nepal, but had not come along. I had seen via facebook that he was also in Iceland and we managed to arrange an hour to catchup. Travel shrinks the world, but our communications do as well.
I left Scott and his wife and headed to the collection point for my rescheduled northern lights tour. We were collect4ed by Havar who talked us through some of the details on the lights, but set our expectations that this evening was still very cloudy and we were unlikely to find what we were searching for. He explained that it is the oxygen that makes the green colour and occasionally you will see a vibrant red from the nitrogen in the atmosphere. He drove us to two locations, only only briefly, and one for a little longer where we had Icelandic donuts and hot chocolate, and I setup my camera and tripod, but the cloud cover was heavy. I managed to get a shot of moonlight breaking through a distant part of the sky, but there was no visibility of the northern lights. Disheartened, we headed back into Reykavik.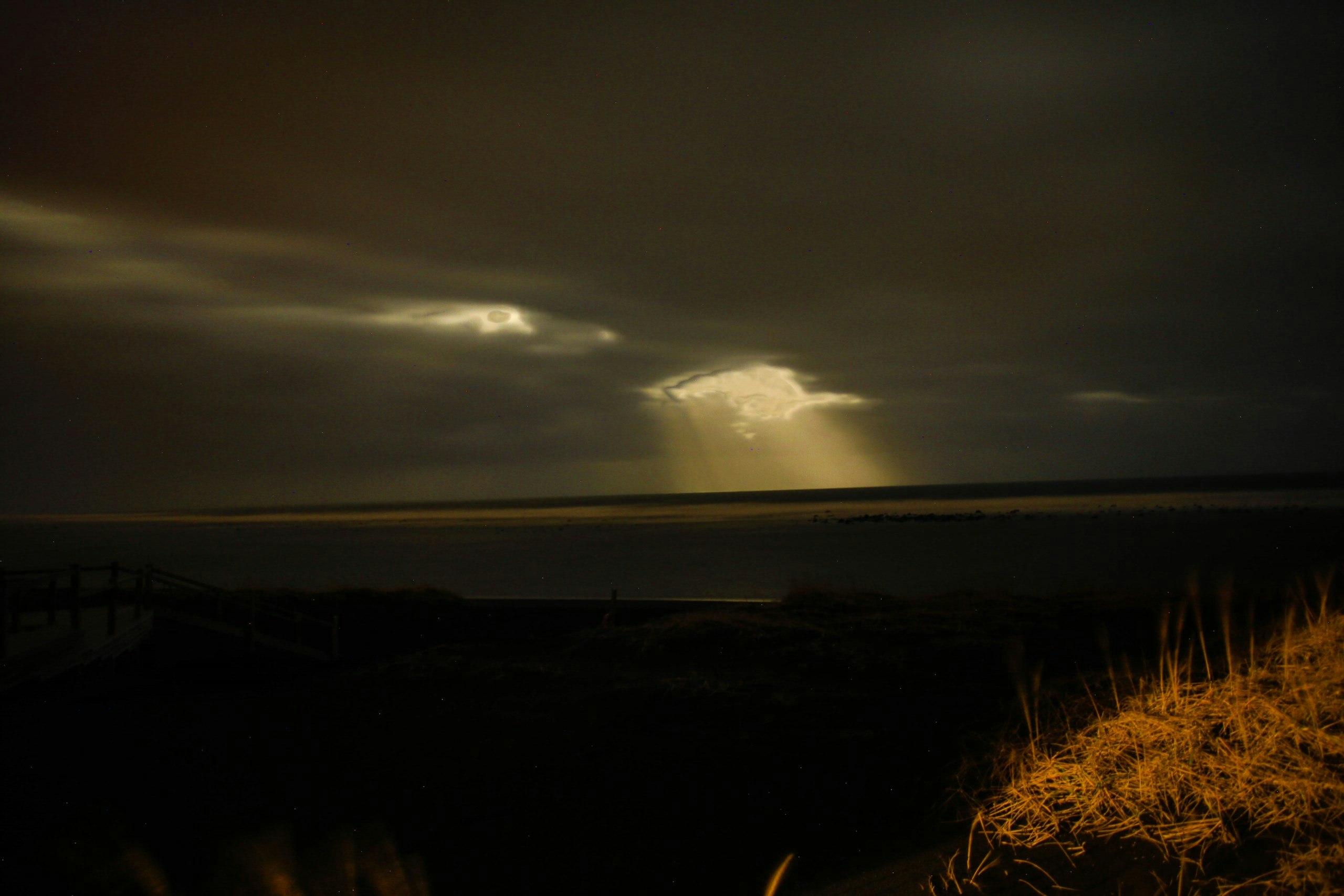 I jumped off at one of the stops before my collection point as it was near the bus stop to my hotel, and ran into two people from the tour the day before who were heading up the hill hoping to see the lights. I let them know the forecast, but they tried anyway, whilst I took the bus back to the hotel.
---
Day 4:
In order to get to the airport on time, I decided to book a taxi rather than take the bus that I'd originally intended as that would mean a 45 minute walk in the morning. Even with the taxi I was up at 6:45am, though did have time for breakfast before I was collected. The taxi is expensive, even by Swedish standards, but made for a very easy collection.
I dropped off my receipt for my tax rebate and was told In approximately three weeks it would be credited to my account. I checked in and settled into Joe & the Juice for a coffee whilst I waited. I was there for a while as the flight was delayed by 45 minutes, but the time was made back on the flight so I had no issues with my connection.
I ate dinner in Landvetter airport in Gothenburg before leaving the airport. It was my final trip on this adventure and it seemed somehow appropriate to have my last meal whilst still technically travelling. I lingered over a last glass of wine not quite wanting to admit the trip was over. When I finally went through customs and got back to Gothenburg I stopped in my local pub for a couple of beers to think about everything I'd done before heading home.
When I got back to my flat, I found I had been locked out. The plumber who had come round to service all the radiators had locked both locks, and I don't carry the key for the second. I emailed my landlord, lacking her phone number and went back to my local to hope for a reply. When none was forthcoming, I booked into a hotel room near the office. My 12 cities trip ended with a 13th hotel stay. One in my home town.