After a further drive, we climbed aboard a flat bottomed boat and sailed along the lake toward La Fortuna and the volcano. The lake is dammed at one end and used as a hydroelectric plant which provide 50% of Cost Rica's power.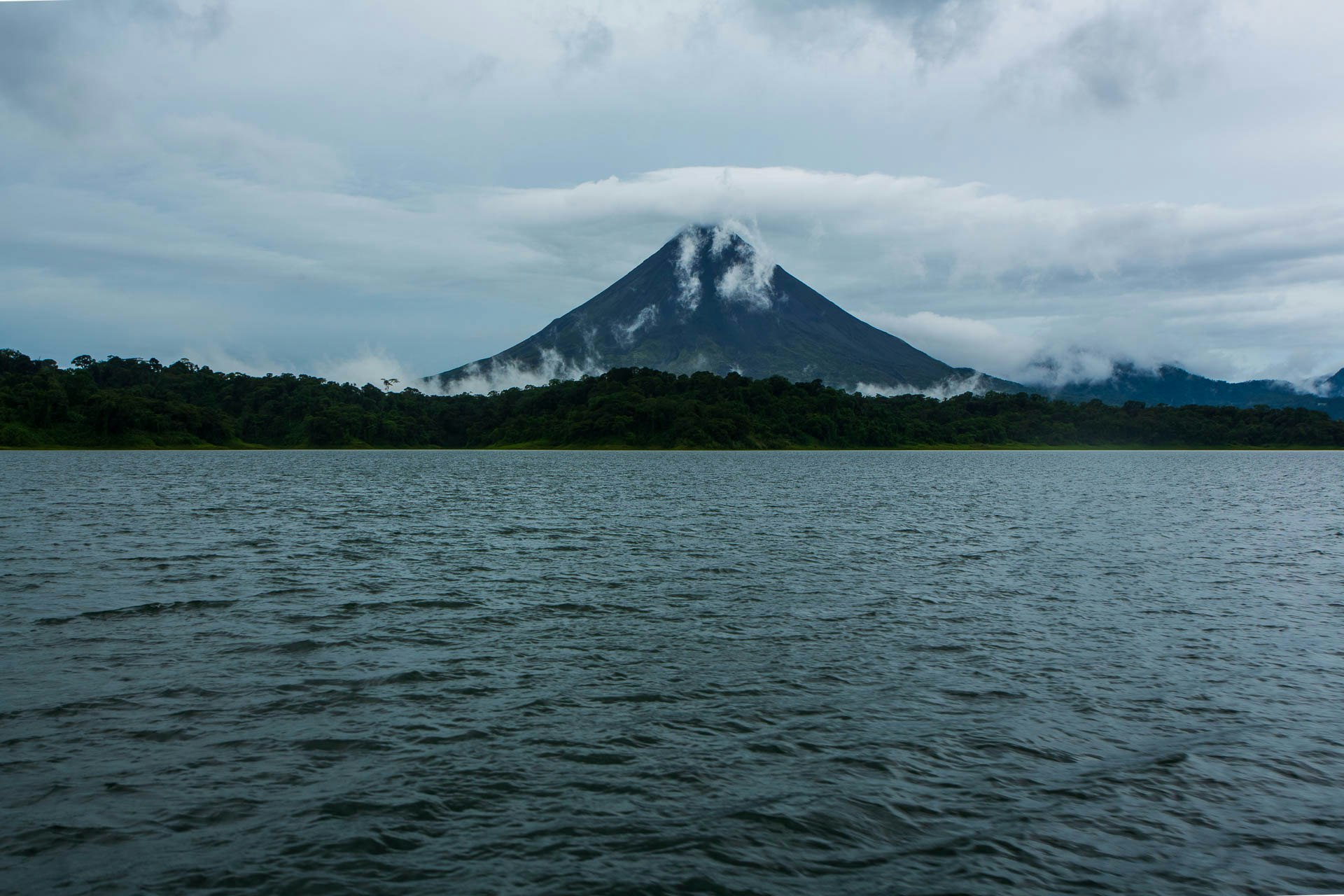 Once we disembarked and got our bags out of the pile at the rear of the boat, it was one final bus ride to the hotel, which was about 10 minutes outside of La Fortuna town. We dropped our bags and took the bus back to town for some pizza in a large canteen style restaurant and to book our various tours for our La Fortuna stay.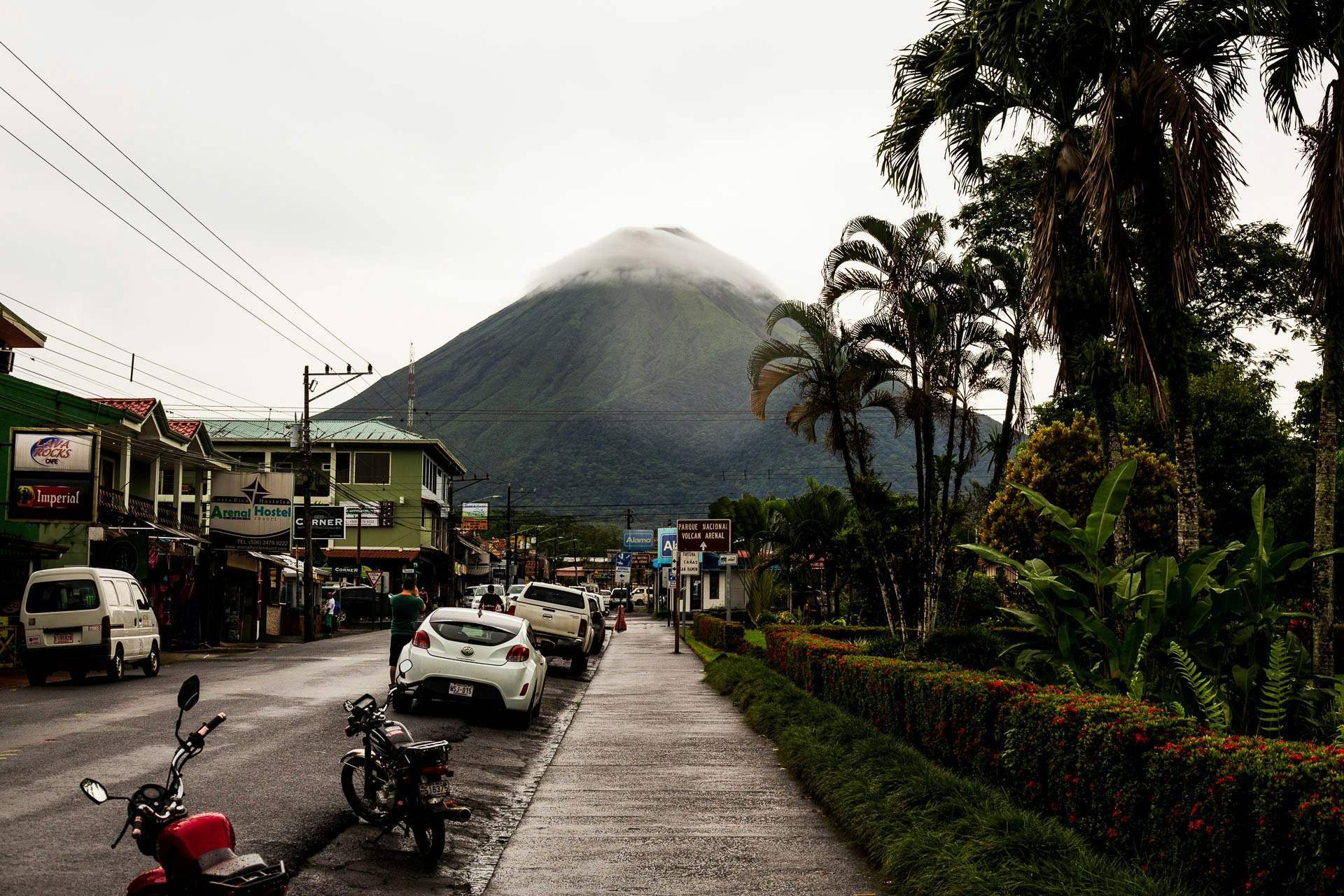 Once back at the hotel, a few of us decided to go to the nearby La Fortuna waterfall; theoretically a short walk from the hotel. That description was a bit deceptive, it was a solid hours walk in high humidity with much of it being uphill.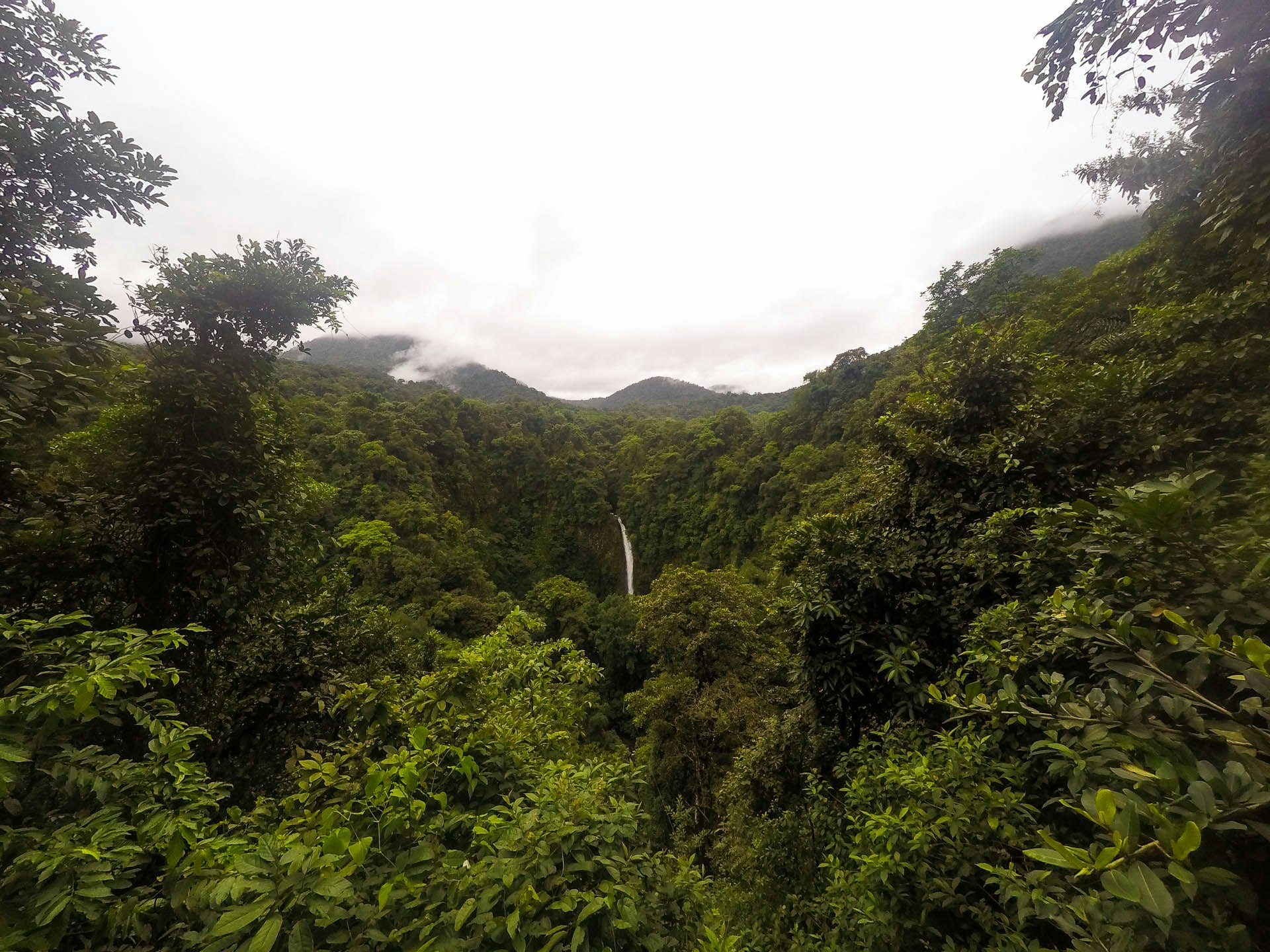 When we finally arrived, we had a 500 step decent to reach the waterfall. Which was spectacular. You can swim near it, but the power of the falls is enough that you shouldn't get too close, in fact even if you wanted to it is quite hard.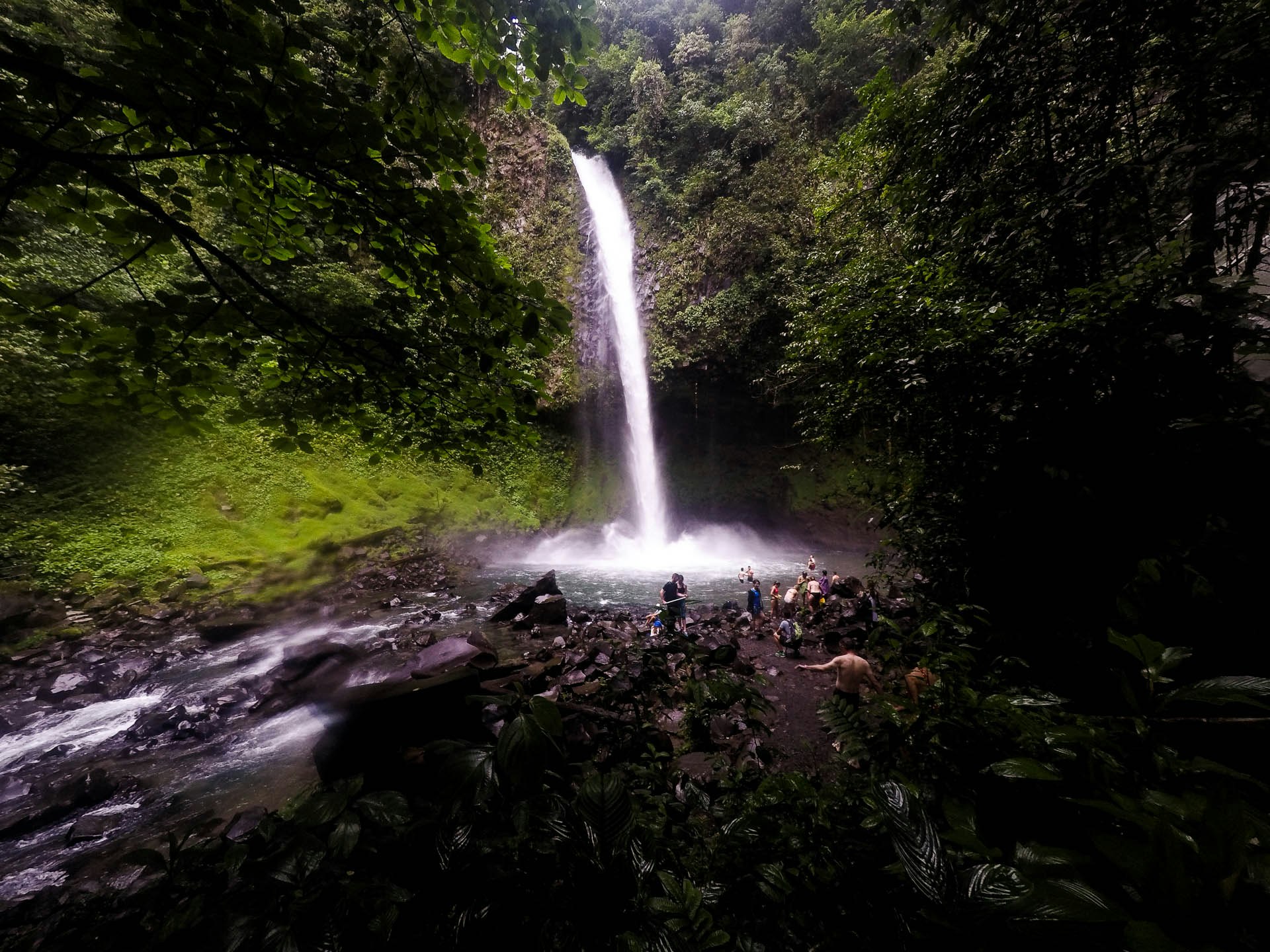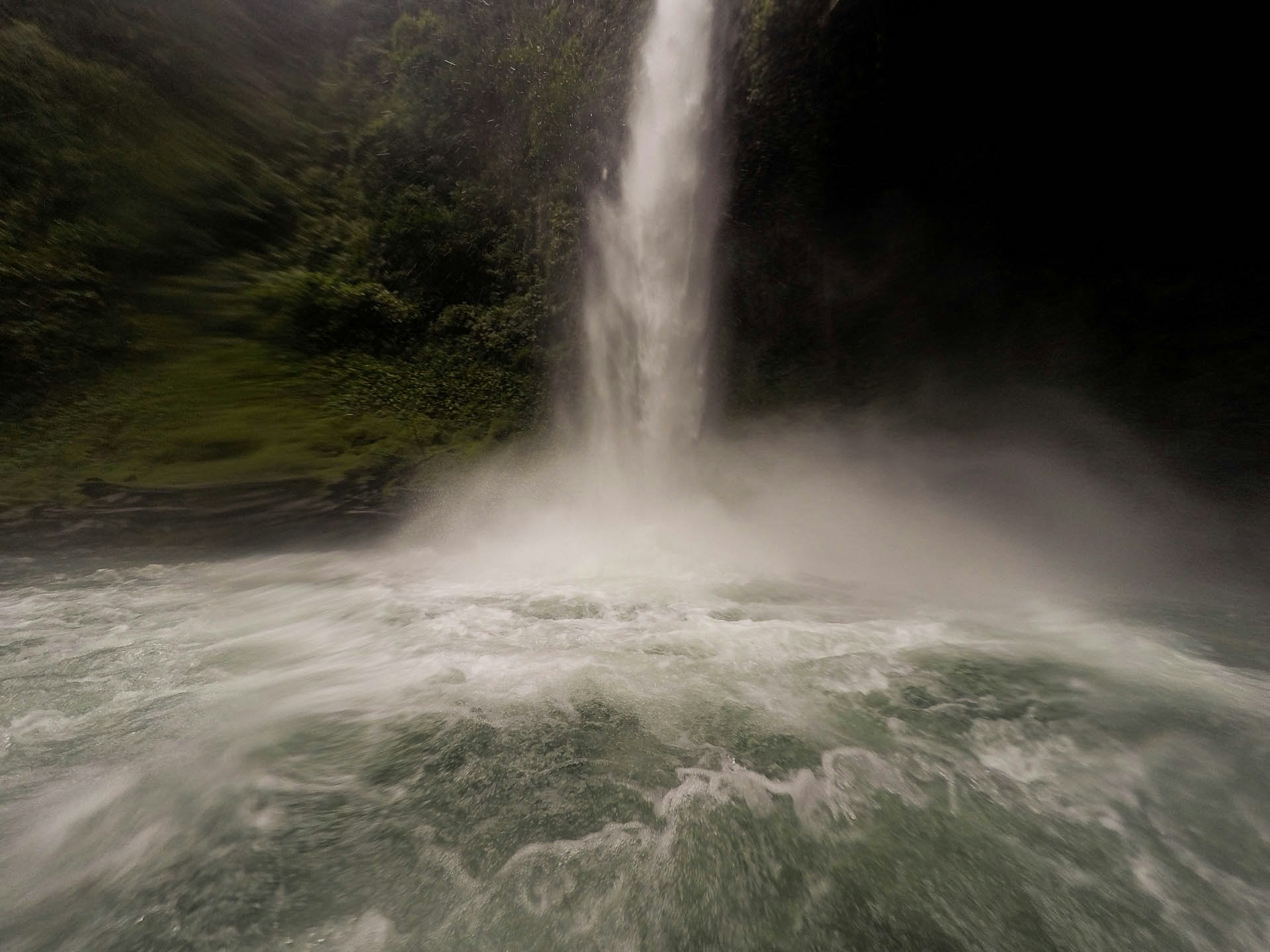 On the other side of the area is a small calm pool. Like the waterfall the water is extremely cold, but dozens of small fish swim nearby.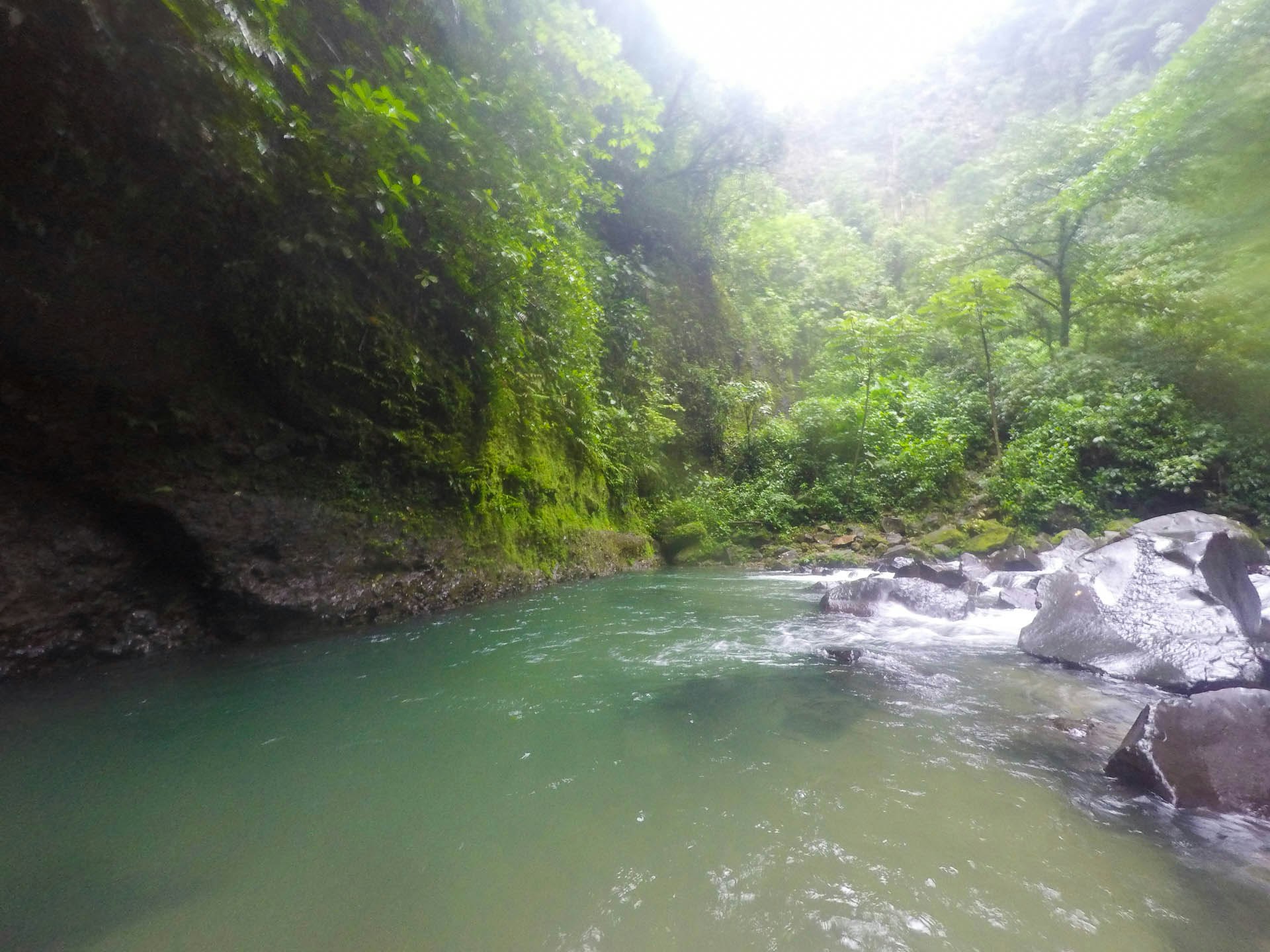 We decided, after climbing the 500 steps back to the top that a taxi back was preferable to a further 4k walk.
It was an eventful drive, as the driver nearly hit a dog that ran out. We think he only even slowed because we all shouted in alarm.
It was looking unlikely for the evening trip to the hot springs due to the weather, heavy rain and lightning. Fortunately, it finally cleared up shortly before we were due to cancel. We piled into the bus again and headed off.
It was an odd experience when we arrived, 15 people taking off their outer clothing on a roadside to get ready to swim is strange.
The spring are not what you expect from the description. Found under a bridge, it is a strange man-made place, clearly a run off for the river. The water is heated by the volcano however, despite the peculiar location. There is no formal access, you are climbing across rocks and down rubble.
We were there a couple of hours and shared two bottles of wine between three of us. The pressure was quite high from the run off but it was a relaxing experience.
We stopped for sandwich on the way back from a small as we had had no food.
---
Day 2:
Originally, it was going to be a 7am collection but we found out that the collection would be at 9:30 which make us all happy.
Breakfast was a huge plate of rice and beans, hot dogs in tomato sauce, fried banana and scrambled eggs. Unfortunately, it was an outside canteen and was inundated with flying ants, which made it s somewhat frustrating meal.

After lunch was done, we were dropped back at the hotel, with 1.5h before pickup to go cooking. I dashed into town to collect a replacement pair of shoes as my sandals did not fit the bill as we had rafting coming up in a few days.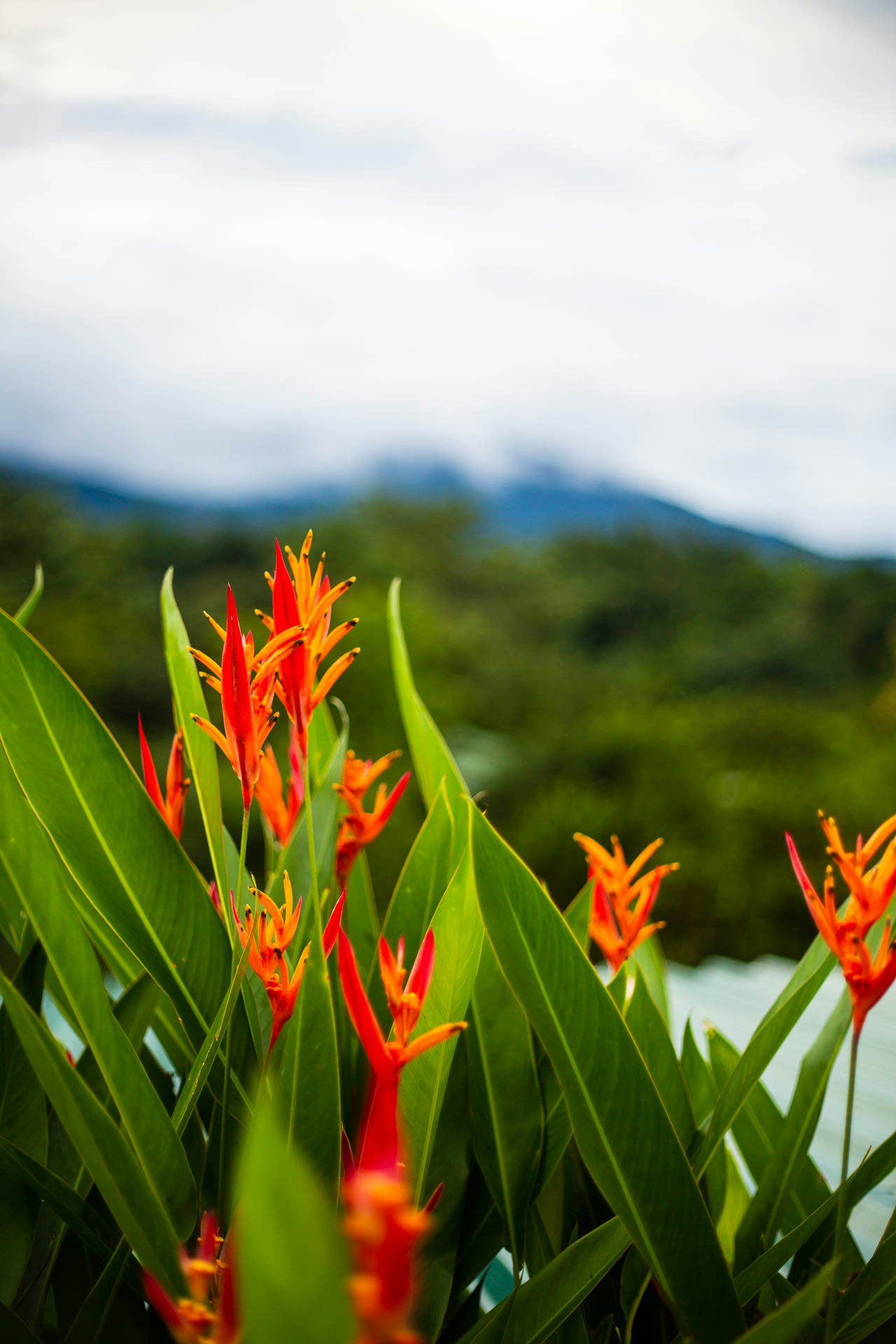 After a very quick shower, we were collected and taken out to an ecologically conscious animal refuge and restaurant where some of the team were learning salsa and some of us were learning to cook traditional food. The view from the restaurant is spectacular. The volcano dominates the scenery in front.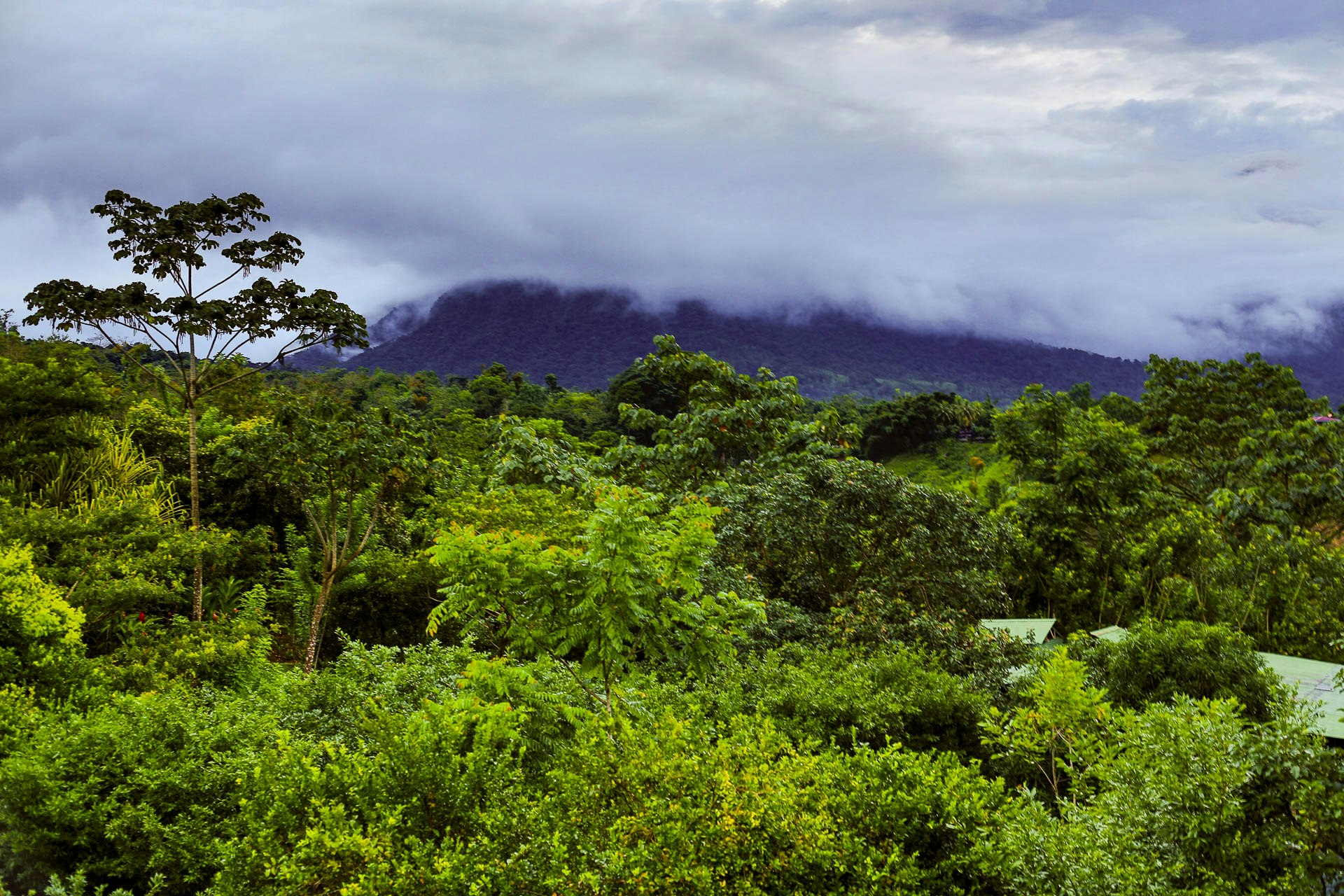 Once inside we were able to meet the macaw monkey, tiny little monkeys, who were fed marshmallows as a treat.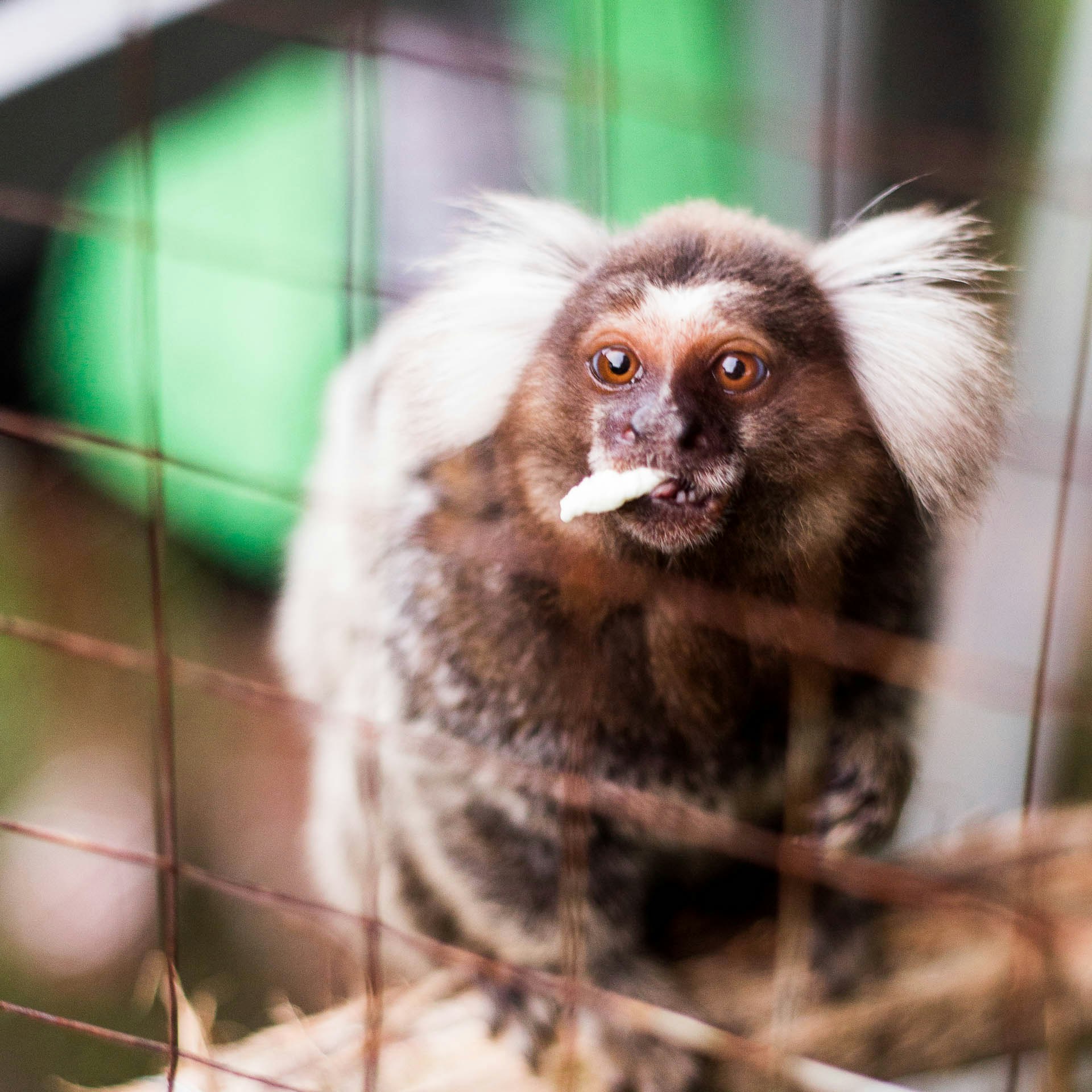 Following a traditional shot, we started to cook and learn to make a local salsa, picorina, a squash based vegetable stew and proper local tortillas. The myth goes, a girl is only ready to be married when she can make perfect tortillas that rise.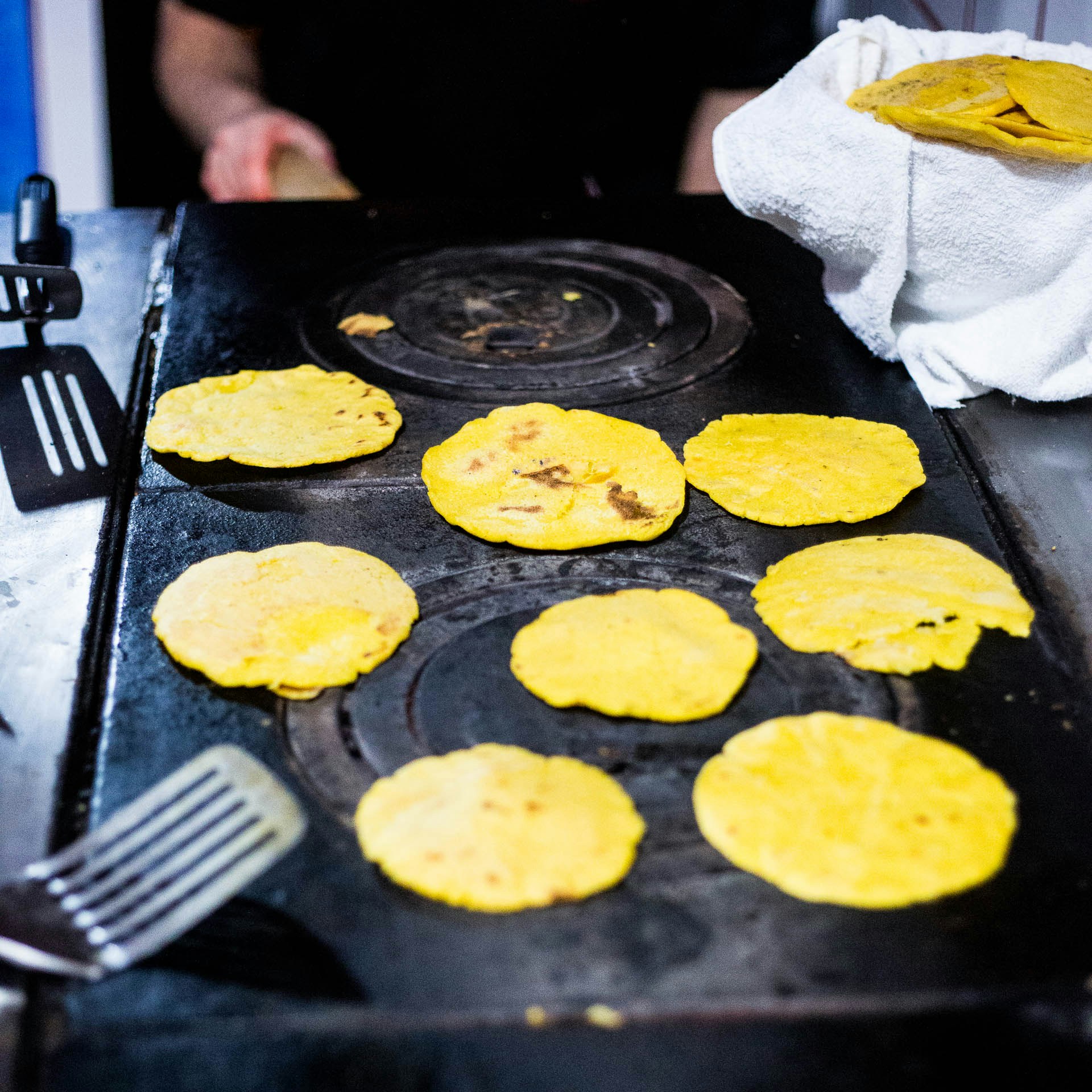 We finished, with some dinner and some dancing before heading back to our hotel, for an early night as it had been a long day and tomorrow was looking to be longer.
---
Day 3:
I noticed we only had about an hour and a half before collection for the horse riding and so I asked to be dropped at a nearby pizza place instead of the hotel so I could get some lunch. One of the guys from the tour joined me as he passed on half way back from town.
The pizza was good, jalapeños giving it a nice kick.
We returned to the hotel very briefly to pick up our clothes for the spa.
The spa was basically various pools at different temperatures, the main one being 32° and with a bar serving cocktails in pineapples. We spent around two hours there relaxing and using the crazy waterslides.
We at a buffet dinner at the spa restaurant, and I got a glass of two of a rather lovely Chenin Blanc before we headed back to the hotel to finish packing for the 3 day rafting adventure...