Our original plan was do do a sunset cruise on the lake as I had found a good one leaving at 6:30 for an hour on Lake Geneva. The cost was in USD, but with the ad-blocking I do and the frequent VPN usage, i wrote it off as a IP anomaly. I paid the bill and only the got the information on where we would have to meet. It was indeed Lake Geneva, but in Minnesota, not in the actual Lake Geneva. Say what you will about the Americans (and I do) they are very good at boosting their second string place names to prominence on google.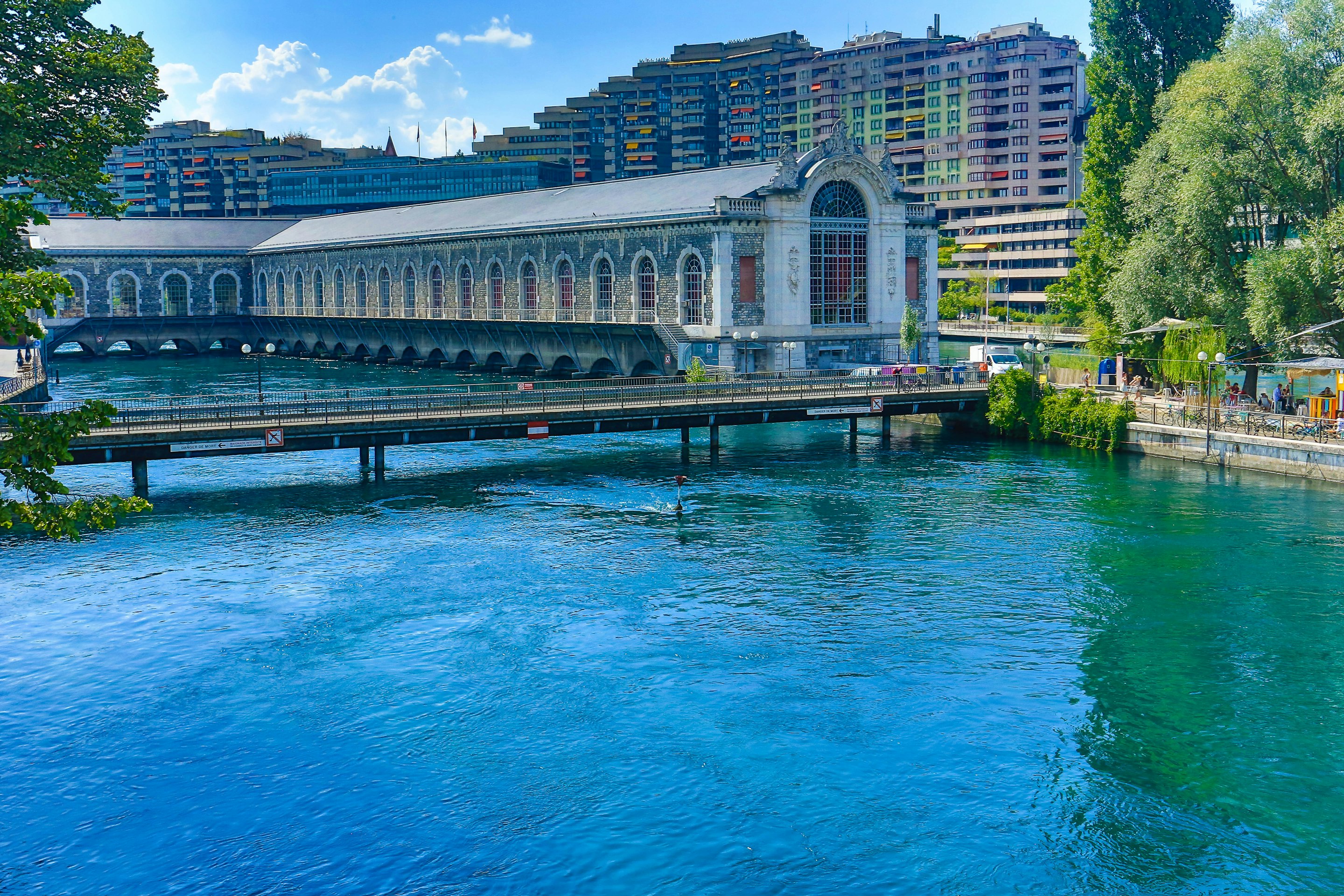 We got off at Bel Air (another place names Americans will be familiar with) and walked to a high-end barber, as I really needed some Beard Oil as mine had run out day 2 and in the heat of the locations we had been in I was looking like a wild man. We stopped into Dandy's Barber Lounge, and they didn't sell Beard Oil, but rather their own concoction that was almost a gel, Being desperate, I decided to give it a go and the barber almost sent me away with an open bottle from the display case that would have done bad things to my lenses in the bag I put it into!
We walked eastwards to the main city area and stopped in a random square with a selection of cafe bars. We regrettably chose one near the end that was also a Shisha bar, so had to put up with people smoking various noxious flavoured brews as if they were vaping.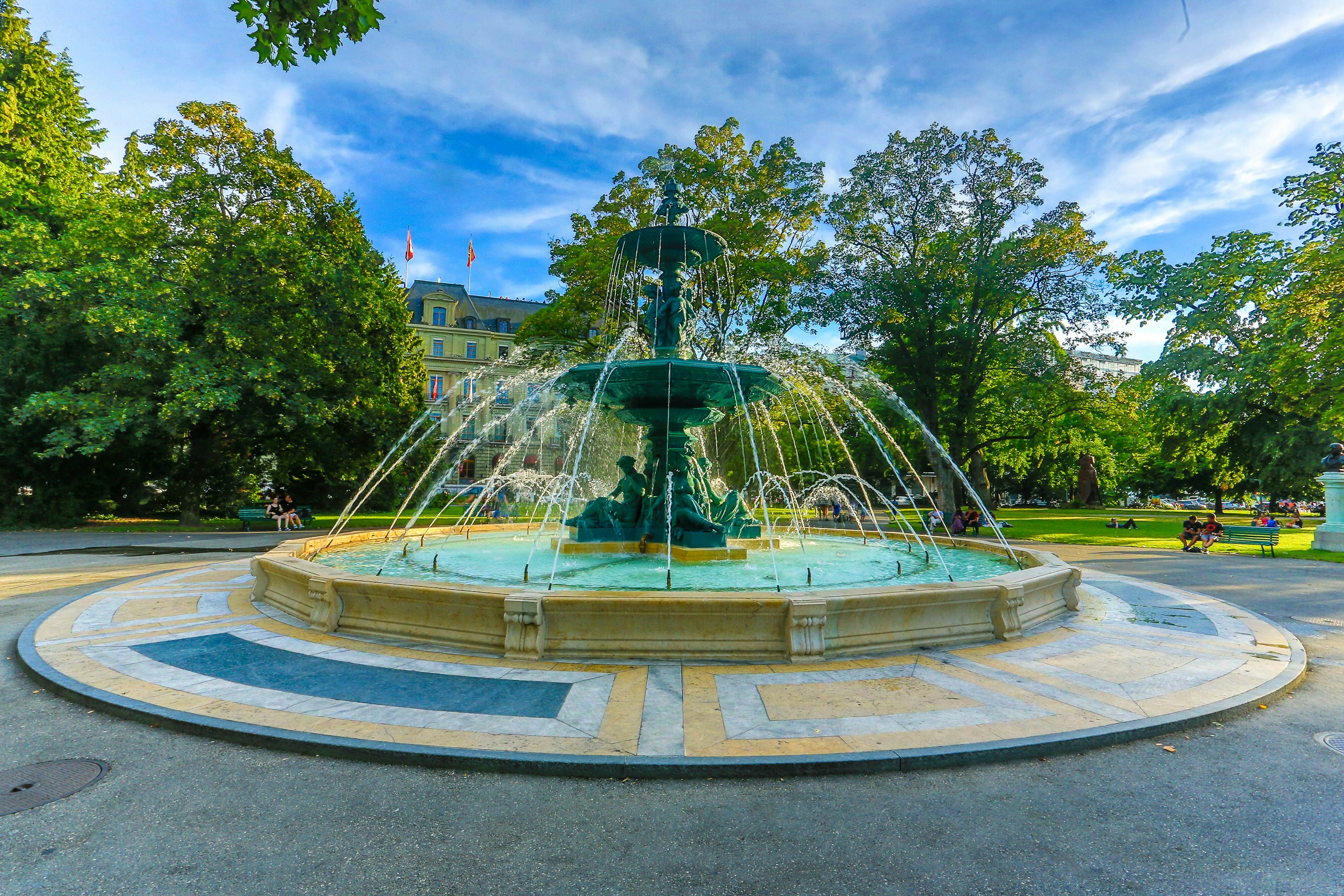 We people watched for a while, and then headed to Le Thermomètre for a late lunch or early dinner depending on your perspective. It is a family owned location and we only saw the older man and woman running it, both at least seventy. I had an excellent mushroom starter and a solid beef and frites for main.
It was here I really started to understand the issue I may be in with my camera. I'd not brought a charger as my battery typically lasts a week or two of hard use and I had two with me. The main battery was only 7% and I checked the backup, which should be fully charged and was told it was only on 68%. There was a very limited chance the camera would remain useful until the end of the holiday. Moreover, the only other major city we'd be stopping at was Zurich for just a day. This was the only chance to get a charger for my camera in a city are it it wouldn't be a specialty item, but checking the web shop, it would still cost about £50. My first hope was the shop would do a recharge for me, one battery at 100% would solve all my problems.
After dinner, we walked back to the number 5 bus stop and our original location for that was next to an ice cream shop. My hopes for a nice ice cream as a desert were ruined by the sign saying 'Cash Only' a strange choice for a pop-up kiosk, but perhaps that is being spoilt by Sweden. We were unsure if the 5 stopped at Bel Air but noticed the 5 to the airport going by. My mate said we'd never make it but it turns out it stopped just a few feet away from where we were so got a quick journey back to the hotel.

The buffet was fairly limited at the Ibis Styles but it was included in the cost of the room, so you can't really complain. Our plan for the day was fairly well laid out, but as usual, it ended up being quite different that we had originally scoped. Thats something that can cause friction when travelling with someone who needs to set a plan and stick to it but my friend and I were both very flexible in our plans, and had travelled together a great deal.
We hopped on the number five bus from outside the hotel and went a few stops to Nation Place. A large bus terminal set at the front of the United Nations building. Standing in a courtyard before the UN building is a series of fountains; small versions of the Geneva arc of water in the bay and the Broken Chair. A huge sculpture of a chair with a missing leg that is splintered and jagged, highlighting the ongoing danger of landmines, one of the UNs most passionate areas of work.
The actual entrance to the UN building for visitors is about ten minutes walk round the corner past a ceramics museum and through some lovely gardens. There was not real queue when we arrived and so we went straight through security and I got issued an ID card and was told I was responsible for my friend. We then went down the stairs passed another round of security and bought the tickets for the english tour that started in 20 minutes.
After a quick drink to combat the dehydration, we joined the tour. The tour guide was a strict Spanish woman, who was almost driven to distraction on the tour by a badly behaved boy, who's mother did not pay attention to him at all or stop him misbehaving. We were not allowed to wander off, pause, or generally be a nuisance to the UN employees who were still working. At one point we walked through a crowd of them on a break from their meeting and could hear small parts of their discussions.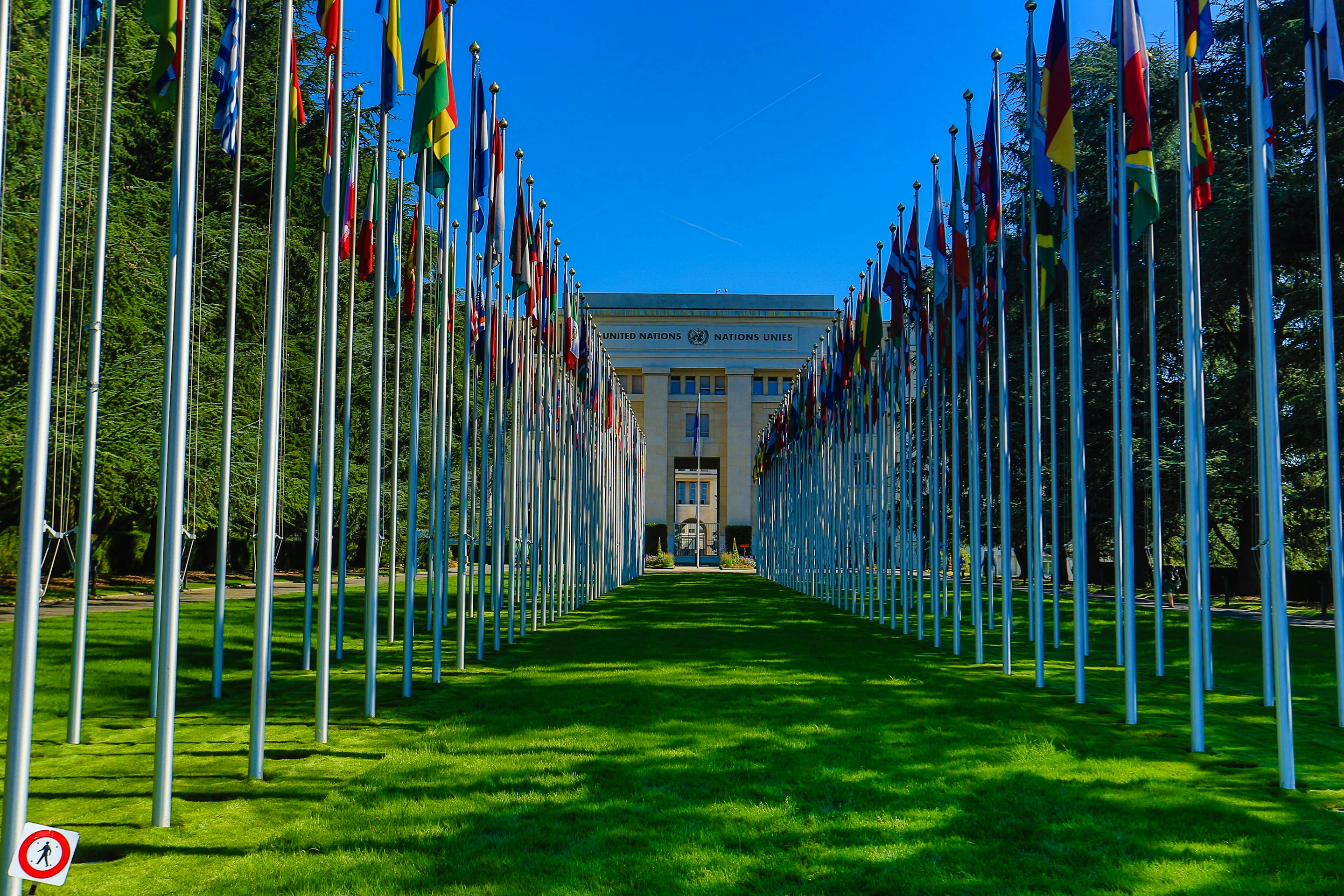 On the surface, the tour is not that interesting. We saw three main conference rooms on our tour, at least one you would have seen on television from time to time. The three rooms we saw were all quite different. the first was fairly modern with an impressive sculpture on the celling that had required a fairly significant amount of reinforcement to the roof to keep it stable. This is perhaps the main room at the UN building in Geneva, used as it is, by the Human Rights Council.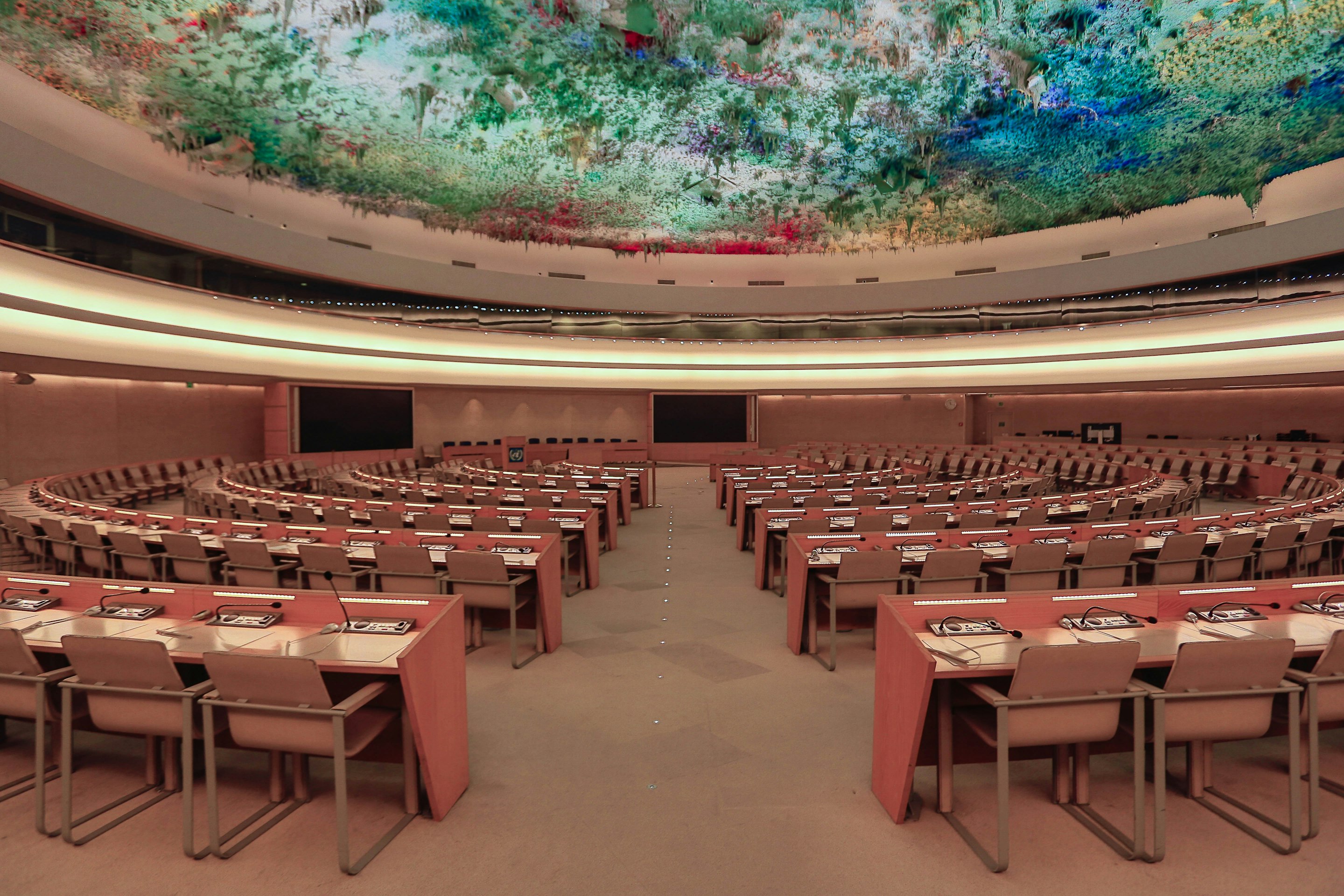 The second room dates back to when the building was owned by the League of Nations rather than the UN, who disbanded after WWII as they felt (quite rightly) they had failed in their mission. The room features a series of paintings highlighting the dangers of humanity and how the five key states can work together to overcome them. It is full of dark wood and green leather. It has an old fashioned authority to it. The final room is the largest and plainest. The main general assembly is held in New York, but the final room we saw was used on one occasion in the late eighties for that as Yasser Arafat was invited to attend and the American government would not issue him a Visa to enter the United States due to their strong ties to Israel. Otherwise it is used as a more general meeting room and for cultural events.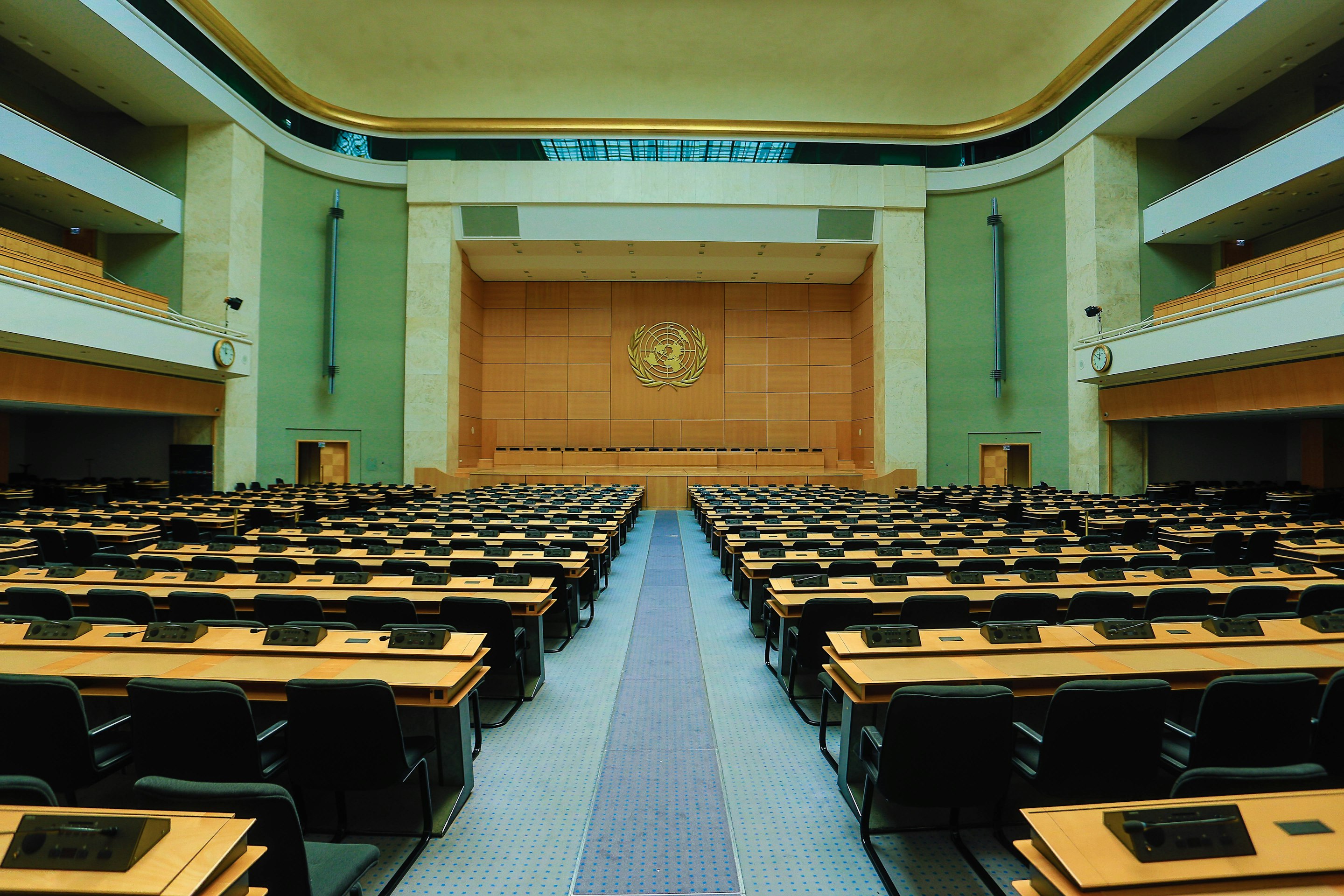 We also paused by a few windows to look at the outside sculptures; the first in a pond was a working model of the constellations coated in gold. the mechanisms are broken however and the gold has gone. There are irony there that regardless of losing its gold and its function it continues to be a visible statement. The other is a mobius strip made of 193 stones, one for each member state.

Once we finished at the UN we were told to leave and to just walk out to the exit ourselves across the courtyard and through the gate and to not wander off. Considering the high level of security that was in place to get into the building including passport checks and orange lanyards to identify us, it was strange to be stripped of these and told to just wander around to the exit unescorted.
We then jumped on a bus and headed to a camera store as I had found the Wifi SD card i was using was hitting my battery hard and i was at 8% remaining and the backup I had with me was only 65% charged. I knew I would need a charger and I knew it was going to cost me. £50 later I had a charger in my bag….
We found a really great pizza place for lunch near to the camera place and the waters edge called La Gondola, (a city isn't complete unless there is Red Lion pub and an Italian restaurant called La Gondola. The pizza was genuinely excellent and its a bit of a shame that the best pizza I'd eaten on this trip was in the French part of Switzerland.
After food, we impulse decided to do a boat tour. We had been planning to take one at the end of the day for an hour round the lake and then go do our washing having brought it with us. We checked some times whilst we were eating and instead decided to take the boat ride now as we could get there and just do the chores without a fun reward later in the day.
We took the passenger ferry to other side, it is a small motorboat that is part of the public transport of the city, much like the ferry in Gothenburg, though strangely much smaller. We got to the other side just in time for the tour and the boat we wanted, but they didn't not seem to be operating, the boat was no where to be seen and the ticket office was closed up.

Instead, we walked along the quayside and found a different cruise company who were offering a 3h 20 minute cake tour along the lake. We booked that and the cakes on the photos looked delicious!

We had an hour to kill before we had to board the boat so we went to the nearby Mausolée Brunswick for a brief look, its quite impressive, facing the water front in a small park. We then went to other side of river where boat was moored up and had glass of wine in an outdoor cafe to waste the rest of the time before castoff.

It turns out the boat wasn't really a tour more a ferry cruise. We went up to Hermance, Yvoire and Nyon and back to Geneva, but there were no commentaries on the boat or suggestions of what to look at, it was only what we could see whilst travelling. We did cross into France during part of the trip, and we stopped briefly at the three stops to let people on and off.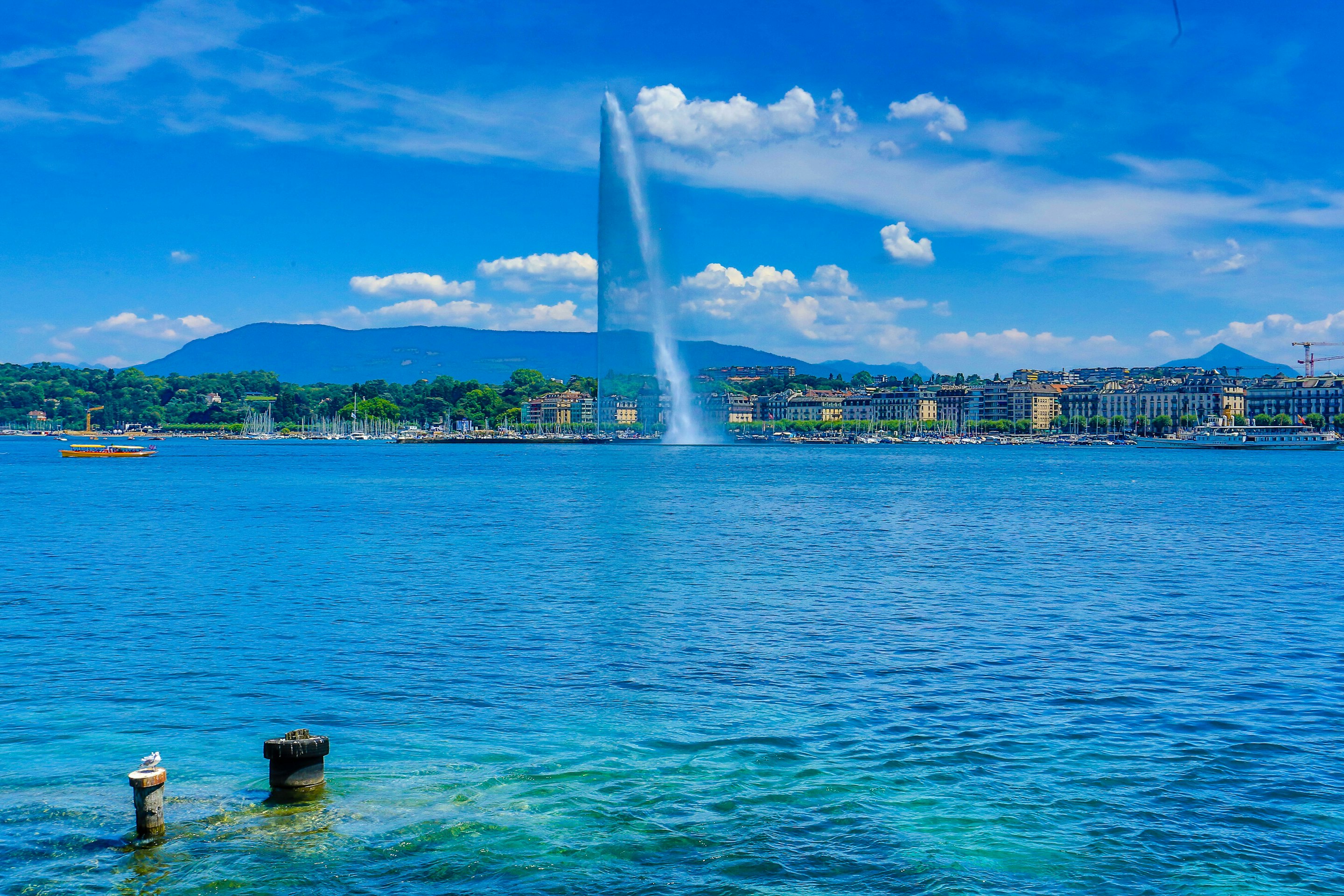 The cake was not what we expected from pics. It was good, a somewhat nutty loaf, but the images of the cakes were more the high end art work kind of cakes, rather than something from a mid-class bakery. The tour could easily have been improved by some narration pointing out elements of interest as we travelled. However, 3 hours on a boat on a lake in lovely weather is a pleasant way to spend an afternoon.
There was only one waitress working, who also had to set all the tables for the dinner cruise that evening as well as her other duties. She was extremely helpful, but you did have to find her to order as she had some much else on. The wine choice was excellent on board and quite reasonable in price.
We saw a couple of castles as we were sailing along and even from where we reached at the end of Yvoire, Les Arc of Geneva was visible over the tree-tops, which is a remarkable feat of engineering.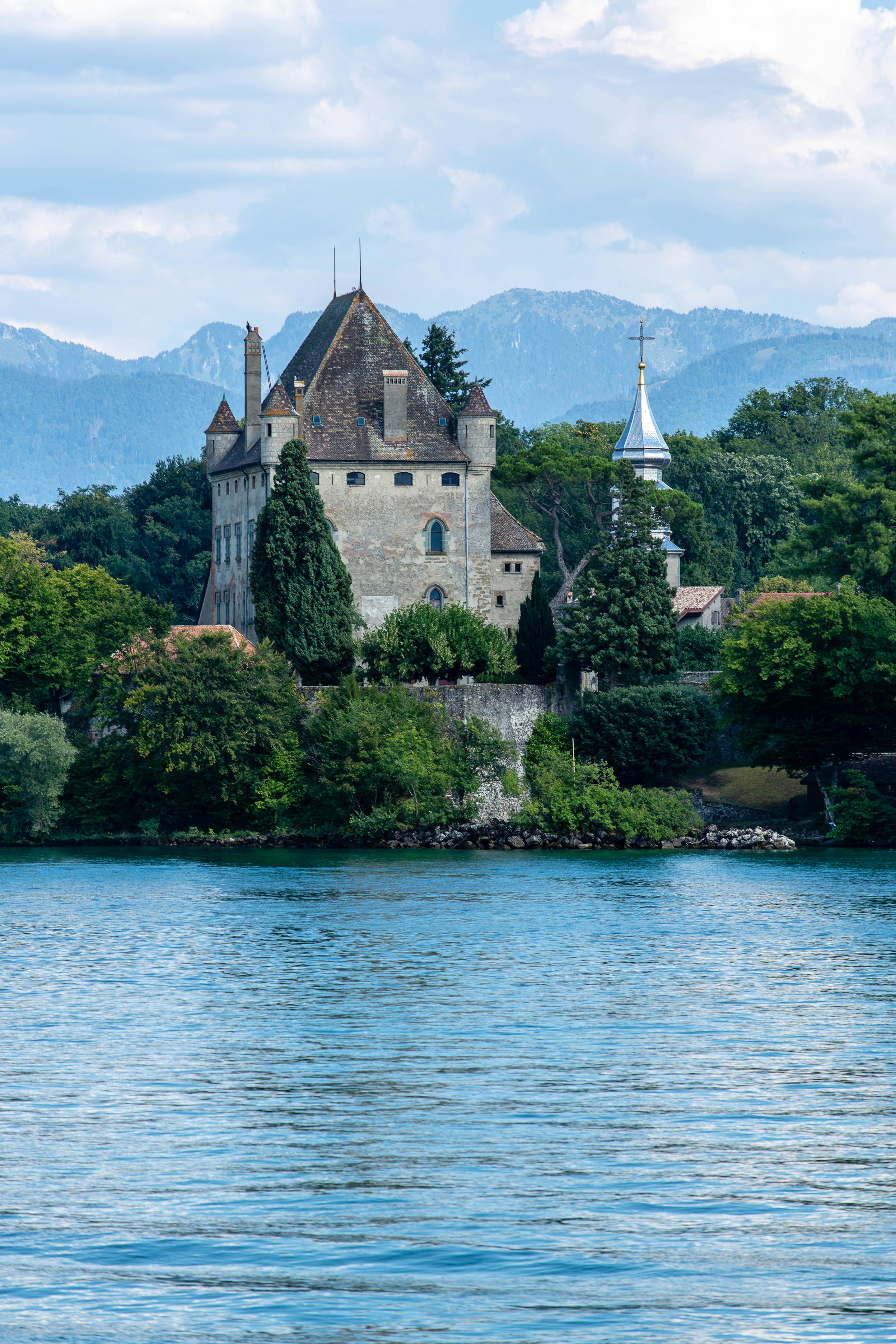 When we finished, we checked out the nearby launderette ahead of doing our washing, it was ok but very far from the bus stop, especially on the way back as the return was on the other side of the station. We went back to the hotel and found another on Google in a better spot with dinner options nearby as it was going to be quite late and quite a few places shut at 10pm in Europe we had found repeatedly.
The new place didn't take cards like first one we had visited, which was an unpleasant surprise. I had planned for this somewhat as a cynical individual and had enough coins for washing two machines full of clothes and and enough washing powder for both. We did not have enough to dry the clothes however. I left my friend to keep an eye on the washing and headed out to get some more coins.
It is quite hard to find an ATM in Switzerland on google. Most banks are not for 'customers', but still show up on google when doing an ATM search as they are banks. I finally found one down a side street and got out 20 francs. I then went to Starbucks as I knew I could ask for as many coins as I wanted as they'd have good english and a requirement from central management to be helpful to people who ask awkward questions.
Coins in hand, I got back with 20 minutes to spare, we ran the clothes through the tumble dryer for 15 minutes or so and then headed out to Lillo, a restaurant I'd passed previously on my cash machine hunt and that we knew was open late. It was quite quiet in the restaurant but we got nice seats out on the terrace and the waitress was very attentive. We'd both had a fairly big lunch so just went straight for mains. I had a truly excellent beef and spinach ravioli with flavoured oil and then followed it with a passion fruit cheesecake just because the main was so good. We cut it a little fine on getting to the bus on time as I did indulge in an espresso at the end but we made it with 2 minutes to spare and headed back to the hotel.