The place we had found was much further out of town than we had realised and we quickly found out the reports of easy public transport were false, there was no public transport. The location was a student halls of residence most of the year, but rented out to people during the summer months. It was nice enough, clearly for students with a lot of storage and two desks.
We ended up walking down the river to the old town, as it seemed the easiest option, it was about a thirty minute walk, and there were a few sketchy areas and people we had to go past that made us decide not to try in the dark.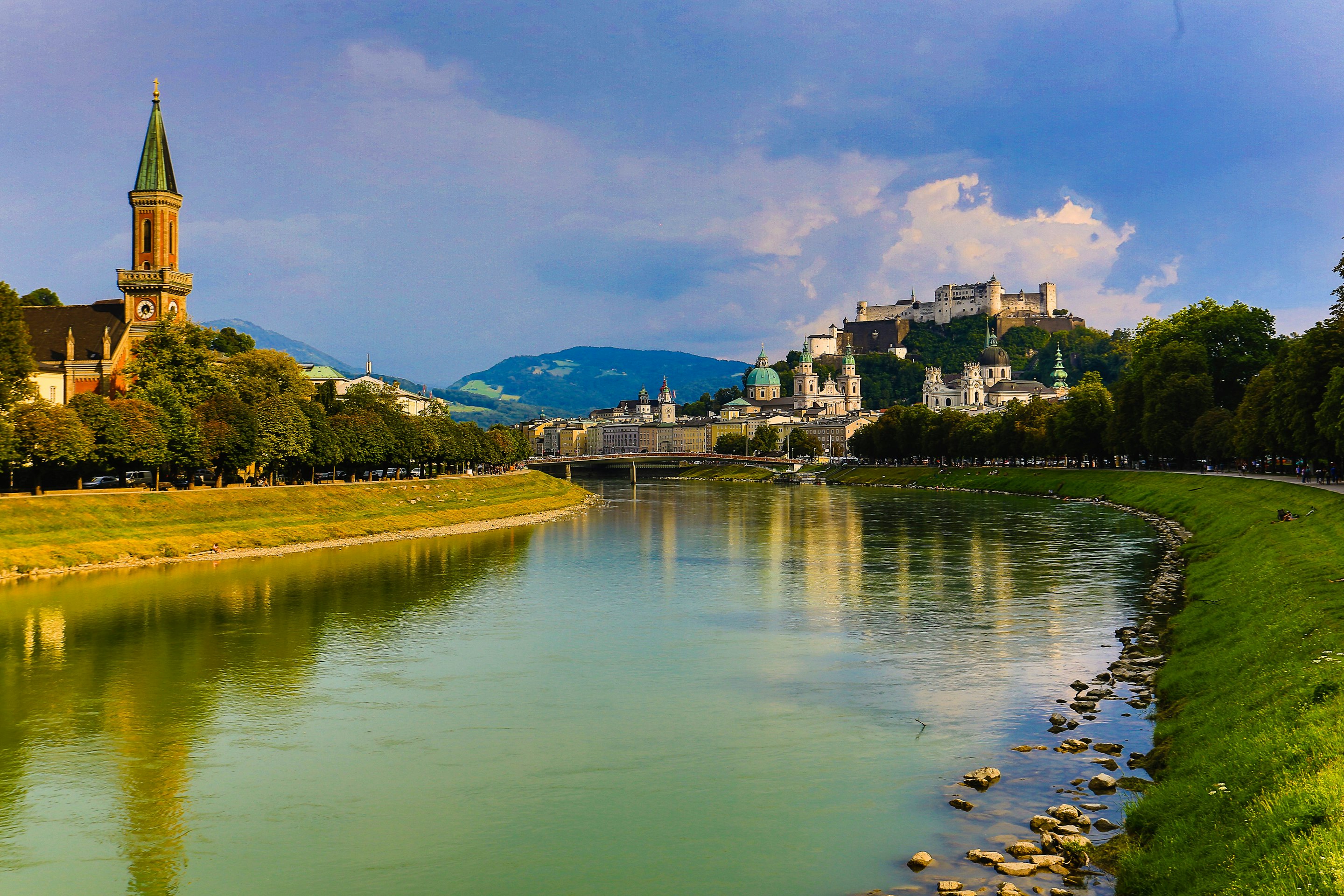 We walked around a fair bit in old town and saw Mozarts Geburtshaus, his birthplace, though we didn't go in as the crowds were thick outside the building. That might have been for the Spar that is dominating the ground floor of course. We then walked on to the fountain, Der Florianibrunnen in its own square and further to Residenzplatz which is surrounded by Dom zu Salzburg, the Salzburg museum and the Salzburg Weinacht Museum. Off to one side by the Salzburg museum entrance is Mozartplatz, where they were filming some lifestyle pieces with some local chefs so the statue of Mozart was surrounded by vans.
We stopped for a drink in Mozartplatz and it was good we did as there was a sudden downpour. We huddled under the middle of our umbrella waiting for the rain to finish as we'd been unimpressed with the drinks so want to head somewhere else anyway.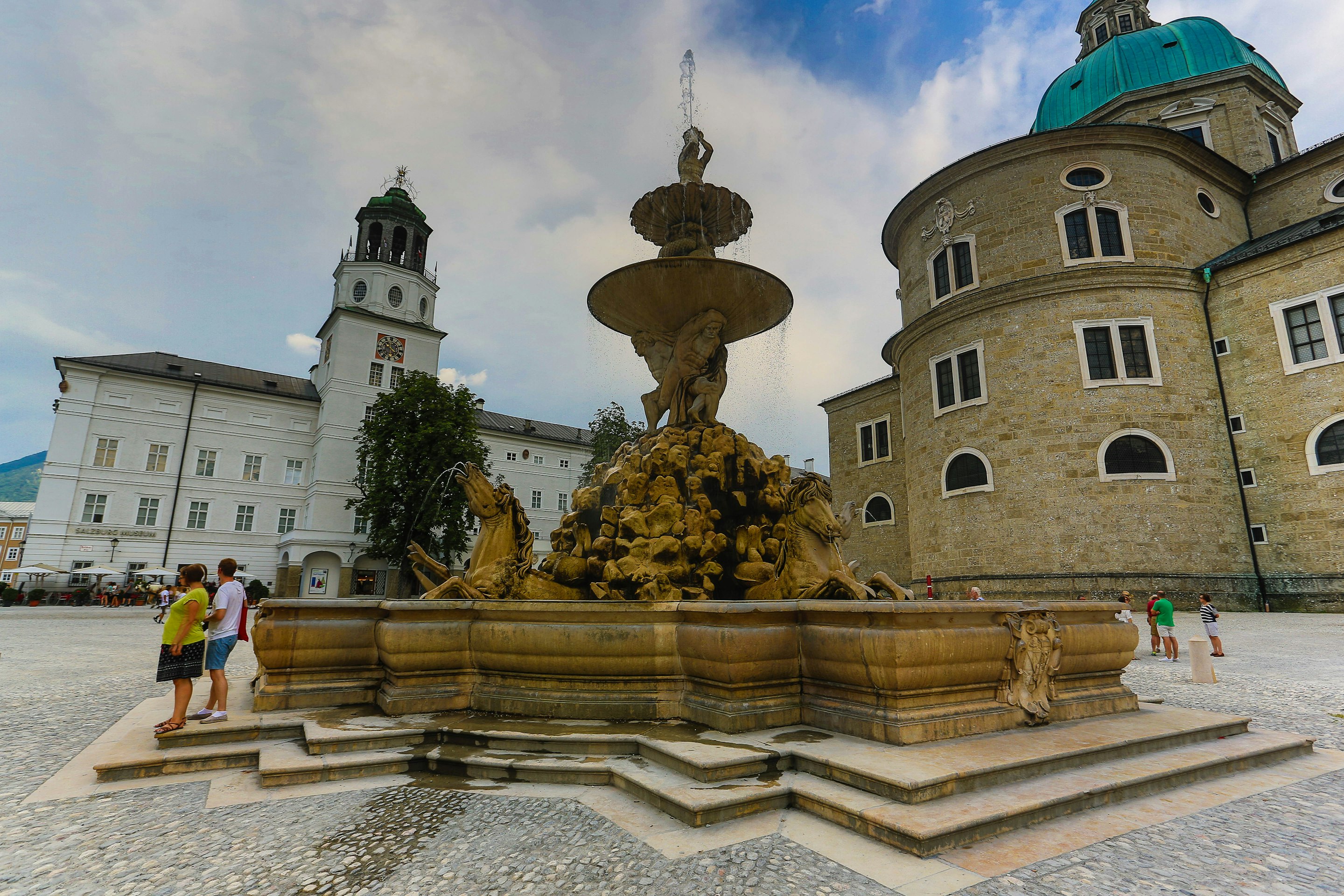 Once the rain was done, we crossed the river to get half way to our dinner destination and stopped at Havana - CocktailBar for a drink as my mate is always a fan of rum.
We then walked to S'Kloane Brauhaus, and passed St Sebastiankirche, which had a large bas-relief of my namesake in his signature death.
S'Kloane is an old fashioned brewery doing simple food well and brewing its own beer served in ceramic jugs. I had a grilled steak with fresh vegetables which was excellent and we had a couple of jugs each of the beer before ordering a mytaxi back to the hotel.
The taxi driver drove a bit like a lunatic, but we were back very quickly to try and sleep in the very very warm student digs with no air-conditioning. it was not the nicest evening of our trip!

We were up at 8:30 again as breakfast finished at 9:30, and it was an uninspiring fare. Setup for students, it was a ticket based system were we were asked if we wanted one or two pieces of bread and the orange juice was orange coloured, but otherwise was water. It was every university cafeteria the world over. Cheap.
We drove into town and parked in a carpark on the wrong side of the river, but near to our first stop of Mozart-Wohnhaus. We actually paused on route to look at Caldera, a large modern sculpture in the square outside Mozart's residence.
Mozart-Wohnhaus is a fairly large building that Leopold Mozart moved to when W.A Mozart was young, it is an eight room floor, crammed with memorabilia and information, with a lot of audio guide triggers. It is interesting, but it does need a certain amount of attention being paid as Leopold, Wolfgang and his sone all sometimes are described as Mozart.
Having done that, we stopped in the rose garden of the Mozart house at Cafe Classic for a quick coffee that ended up taking 45 minutes due to the generally slow staff.
We then crossed the river to head to the Salzburg Museum. A really interesting museum, over three floors, two focused on Salzburg as a city state, and later a city in Austria, Germany and Austria again and how it has developed as well as how the influence of the Italian architects brought in have made it so different to other cities in Germany or Austria. I'd not really put my finger on it until reading that, but it is much more Italian in its paved streets with Plaza and statues in various places.
The bottom floor is their temporary exhibits. This one is about the impact of National-Socialism on the museum and how the changes in policy with Anschluss and later with Nazi governors and museum staff changed the tone of the museum and the losses suffered during the bombings. Also interesting is the attempts the are making to re-establish providence for items that were plundered and brought to the museum during the war as well as finding those items that were taken by the allies as spoils of war. They proudest reclaimed item, a heavily engraved and filigreed blunderbuss which was in a private American collection until quite recently, but was identified by a painting done of the gun at the museum by a foreign artist, which has now been donated as well to share the display.
After the museum we crossed the river again and stopped at Gablerbräu, a very old brewery location, not a bit of a tourist trap for a quick lunch before doing the hour's drive up to Berghausen.