Saturday, despite the amazing sun, I spent my day in a darkened studio with the undead.... It was a shoot organized by the Alternative Photographers & Models Meetup Group and based at Studio Seventeen in Balham.
There were four models:
and three make up artists:
The studio lighting was setup by Phil and Mark the organizers and was divided into two areas. The main space, with a curved white backdrop, 2 background lights and a softbox was a very traditional fashion style setup and the second space, using one textured wall was a low key lighted area with a single lamp initially and moved to a honeycomb snoot. After a few sessions, the main lighting set-up had a technical snafu and we moved to a single lamp and reflector set-up.
The make-up was amazing I've never worked with anything quite like it, It ranged from quite subtle, pallid skin-tones and visible bruises and scars to a complete face-mask streaming with blood. From a creative perspective it was a fantastic opportunity to work with something so different, extreme and colourful. It also shaped the way I had to take my photos, but artistically with a focus on darkness and harsh shadows and technically as the poses and options available due to the make-up were more limited.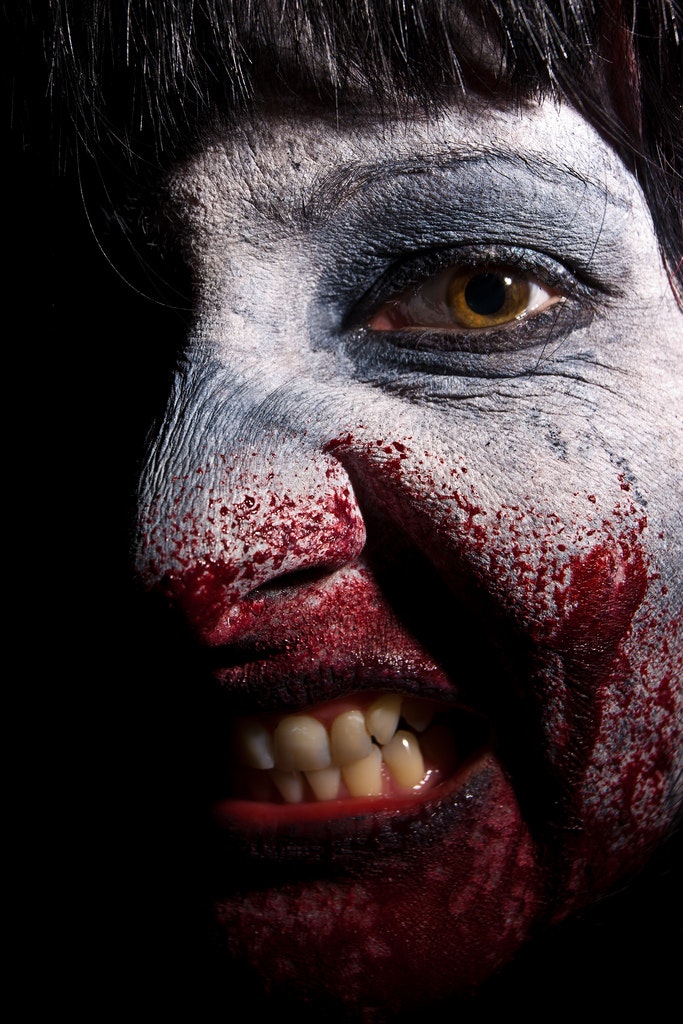 I'd planned from the outset for a specific shot, I wanted a vegetarian zombie and brought along the most brain shaped vegetable I could think of, a cauliflower! I had a couple of the models, under low key lighting, biting into it and it worked well. I also created some white wine with a glass of water and a tiny squeeze of tea into it to give a white wine colour, which also worked surprisingly well.
I was generally shooting at about f9-10 and ISO50, deliberately underexposing the shot because I was looking for dark and moody, even with a fashion theme, my taste was running to harsher shadows.
I really got alot out of this session, we were able to take about ten minutes per setup and we worked with each model in each area, so we had 8 'sets'. It started to get challenging to do a full ten minutes of interesting shoots towards the end, 80 mines of nothing but shooting is a surprisingly long time! It was a real chance to play with light in a way I've not done before. Most of the shooting I've done has been outdoors, and I've got a decent understanding of how light, flashguns and reflectors can all be used on the street, but a studio affords you so much more control, every aspect of how the image is lit is at the mercy of the photographer. A model's half step closer to the lamp makes a huge difference.
I'm definitly keen to do more work inside a studio and have caught myself looking online at studio lighting and backdrop equipment!