This was my first use of the second camera, the Konica had the 50mm lens and the Sony had on the 55-200mm. This covers most of the ranges I use when doing these shoots.
There were two models, both lovely and experienced. and we had an hour with them each. They changed outfits and we then have another hour with each of them.
This was the most successful shoot I have done, from a personal development point of view. I really tried to tell a short with the shots I was doing, and considering the reaction I received from people who have seen them, I think I succeeded. There are 10 that I am particularly happy with.
I did not spend too long directing, but the direction I gave came out very well, it lead to some very good pictures.
The second camera was particularly useful, it gave me more time to think about the shot I wanted, and more opportunity to use the technical features of the lenses to bring the right effect.
If not my strongest photograph, then the attached in the tunnel is the one which has had the most positive feedback. This was taken at one of the underpasses near to Waterloo Station on Southbank. The model, Chloe, was part of the Fantasy Fashion shoot, the outfits were somehow different that I was expecting, too much Lord of the Rings growing up perhaps. This was the first 'Senior Shoot' I attended and I found it extremely productive. Smaller groups meant more time with the model, but that also meant more pressure on the Photographer.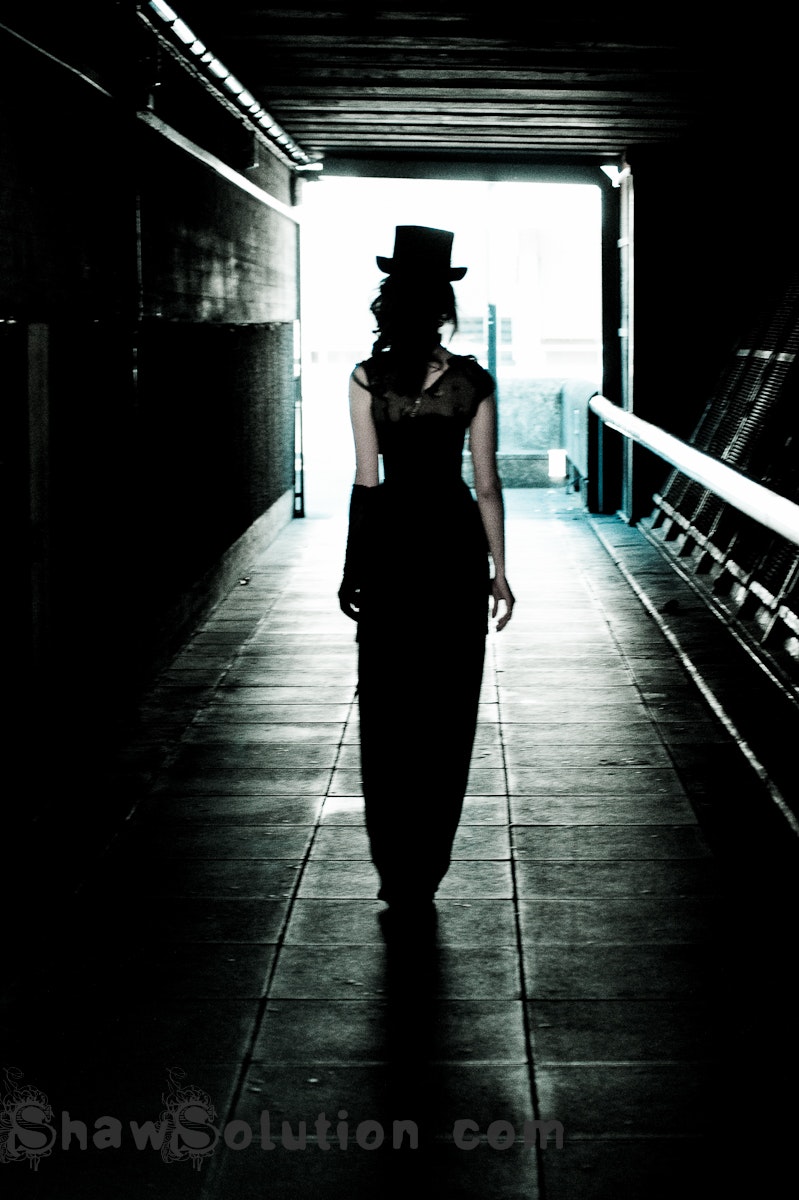 Chloe was one of the best models I've worked with in the past year, she was more than happy to try anything and was extremely professional with her own ideas which she put forward.
This was also my first shoot using two different cameras, my Sony and an older Konica model. For these shoots it was a big advantage as the lower resolution camera was fine with the 50mm lens and the better Sony handled the zoom. Its an effective way to work, I found, as it reduces the time wasted in swapping lenses.
This shot was originally intended to have Chloe looking back over one shoulder, but it worked far better without, just with her walking towards the light. Its had a small amount of editing, mostly desaturation, pulling the blacks up to increase the darkness.
You can see however, the heavy noise, something which is a regular complaint of the Sony range. There is little which can be done to address this, short of post processing and trying a different manufacturer.